Taking Stock
New NYSE President Lynn Martin Brings Tech Background to the Big Board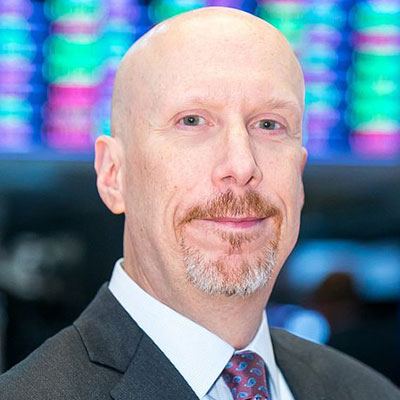 Lynn Martin can make quite a first impression.
Intercontinental Exchange Chairman and CEO Jeff Sprecher remembers the first time he spoke with Martin, which came shortly after ICE completed its $8.2 billion acquisition of the New York Stock Exchange in November 2013. Martin worked in the NYSE's listed derivatives business and during that conversation told him that she wanted a meaningful role at the combined company.
"I remember thinking about how bold and determined she was," Sprecher says. "And I liked that about her."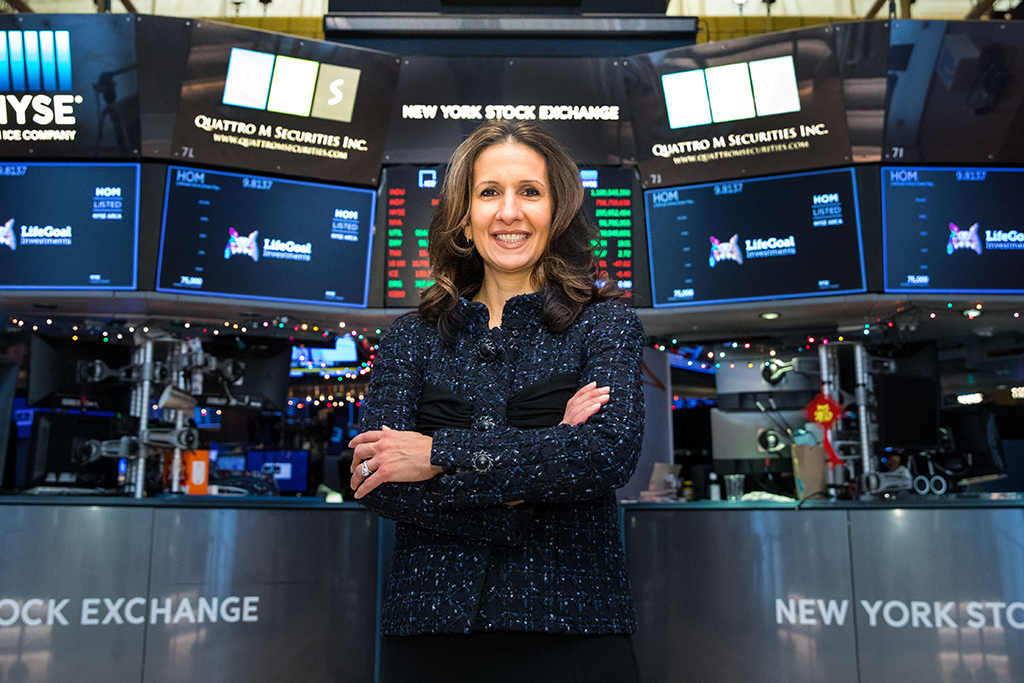 Lynn Martin on the trading floor of the New York Stock Exchange.
He did find her that job. Sprecher tapped Martin to run ICE's next big acquisition, Interactive Data Corp., which it bought for $5.2 billion in December 2015. That company had a great product but sluggish growth, and Martin rewarded Sprecher's confidence by doubling its growth rate and building it into what has become ICE's Fixed Income and Data Services segment, which employs about 2,500 and generated $1.4 billion in revenue for the first nine months of 2021.
Now, Sprecher has turned to Martin once again. Today, he named her the 68th president of the NYSE.
"I was floored," Martin says, recalling the moment Sprecher asked her to take the job. "I was honored, mainly because I understood the gravity of being asked to do this role as a woman and what it represents to have the confidence of a Fortune 500 CEO and entrepreneur whom I have admired for years."
Sitting at the corner of Wall and Broad Streets in lower Manhattan, the NYSE is the world's largest stock exchange, with 2,400 listed companies and a combined market capitalization of $36 trillion. The NYSE has a rich heritage dating back more than 200 years, but that belies the remarkable technology that powers the exchange, allowing it to trade more than 1 billion shares a day and take the most volatile market conditions in stride, such as the period between March 9 and 18, 2020 when market-wide circuit breakers were triggered four separate times.
Because of this, running the NYSE requires a unique mix of leadership traits, one who can ably manage the plumbing of advanced data and technology systems and just as easily preside over live televised initial public offerings and bell-ringing ceremonies featuring global CEOs and world leaders. Succeeding Stacey Cunningham, the first woman to lead the NYSE, Martin will oversee not only the exchange itself but the entire NYSE Group, which also includes four fully electronic stock exchanges — NYSE Arca, the industry leader in ETFs, NYSE American, NYSE Chicago and NYSE National — and two options exchanges, NYSE American Options in New York and NYSE Arca Options, based in San Francisco.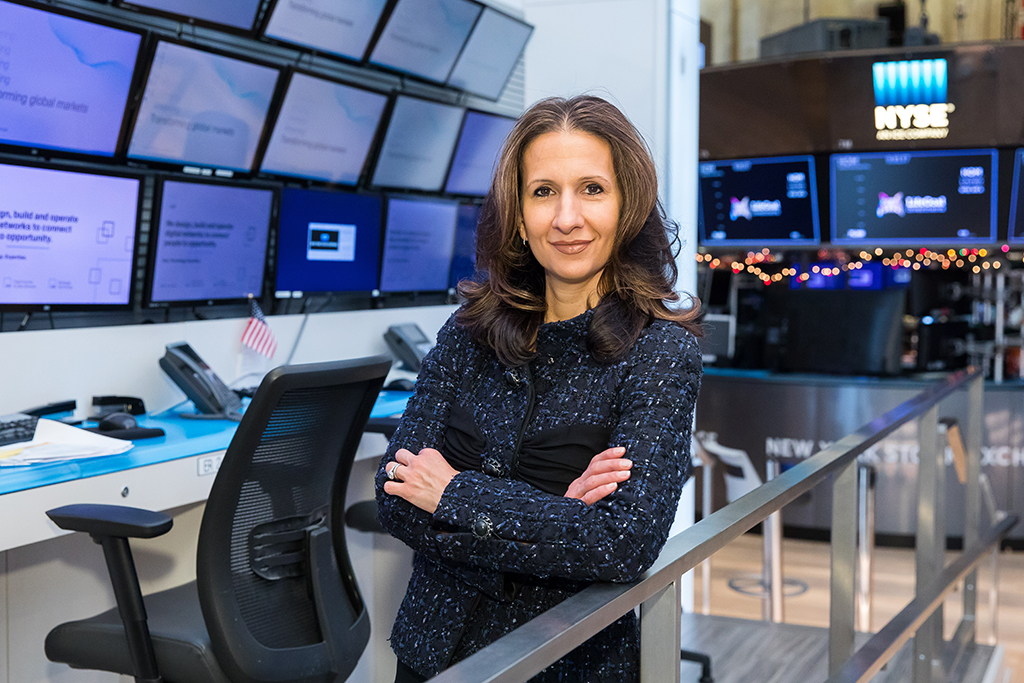 Lynn Martin at the Ramp, the NYSE trading floor's nerve center.
Martin's credentials for this role date back to her earliest days. Growing up in Smithtown, NY, which is on Long Island, Martin developed her interest in technology and coding with an early Commodore 64 computer. Her father, who worked as an electrical engineer, encouraged her and she went on to Manhattan College, where she studied computer science and math. Her first full-time job was at IBM as a computer programmer.
"The amount of satisfaction I would get when I compiled a program and got the program to do exactly what I wanted it to was beyond anything I had experienced previously," she says.
While at IBM, Martin realized that her passions gravitated more toward the math that underpins financial markets, including risk modeling, and during her three years there completed a master's degree in statistics at Columbia University. Given her growing interest in financial markets, she departed IBM for what became the NYSE derivatives business, which she joined in 2001.
In fact, the thrill of those core skills stays with her to this day. Living again on Long Island with her husband and two sons, Martin, 45, enjoys helping with complex math assignments, which she likens to the thrill of programming. "Writing code is like solving a really cool puzzle," she says.
While technology remains a big area of focus for Martin, attention to customers is another. The importance of connecting with customers was one of the most important lessons learned during her career. Prior to the pandemic, Martin says, she would be on planes 30 out of 52 weeks a year to visit and talk to customers around the world.
"It's the only way you evolve your business," she explains.
Martin's mix of skills wasn't lost on Sprecher when he considered her for the top job at the NYSE: "It's a unique blend of being able to work both inside and outside of an organization."
When Martin enters the NYSE building on Monday, Jan. 3 to officially begin her tenure as president, she will take the reins of an exchange coming off back-to-back record years for new listings and one well-positioned for a future where, she says, every company is a technology company. Martin looks forward to leveraging her skills to help NYSE-listed companies share their technology and data stories on the world's biggest finance stage.
Her skills and experience also have prepared her to help issuers navigate a rapidly evolving environment where shareholders are highly focused on companies' ESG profiles, manage risk, and work to assure the U.S. capital markets retain their position as the most liquid and sought after in the world.
Large organizations like the NYSE succeed only when the efforts of many individuals with a broad range of skills can be brought together effectively. Martin knows this well and breaks down her approach to management into two key areas. First is collaboration. She likes to see people work together across different business lines. This is a core philosophy at ICE generally and one she intends to foster in her new role at the exchange. Second is the importance of innovation and thinking like an entrepreneur, which she continuously reinforces with her teams.
"I don't accept the phrase 'We've always done it that way'," she says. "Because with that mindset you don't grow and innovate."
Creative thinking is important to Martin and the impetus for many of her ideas is no secret to the people who work closely with her. Martin's devotion to exercise and fitness is well-known to her staff; she tends to get new ideas or come up with solutions to tricky situations during intense workouts.
In particular, Martin enjoys in-studio cycling and sometimes does back-to-back 45-minute workouts to get her heart pumping. In between, she'll often reach out to her team. "Either they're going to get a call, or they're going to get a text or they're going to get an email," she says.
Even Sprecher is aware of the free flow of information that Martin generates. Transparency, he says, is one of the attributes that really jumps out about her.
"When she took that job running our data division, I would periodically receive an unsolicited communication from her that told me exactly what was going on in the business," he says. "She's very organized and she shares a lot of data and information with others. She's very transparent, which builds a level of trust and endearment that very few people really have."