James Chu
Manager, Research and Analytics, NYSE
John Fischer
Manager, Strategy and Research, NYSE
April 7, 2021
After an extraordinary 2020, the pace of trading activity in the options markets accelerated at the start of 2021. Out of the gate, January multi-list options volume averaged a record 42.1 million contracts per day. Prior to 2020 there had never been a single day with options volume of 40+ million contracts.
January was an active month against the backdrop of an ongoing pandemic, hopes for fiscal stimulus, increased political protests, a Presidential Inauguration and concentrated trading in stocks such as GameStop. Options volume was high around each of these events, but the GameStop volatility in particular drove new daily volume records on January 25 (now the 6th highest day) and January 27, which marks the current record of 57.1 million contracts. In all, four days from that week are in the top 10 of all time, and it easily posted the highest weekly average daily volume (ADV) ever.
February also averaged over 40 million daily contracts and March is now the third highest ADV month, making Q1 2021 the highest options volume quarter of all time. At 40.1 million contracts, ADV is an astounding 45% higher than 2020's record-breaking year.
Equity and ETF Options ADV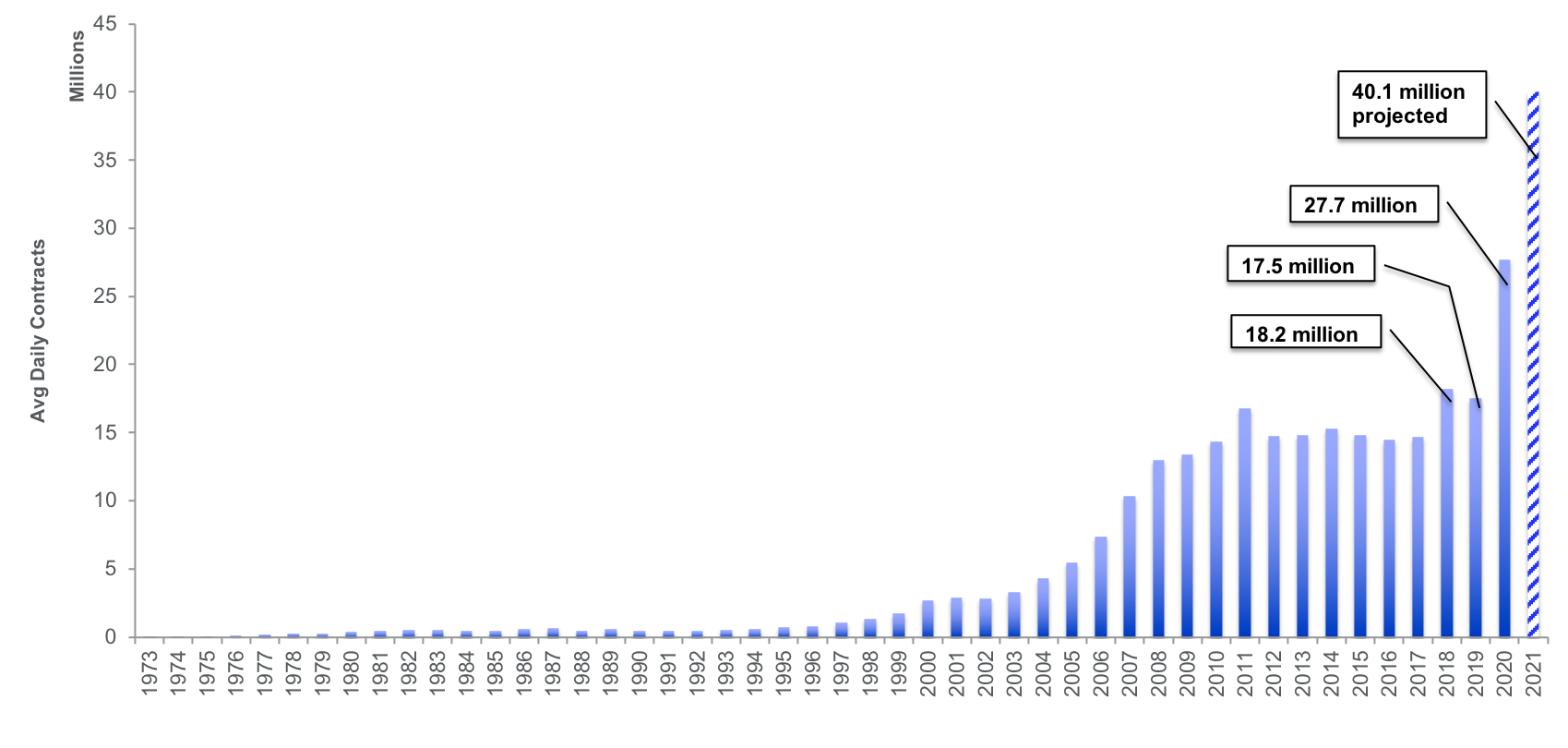 ---
Market Quality
Amidst the high volume, options quoted spreads (in bps) widened 21% from Q4 to Q1. While posted notional size took longer to recover from pandemic lows, it increased 60% in Q1 from Q4, recording the largest posted value since we began tracking the metric in 2019. The increased posted size was across a vast majority of symbols rather than concentrated in a small subset.
Quoted Spread (bps) and Posted Notional Size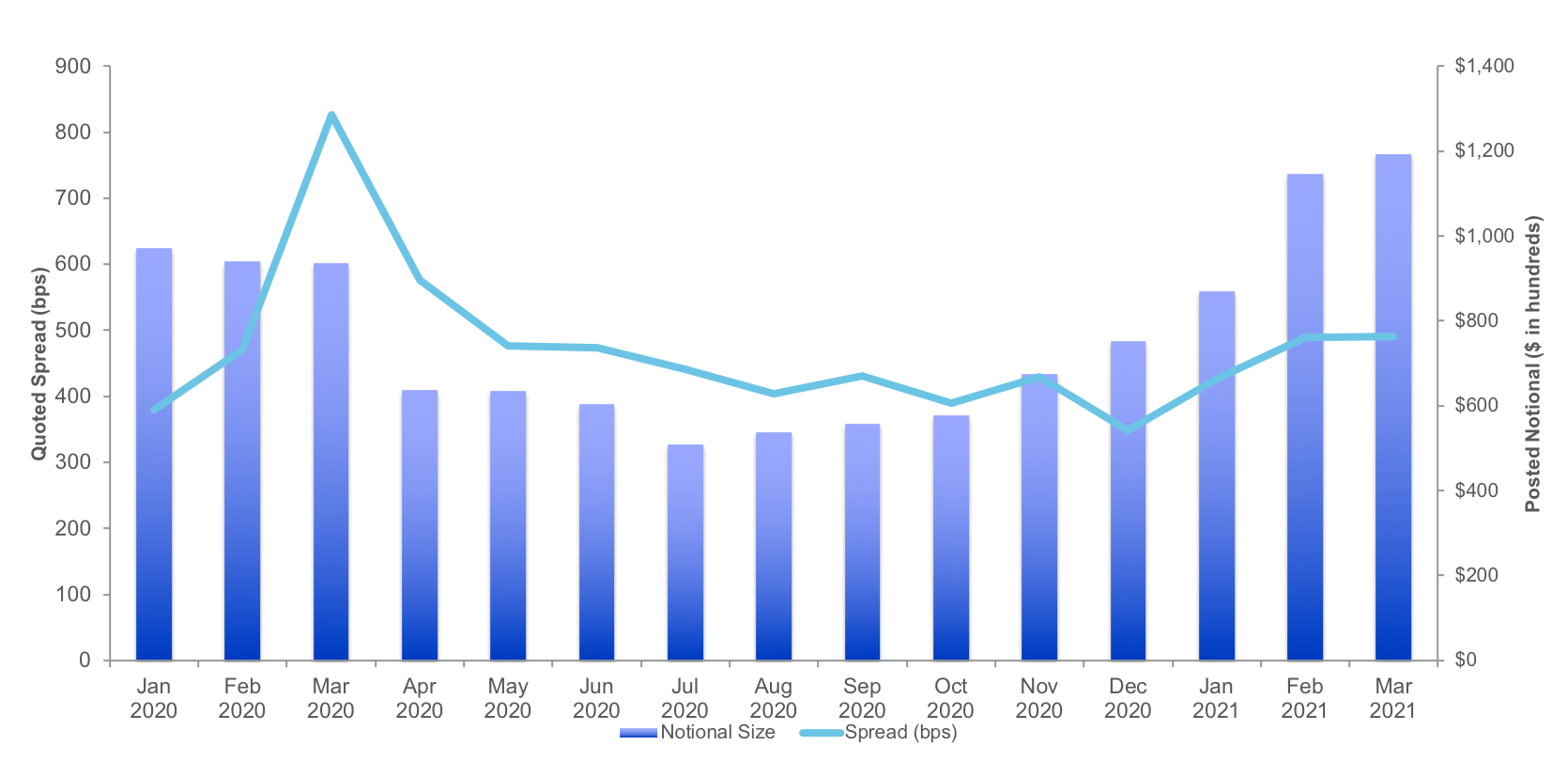 Unmatched Liquidity Index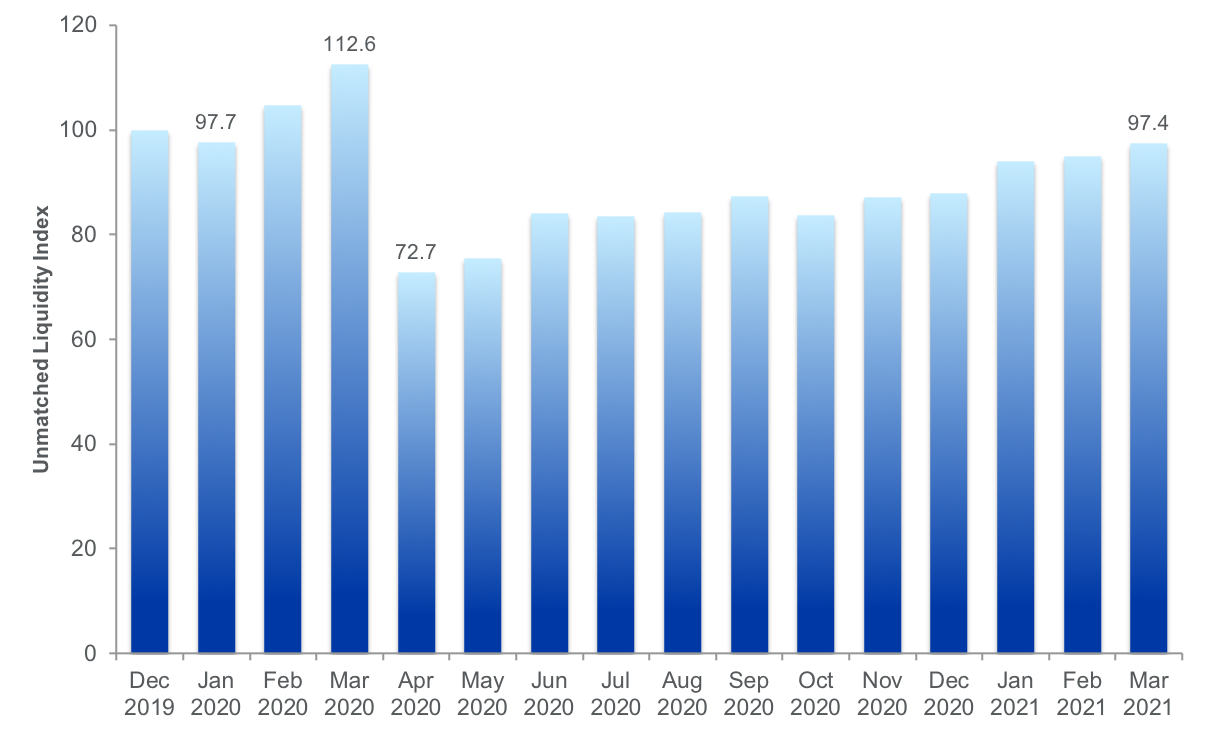 ---
Volume Concentration
SPY concentration continued to decrease and in Q1 represented 10.9% of industry options volume, its lowest level since Q1 of 2010. This can partially be explained by the AAPL and TSLA stock splits last year, as options volume in those two names now account for 6.8% of industry volume. Four of the top Reddit names (AMC, BB, GME, NOK) accounted for 4.1% of Q1 industry volume, up from 0.9% in Q4 2020. ADV in those names was up 534% quarter-over-quarter.
Symbol Concentration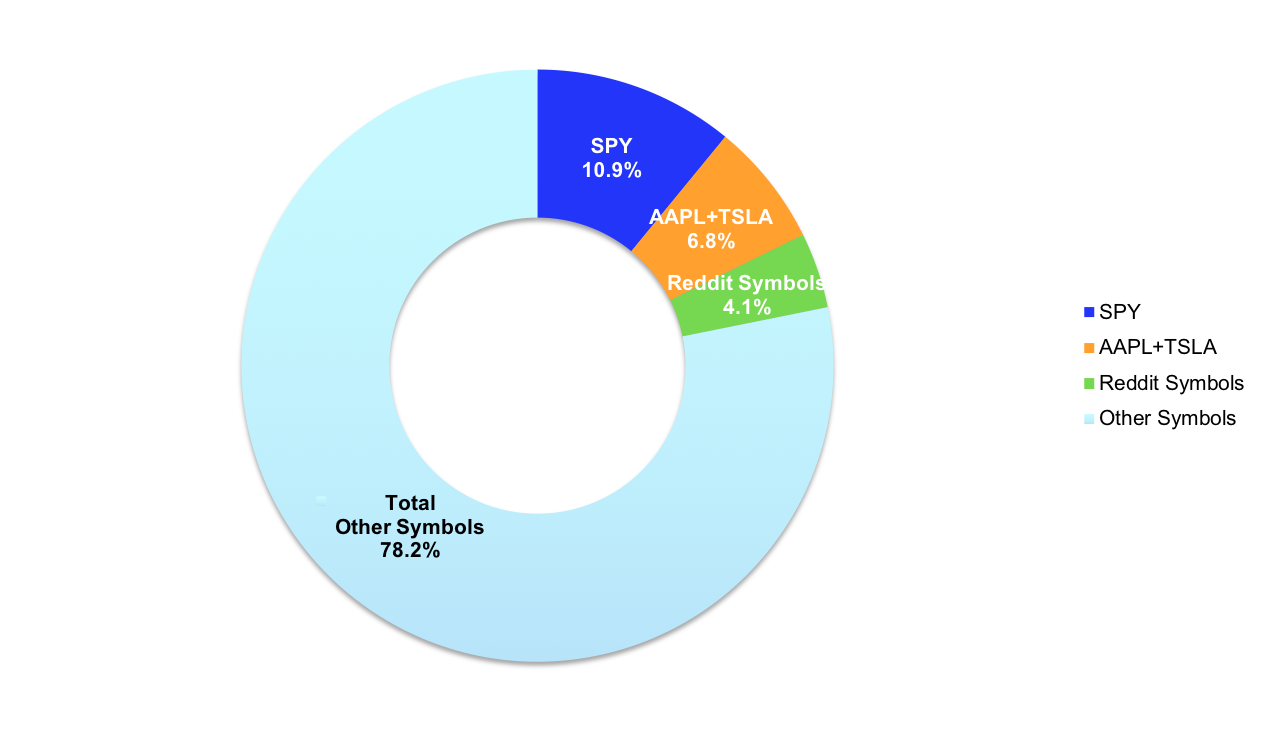 ---
Conclusion
As the quarter ended, volatility subsided, and multi-list volume declined from regular 40+ million contract days. However, risks remain present, as the market reacted to the rapid rise in 10-year treasury yields that led to declines in long duration assets. The question remains whether 2021 volume levels are the new normal for the U.S. Options industry, or if we are trending back down to 2020 levels or lower. Follow our quarterly Options posts to stay up to speed on these trends.