It was another year for the record books at the New York Stock Exchange.
During 2021, the NYSE completed a second-straight year of record new listings, including four of the five largest IPOs of the year, increasing the size and breadth of its community of listed companies and adding more than $1 trillion in new market capitalization to the world's largest stock exchange. This was led by significant listings in technology, biotech and consumer products.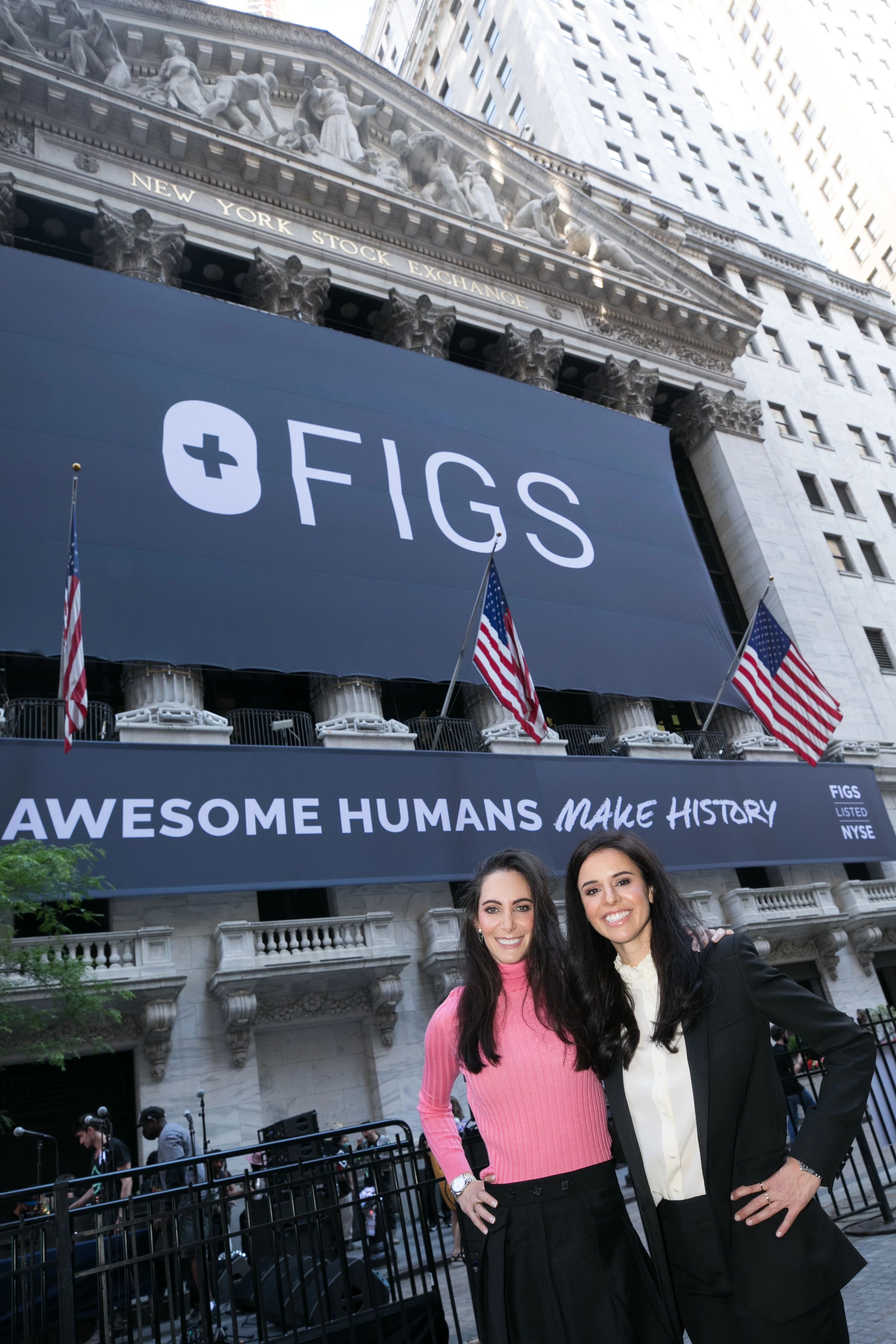 FIGS' co-founders in front of the NYSE.
Many companies completing their NYSE debuts brought a strong focus on sustainability, making them an ideal fit for the NYSE community with its history of innovation and good governance. Indeed, more than two-thirds of companies on the MSCI USA ESG Leaders Index today are NYSE listed.
FIGS, which produces fashionably functional medical scrubs and garments, highlighted diversity when it went public this year under the leadership of female co-founders and co-CEOs, Heather Hasson and Trina Spear. Altogether, 99% of companies holding NYSE IPOs in 2021 had at least one woman on their boards.
In terms of environmental impact, companies focused on the transition to electric vehicles like ChargePoint, Volta and Lightning eMotors made their public debuts. Social impact was another important theme, and a great example was Warby Parker, which went public with a well-known pledge to provide one pair of eyeglasses to those in need for each one sold.
Innovation was also a hallmark of this record year and biotech remained a major focus. NYSE parent Intercontinental Exchange's ICE Biotechnology Index cemented its position as the industry's top index, with more than $10 billion in assets now tracking it, and Ginkgo Bioworks chose the NYSE as its home for the year's largest biotech listing.
Additionally, ProShares launched the first-ever U.S. Bitcoin futures-linked ETF, showcasing innovation for this industry. The NYSE further solidified its position as the U.S. industry leader for ETFs, both in number of listings and assets under management, and as the home of innovation for this asset class.
Overall, the NYSE community grew to more than 2,400 companies in 2021 with a range of transactions that included seven of the 10 largest international listings such as South Korea's Coupang and Brazil's Nubank. The NYSE also hosted benchmark U.S. debuts such as Roblox, Samsara, UiPath and SentinelOne, the largest U.S. cybersecurity IPO of all time.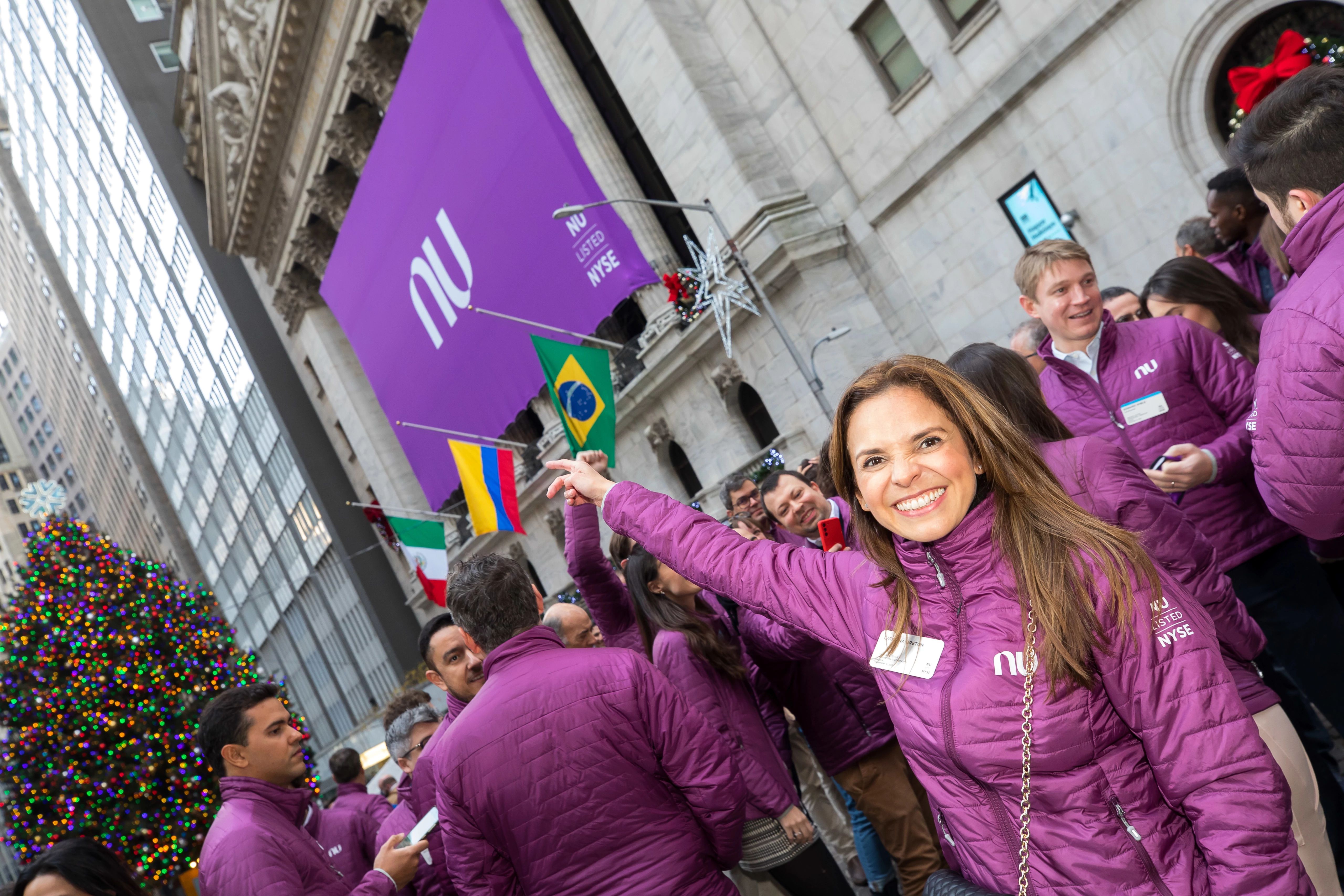 Nubank celebrates its NYSE listing.
Importantly, the breadth of transaction types in 2021 reflects the NYSE's history of capital markets innovation. The exchange executed a record four direct listings during the year -- Roblox, Squarespace and ZipRecruiter in addition to Warby Parker -- twice as many as the prior year. Many companies also joined the NYSE community via traditional IPOs, SPAC mergers, spinoffs and transfers.
Indeed, the NYSE saw the largest number of companies transfer from competing exchanges since 2002, including technology providers Garmin and Wolfspeed. These 22 transfers matched the prior four years' total combined.
With the NYSE's listed companies focused so heavily on sustainability, the exchange itself continued to push forward on this front as well. These efforts included:
Finally, the NYSE's ability to support this growing and vibrant community of listed companies was a direct result of the unique integration of industry-leading technology and human judgment seen only on the NYSE trading floor. This approach, even in the most volatile market conditions, has brought transparency and unmatched market quality to issuers and investors.