The U.S equity markets have rapidly grown in complexity over the last decade, and today investors can trade stocks on approximately 59 execution venues, including 12 exchanges and at least 37 broker-dealer operated venues, or dark pools.
As markets become more fragmented and complex, the New York Stock Exchange is harnessing its unique model to simplify markets and promote transparency to deliver the best quality markets for its listed companies and long-term investors.
Quality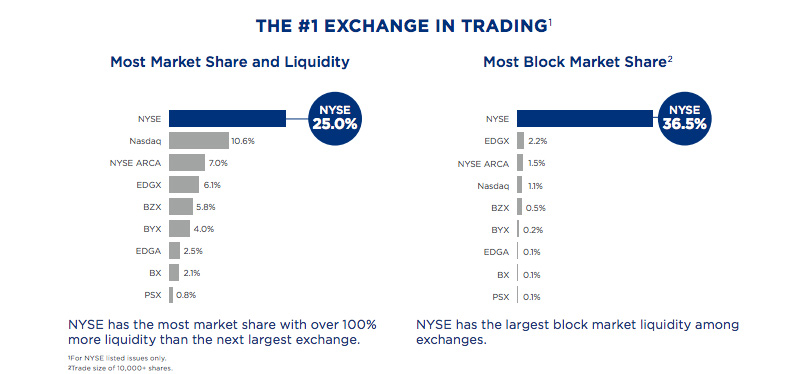 Market quality is critical to liquidity and capital formation. With over 92% more liquidity than the next largest exchange, the most displayed shares at the National Best Bid and Offer (NBBO), and the narrowest quoted bid / ask spreads, NYSE is the global leader in market quality.
The NYSE is unique. It is the only equities exchange in the world with an active trading floor that integrates modern technology with human judgment - and it's that combination that sets it apart in terms of performance and results for investors.
For example, NYSE has the narrowest quoted spreads (with the next nearest exchange featuring spreads that are on average four times greater) and offers the best price 62% more often than other exchanges.
NYSE's designated market makers (DMMs) play a critical role in matching buyers and sellers, often using their own capital to ensure liquidity, minimize market imbalances and create pricing efficiency in NYSE-listed securities. While most major markets have market makers, NYSE's DMMs are subject to the highest regulatory obligations.
NYSE's listed-companies benefit from having a DMM who acts as a guardian of trading in their securities, particularly during the opening and closing auctions. NYSE's opening and closing auctions are the largest single volume events of the trading day and DMMs contribute capital to satisfy market demand, and provide human judgment and communication.
In addition, DMMs provide listed companies with market information, analysis and event-driven updates during the trading day to keep them apprised on both the activity affecting their stock. This translates to NYSE having the best quality market and less volatility than other exchanges.
Transparency
One of the primary purposes of public securities markets is to facilitate and support capital raising by public companies, so that they can grow, hire and invest. In support of this important capital raising function, the NYSE fosters a trading environment for its listed companies' stock that allows investors to trade in a fair, efficient and transparent manner.
When traders need to trade a large block of a given stock, they often trade off-exchange to avoid causing price disruptions. In the past, off-exchange trading was usually done between two brokers over the phone, in a legal practice called 'upstairs trading'. As technology and regulations changed, large institutional broker-dealers created their own 'alternative trading systems' or 'dark pools' to conduct these trades. In dark pool trading, the prices at which parties are willing to trade are not visible. Dark pools and dark trading is legal, but dark pools are not subject to the same rigorous regulations as licensed exchanges.
The ability to trade in the dark has its role in efficient equity markets, however transparent, public trading venues where participants can see the prices is critical to the price discovery process. For this reason, NYSE continues to promote displayed markets and to prioritize lit (versus dark) trading activity.
Simplicity
Since NYSE was acquired by the Intercontinental Exchange (NYSE: ICE), our company has focused on investing and simplifying its markets, systems and operations, with the aim of promoting investor confidence and strengthening markets for listed companies.
In the last year, NYSE has researched new approaches, worked with the institutional investor community and rolled out a number of significant initiatives to improve the exchange's efficiency and make markets better for customers.
For example, the NYSE eliminated certain order types to reduce market complexity where possible, simplified fee structures, and launched a new state-of-the-art trading platform for NYSE Arca, known as Pillar. When Pillar is expanded to our other markets, it will bring our five equity and options exchanges together on a common technology platform for the first time. The new platform represents the next generation of trading technology designed to enhance consistency, performance and resilience. When completed, participants will be able to connect to all of NYSE's equities and options markets using a single technology specification.
With its unique market model, and focus on simplicity, NYSE aims to protect investor confidence and ensure quality U.S equity markets today and for centuries to come.