As trading platforms proliferate, investors' search for the best available prices has grown more complex. Now, a new study shows that the scale and liquidity of NYSE's equity exchanges underpin a data feed that outperforms major peers.
Consider this: NYSE Group lists over half of all US listed equities, including corporate issues, SPACs and ETFs. Trading on NYSE Group exchanges plus the FINRA/NYSE TRF accounts for over 31% of all trading activity.
The NYSE Best Quote and Trades (BQT) data feed allows investors to benefit from this scale and diversity of liquidity. NYSE BQT provides a unified view of the real-time Level 1 market data at a cost-effective rate, using the combined data of all five NYSE equity exchanges and the NYSE TRF in one feed. Additionally, NYSE BQT is enriched with key supplemental data such as primary market closing prices, real-time total consolidated volume and trading halts.
NYSE recently commissioned noted consultancy firm Jordan & Jordan to compare indicative prices available on NYSE BQT to similar products from Nasdaq and Cboe. This exhaustive study analyzes securities by listing market, average volume, and security type - finding NYSE BQT has the best available indicative prices in the market across more categories than competing products. For example, the NYSE BQT product shows quotations at the best prices across all securities in the market more frequently than other products or individual venues.
All NMS Securities: Percent of Time at NBBO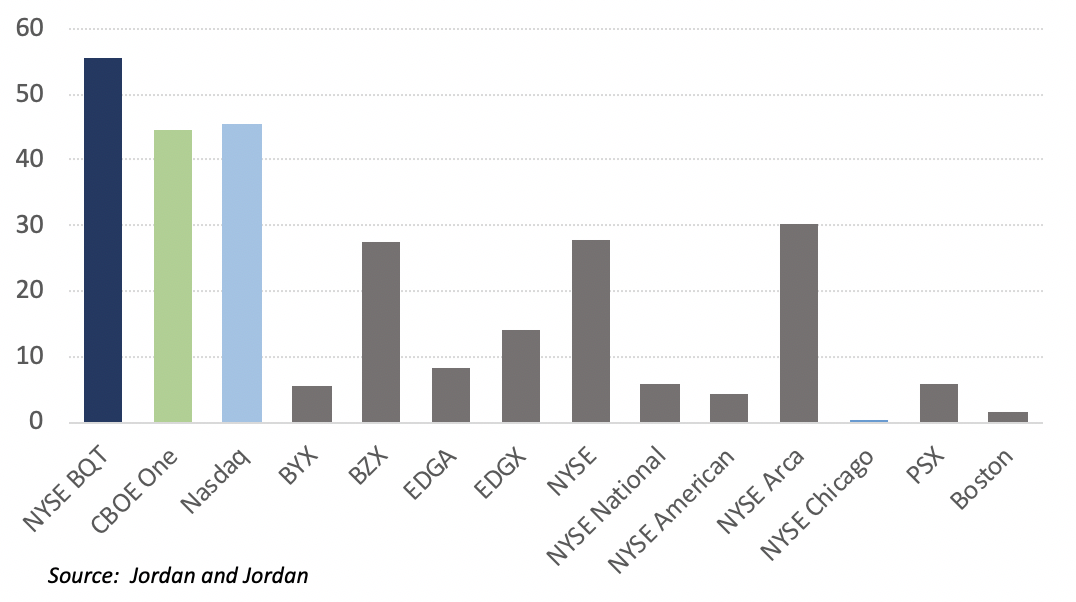 To learn more about NYSE BQT please reach out to [email protected].