by Scott Alexander
Data drives more and more decisions within any enterprise these days. And in most cases, that's a great thing. But for certain industries, especially consumer-facing companies that are heavily leveraged in infrastructure, over-reliance on data can lead to defensive thinking, confining companies to small, iterative changes instead of making the dramatic leaps necessary to truly stand out with customers.
Few industries are more susceptible to the "boring but effective" follow-the-data mindset than the hospitality business, where change is expensive and margins notoriously tight. Ironically, few other industries have such a rich opportunity to connect with consumers in meaningful ways. During a hotel stay, travelers are literally enveloped by the company, a situation that offers unique opportunities to connect around some of humankind's most basic needs: food, shelter and company.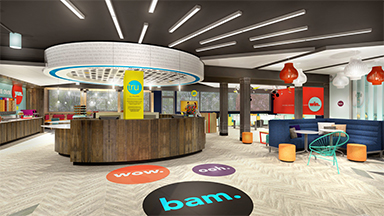 When Hilton Worldwide (NYSE: HLT) began developing its newest hotel brand, Tru by Hilton, in 2014, the managers knew they needed to do more than just bring in some designers with a fresh color palette, beef up the Wi-Fi and throw USB outlets in every room. "About a year ago we started to look at the midscale, $80- to $100-per-night category, which accounts for 40 percent of U.S. travel," says Phil Cordell, Hilton Worldwide's global head for focused service and Hampton brand management. "We didn't really have a brand in that category, and we didn't see a lot of differentiation in the market. There's a whole lot of product out there, but a lot of it feels very similar."
Cordell realized that the shortest path to a big impact was to rip up the traditional playbook. One of the first things he did was bring in an outsider for some fresh perspective. Alexandra Jaritz, global brand head for Tru by Hilton, spent the past 20 years putting her knowledge into practice across the hospitality industry as one of its most respected leaders. The two put together a lean, agile strike force within the company, charged with acting more like a Silicon Valley startup and less like a century-old business operating across 100 countries and six continents.
"There were no sacred cows. Everything was on the table," Jaritz explains. "Early on, we focused in on three guiding principles: keeping things simple, spirited and grounded in value." The speed of the process was particularly striking for Cordell after his 31 years at Hilton. "Hotel chains either go for small improvements to existing features that don't move the needle, or take a lot of time to develop new concepts," he explains. "Unfortunately, when you take that long, by the time you come out, your product may no longer be relevant."
Things went into high gear after Jaritz joined the project in June 2015, tapping talent from across the company. And now the company has announced the fruit of Cordell and Jaritz's skunkworks project. Tru is a midscale hotel brand whose goal is nothing short of offering the most forward-thinking hotels in the world. In fact, looking at the prototypes, you'd be forgiven for thinking you'd accidentally wandered into the office of a San Francisco firm with no vowels in its name. "The idea was to create a differentiated experience for our guests," says Jaritz. "We wanted Tru not to just be a place for customers to check in, sleep, then check out the next day." On arrival, a vast 2,700-square-foot lobby welcomes and energizes travelers, offering instant and easy choices for taking a load off. That might mean bypassing the front desk and heading straight to the room (thanks to online check-in and smartphone-based keys), or it might mean setting down your bags and going directly to one of the lobby's four distinct zones, each focused on a clear activity: work, eat, lounge, and play.
The Work zone is quiet and offers a panoply of power and connection options. The Lounge area is perfect for reading a book or chatting with fellow guests. The Play zone is equipped with table games such as Ping-Pong or foosball. The Eat zone, naturally, deals with food and drink. "Our research told us that whether they know it or not, people are hungry for a spirited experience where they can sit with other travelers and connect," says Jaritz. "A place where they can have all the amenities of home, but that still delivers a strong value proposition."

How can operators afford to devote so much space to these communal activities and still maintain a healthy operating margin? It comes down to Tru's most contrarian aspect: It flips the typical relationship between public and private spaces in a hotel. In a radical move, the Tru team shaved 100 square feet off typical room sizes, going down to 230 square feet in a King room (typical King rooms are around 340 square feet). This freed designers to pour that saved space into the hotel's common areas.
With this reduced per-room footprint, optimizing around spatial design was critical. In addition the team focused on populating the rooms with items that deliver the best bang for the buck, in terms of both operator investment and customer satisfaction. Spending money on features only a few guests will use and then replicating those items in every room creates needless redundancy. Tru doubles down on elements that move the needle for customers and which practically every person will use during their stay, namely bathroom, bed, lighting and TV. "When you get those human details right, people feel cared for," says Cordell. The theory is that 100 extra square feet doesn't do much for you after a six-hour flight if the place feels like a plastic facsimile of a human space. "We wanted to really overdeliver in certain places, giving guests everything they want in a room in a compact space, then knock their socks off in the lobby."
Jaritz says every Tru room will feature "comfortable platform beds, generous lighting, a 55-inch TV with over 150 channels, and an enlarged, shower-only bathroom space. There's a tremendous focus on smart use of space, storage options, and copious, easy-to-reach places to plug in gadgets. No one likes crawling around under desks."
The Tru concept was also designed to please Hilton's other major constituency: its operators. "We wanted to make this product extremely easy to build, simple to maintain, as well as easy to operate," Jaritz explains. "Almost 70 percent of our new hotel projects come from existing owners, and we worked with many of them from the very beginning to ensure this would work for them. Their feedback was invaluable."
When Hilton announced Tru, it also let slip another detail. A whopping 102 Tru by Hilton hotels have already been signed, with an additional 30 in various stages of approval in cities including Atlanta, Dallas, Houston, Chicago, Denver, Portland and Nashville. For Cordell and Jaritz, buy-in from those with skin in the game is the No. 1 marker of the project's success. "Their sign-on is a testament to their faith in the product," says Jaritz. "These folk are on the ground in hotels every day. They know what will drive return on investment."
---