In March 2016 in San Francisco, Pure Storage Inc. (NYSE: PSTG) held its first customer conference, Pure Accelerate 2016. A splashy affair held on one of the city's picturesque wharves, complete with food trucks and a classic gaming arcade, it not only offered certifications and training, but also celebrated Pure's developments in enterprise-level flash storage.

A common theme among the speeches by company officers and Pure's clients (including such heavyweights as Mercedes-Benz, Intuit and Riot Games) was something that went beyond product announcements and techno-optimism. There was a distinct sense that the technology world (and the world at-large) is about to undergo a massive shift in terms of how information is used and stored. Pure Storage believes it is well-positioned as a catalyst in this coming transformation, but it's a change that will affect us all, no matter what industry we are in.

Here are the six biggest takeaways from Pure Accelerate 2016.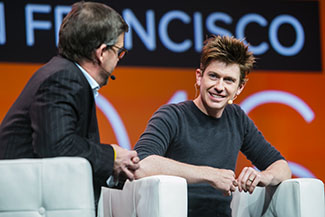 1) ANALYTICS IS CHANGING EVERY BUSINESS
The importance of understanding the data coming out of your business is becoming increasingly undeniable. "Domino's Pizza (NYSE: DPZ) is now the third largest e-commerce company in North America," points out Pure Storage CEO Scott Dietzen. "They got there through a commitment to great food, but also to great tech." Indeed, more than half of Domino's orders now come through their mobile app. And having good data on that many of their customer interactions has proven invaluable.
2) YOU IGNORE YOUR COMPANY'S DATA AT YOUR PERIL
"Data must be a strategic core competence of your company or you will die," says Kristian Segerstrale of gaming company Super Evil Megacorp. Segerstrale's company had success in 2015 with its mobile competitive multiplayer game Vainglory, which the company states has spawned a robust professional gaming scene. Segerstrale says gaming companies have been at the forefront of customer data collection and analytics, and that games like Vainglory produce "100 actions per minute per player during games, creating thousands of data points per session." Game companies use this data to make improvements to the game, enhancing player satisfaction. And, he says, you should be doing the same, regardless of who your customers might be or how they interact with your product or service.

"You will be in enormous trouble in the next couple years if you don't invest in data," he warns. "If you're not doing it, then someone is plotting your demise. They will come along in the next couple years and overtake your business," he adds, noting that corpses of legacy businesses now litter the business landscape, lapped by young, small, nimble, data-driven competitors. "It's not just IT, it's the whole company," he urges. "Begin building it now if you haven't already."
3) UNSTRUCTURED IS THE NEW NORMAL
Historically, companies have been most comfortable with using so-called "structured" data. Such data is typically organized in orderly databases, which means it can be understood relatively easily. However, the ubiquitous technology transforming today's business and consumer landscapes, from phones to e-commerce to the Internet of Things, is causing an exponential rise in so-called "unstructured" data, tiny individual data points from customer interactions that require an entirely new approach in terms of analytics. The need for companies to get their arms around this unruly dataset has driven a new sector of Silicon Valley startups based on next-generation analytics, machine learning and data presentation.

David Hatfield, Pure Storage's president, noted that there is at least twice as much unstructured data as structured data today, and that he expects the size of the unstructured data space to rise even more precipitously going forward. Addressing that issue head-on, the company debuted a new product at Pure Accelerate specifically for companies taking on these new challenges. Its newly-announced FlashBlade system is a highly flexible, all-flash storage system that can scale up to 1.6 petabytes of data, all housed in a markedly small amount of space.



"The value that can be gained from efficiently storing and analyzing unstructured data has a transformative effect on business," says John Hayes, Pure Storage's co-founder and chief architect. "FlashBlade unlocks new capabilities and use-cases that are simply not possible with today's existing solutions, by delivering real-time analytics at massive scale and blazing speeds."
4) THE FLASH ADVANTAGE IS TRULY RADICAL
In his opening remarks, Pure CEO Scott Dietzen said, "We are driving a once-in-a-generation disruption in the storage industry." After hearing from his users, it was hard to deny that statement. Customer after customer, from industries ranging from financial services to cars to gaming, took to the stage to talk about what happened after they moved to flash storage. Regardless of their specific use-cases, one common theme was impossible to ignore: Using flash drives offers proven benefits over older forms of media.

One executive said that some of his processes had gone from "four- to 17-minute access times to an average of 560 microseconds," and that they'd seen configuration times drop "from 48 minutes to 15 seconds." These are order-of-magnitude shifts. Dietzen spoke of companies being able to take analytics jobs "from 15 hours to 17 minutes, allowing them to move to a just-in-time inventory system and saving millions of dollars."

And while these improvements might be good for a business's efficiency, they're even better for customers. "Putting flash in the data center improves customer experience," says John "Coz" Colgrove, Pure's co-founder. "We hear over and over that it changes how business are run. That experiential difference can be of more value than any dollars and cents you have."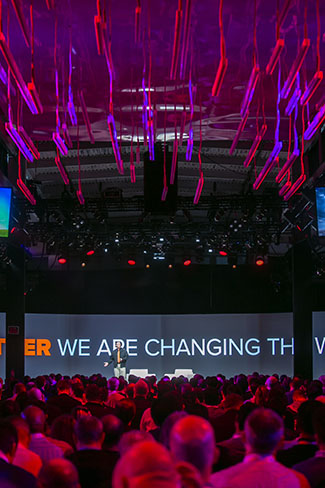 5) IT'S PRETTY GOOD ON DOLLARS AND CENTS TOO
Solid-state memory was invented in the mid-1970s, and though it's always been faster than spinning disks (or tapes before that time), its high prices have historically kept it from widespread adoption. It took 30 years for consumers to begin seeing solid-state memory in thumb drives and memory cards in the mid-2000s, followed shortly thereafter by laptops and, of course, the tablet and smartphone revolution of the past five years would be impossible without it. Still, large-scale storage remained expensive.

But with Pure's announcements yesterday, that era may be over for good. Pure's says that its new high-end FlashBlade system brings storage prices down to less than a dollar per gigabyte. The company's other new product, the //m10, is aimed at smaller businesses that are ready to make the jump to flash, but don't need the capacity of the FlashBlade. "Flash memory now costs less than disk," Dietzen emphasizes. Not only that, he points out, but with no moving parts, flash storage generates far less heat than do mechanical hard drives. For large data centers, that can add up to savings of "tens of millions of dollars on power and cooling alone."
6) DATA WILL SET YOU FREE, BUT DON'T FOLLOW IT BLINDLY
In an environment like Accelerate, it's easy to get caught up in data fever, but one speaker offered an important caveat. "Every data point is a proxy," said Segerstrale of Super Evil Megacorp, "but don't confuse that for the thing you actually want to achieve." He posited that great brands work by engendering love in their customers. And love isn't something you can engineer. The data may give you clues about how to achieve it or where to look for it, but "it's very important not to blindly chase proxies. Data doesn't create awesome. Inspiration creates awesome."

Segerstrale went on to say, however, that empowering employees with access to data can have a massive positive effect not just for customers but also for employees. "Data will set you free," he said. "It helps you fundamentally build a better, happier company with better talent and a more passionate internal culture." In a traditional company without analytics, he noted, the more important a decision is, the more likely it is to be escalated to people with more experience. This not only overburdens the upper echelons of a company, but it fails to develop those on the lower rungs. Not to mention that "a lot of decisions get centralized, then answered based on opinion."

Happier employees, he posited, are those who are given autonomy and the chance to achieve mastery or a sense of purpose. "With data you can achieve all those things," he said. "You can put the consumer at the top of your org chart instead of the CEO. Then everyone else that touches that consumer becomes the most important person. And you can sit back and watch the team develop."
---