The Paris Agreement signed by 195 countries at the U.N. Climate Change Conference in December 2015 is expected to exponentially increase the demand for green energy. "By 2030, California has said it wants 50 percent of their energy to be green," says Isaac Angel, CEO of Nevada-based Ormat Technologies Inc. (NYSE: ORA). "Hawaii is even more aggressive. They want 100 percent green energy by 2045."
For more than 50 years, Ormat has specialized in building and operating geothermal power plants. These plants rely on wells sunk deep into the earth's crust to harness steam and hot water heated by magma. But while geothermal plants have existed for more than 100 years, they still account for less than 1 percent of the electricity used in the U.S. (which leads the world in installed geothermal capacity).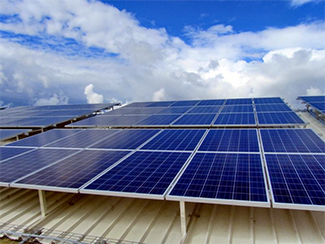 There's a simple reason for that, Angel says: cost. "The initial investment is around $4.5 million per megawatt," he notes. "That's probably the biggest reason geothermal has grown so slowly."
Once installed, however, geothermal has some unique advantages over wind, solar or hydroelectric. "Once you build a plant, the operating cost is extremely low," Angel says. "If you factor in the full life cycle of a plant, it's not only financially viable, but potentially cheaper than any other energy source."
"One of our plants has been running for over 40 years now," says Ormat CFO Doron Blachar, noting that the company's turbines generally last 25 to 30 years. "Geothermal plants are a wonderful energy source as long as you manage them correctly and perform the right maintenance."
Not only that, but once you harness it, steam from the earth never stops, unlike other green methods that depend on weather and other above-ground phenomena. In energy industry terms, "it's the only green energy that provides a true base load," as Angel puts it.
Indeed, with the world clamoring for clean, renewable energy solutions, 50-year-old Ormat Technologies believes it is well positioned to respond to market needs. To capitalize on this time of transition, the company has undergone a thorough restructuring over the past two years, transitioning from a family-run business to a more traditional corporate structure.

Following the transformation, Ormat announced significant growth at the end of February, most notably a 6.3 percent year-over-year revenue increase. Angel, who took the company reins in 2014, says his initial goal was to ensure that the core businesses — especially the 18 fully owned and operated power plants and complexes around the world — were operating at maximum efficiency.
"The first thing we focused on was improving the existing assets of the company," says Angel. "We put teams in each of our 15 U.S. power plants and our three plants in Kenya and Guatemala to examine how to improve output."
Since Ormat is a vertically leveraged company that manufactures turbines as well as offering a variety of engineering, procurement and construction services, Angel's team also took deep dives into each division. "We accelerated the way the company builds power plants. It used to take us almost two years to build a power plant. We've halved that time at this point," says Angel. "Everything is aligned now. When we decide to build something, all the different parts of the company immediately start working in parallel, from engineering to permitting to licensing."
In addition to building two new plants in Nevada, Ormat is working on new operations in Indonesia and Honduras and expects to acquire another location on the island of Guadeloupe. The company has also announced an agreement with Toshiba to develop new products. And Ormat expects increased demand for its recovered-energy generation systems, which the company sells to the natural gas industry. These products capture the heat created by various industrial processes, turning it into free, "bonus" electricity.
"We improved across the board," says Angel about the company's recent performance, adding that he expects the company to continue to deliver electrifying results.
---