Since its incorporation in Russia in 1993, Mobile TeleSystems PJSC (MTS) (NYSE: MBT) has evolved from a national mobile network operator to become a leading telecom group in Russia, Eastern Europe and Central Asia. Having achieved sustained growth both organically and through acquisitions, MTS now serves more than 100 million subscribers across its geographies of operation.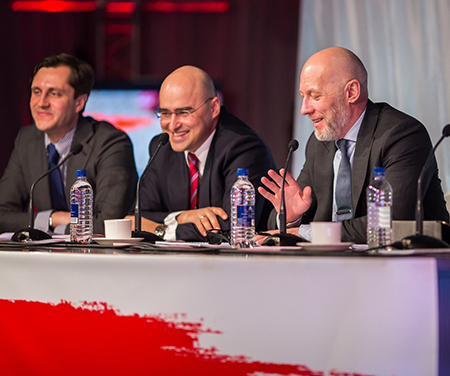 Pictured Above: (left to right):
Kirill Dmitriev, VP for Sales & Service
Alexey Kornya, VP for Finance, Investments & M&A, CFO
Andrei Dubovskov, MTS President & CEO
Telecommunications firms may risk their futures by focusing solely on infrastructure and connectivity. Traditional telecom companies have adapted to the digital era and found new ways to engage with their customers. MTS has led the way in this regard, adding pay-TV, broadband Internet and mobile banking to its service offerings over recent years. And MTS continues to evolve and is currently expanding into everything from e-commerce and mobile payments to Big Data and IT services.
"Today, simple connectivity isn't enough. Technology, the smartphone platform and the connectedness of our markets create possibilities to deepen our relationships with our customers. As smartphone penetration continues to grow in the markets where we operate, we have a great opportunity to connect with our customers in new ways, with innovative service offerings," says Andrei Dubovskov, MTS President and CEO.
That connectedness is at the core of what the company refers to as "differentiation through digital." MTS is seeking to capitalize on its brand and scale to offer its customers a suite of services beyond those offered by traditional telecom companies.
Mobile Banking
MTS first entered the financial services marketplace in 2012, when it acquired a stake in MBRD — now MTS Bank — to offer a mobile platform for financial services and transactions. Approximately 15 million users currently use MTS' financial services, and the company is aiming to increase this figure as it introduces innovative products. Its core financial product, MTS Money Wallet, has recently added a host of new features including expanded payment services, contactless payments, and even the ability to buy and sell mutual funds, all within the app. And MTS plans to add more features in the near future.
"Turning a cell phone into a wallet is a global trend. And by offering such a highly functional and versatile financial tool, we are a pioneer among Russian operators. Our overall goal in fintech is to build an ecosystem of MTS mobile financial and banking services, with the MTS Money Wallet at its center. We expect the MTS Money Wallet to be not only a convenient payment solution, but also a hub for all MTS financial services," explains Alexey Kornya, Vice President for Finance, Investments, Mergers & Acquisitions, and CFO.
Engaging Users with New Services
As people's lives become more intertwined with their smartphones, MTS is finding new ways for customers to get more out of their devices. With increased functionality comes deeper engagement. And by offering more than 20 branded mobile apps — the largest suite of any Russian mobile operator — MTS now offers its customers a wide range of services spanning entertainment, communication and more.
Each app gives users one more reason to pick up their devices, which helps MTS to cement brand loyalty in a competitive market. My MTS, the company's self-care app, serves as the entrance to MTS' digital ecosystem. Although it was released only a year ago, it draws more than a million active users per day.
Building apps that people love and can't live without is a key part of deepening user engagement. The suite of MTS branded apps is currently used by more than 10 million people. And given the overall size of its international subscriber base, the company sees huge growth potential, and is constantly upgrading its apps to improve user experience.
New Digital Services for Business
While its telecom, broadband and pay-TV customers provide upfront revenue, they also represent a new business opportunity. MTS uses information about its subscribers for CRM, network optimization and other day-to-day business needs.
And MTS says that this is just the beginning. The company cites their investments in data mining and analytics, and has established a Big Data unit that combines data architects, IT and marketing experts to use that subscriber information to develop new services and products.
Beyond just data, the range of services that MTS can offer other businesses is also expanding rapidly. In 2015, MTS acquired NVision Group, the developer of its billing system and one of the largest systems integrators and IT solutions providers in Russia. At first, the acquisition allowed MTS to reduce spending on in-house IT. But it has also enabled the company to offer corporate clients a full range of IT services, including machine-to-machine (M2M) solutions, cloud computing and Big Data analytics.
As a result, MTS can now deploy IT infrastructure, implement new control systems, reengineer and automate business processes, build out complex IT security systems, and create niche services using the cloud model.
Bringing the Digital Revolution into the Analog World
While still somewhat in its infancy, the development of Internet of Things (IoT) technology gives MTS exciting opportunities to expand to new areas.
In terms of supplying connectivity, MTS is a leader in Russia's machine-to-machine market. With that background, MTS is working on smart car insurance, smart metering, geo-location, fleet management and employee tracking solutions. For now, most of these products and services are tailored to specific customers. MTS plans to develop many of these solutions and offer them to a wider array of corporate clients.
Making Shoppers out of Subscribers
With so many subscribers, so much data, and a host of electronic payment capabilities, MTS states that e-commerce is an area where it already has a competitive advantage.
Since 2014, it has been actively developing its online store, which is now the largest operator-run e-commerce site in Russia. The company's long-term aim is to integrate all of its products and services within MTS' online store.
"Our e-store is an important pillar of our digital future. Sales are moving online. Realizing growing importance of e-commerce, we are constantly increasing MTS' online presence. For the last three years, online purchases showed an impressive growth from 3.7 percent in 2014 to 10.4 percent in 2016 in the overall turnover of MTS retail. There is immense opportunity to grow further as we expand the number of products and services available on the platform," said Kirill Dmitriev, Vice President for Sales and Service.
Innovating Customer Care
As MTS expands with new products and services, it is taking a digital approach to personalized customer care. For the fourth consecutive year, MTS has reported a decline in the number of people who call its contact center.
For a company as large as MTS, that's a major cost saving. And for a company with so many business opportunities at stake in each customer interaction, optimizing the efficiency of its customer care is vital.
Transformation — An Ongoing Priority
MTS' story is one of developing technologies, innovating new products and expanding the markets it operates in, and the company says it plans to continue to evolve as the world around it changes.
"As MTS branches out from being a pure infrastructure company, we are reinventing ourselves to become a leader in the newly emerging digital services market. Digital is an area that never stands still, and we will work tirelessly to ensure that our products and services remain at the forefront of innovation and improve our customers' lives. We are redefining what a telecom provider means to our business and retail clients, and in the process, establishing MTS as the smart brand of choice among our customers, peers and shareholders," says Dubovskov.
---