Building a career in a rapidly transforming media landscape was the focus of the Women + Media Career Summit, which the New York Stock Exchange hosted last month. More than 150 young women arrived for the daylong networking and coaching forum sponsored by the Center for Communications.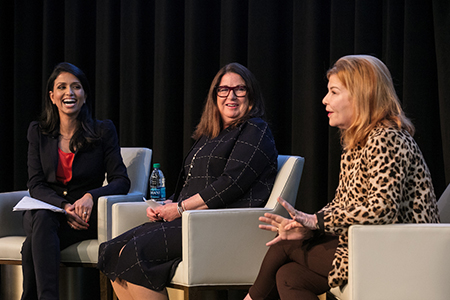 These undergrad and graduate students learned from women in leadership positions across media, including top executives from CBS (NYSE: CBS), about how to get ahead in the industry.
In the event's "Leadership: The Road to the C-Suite" panel discussion, CBS News correspondent Reena Ninan lent her on-air flair to a candid conversation with her colleagues CBS Television Network Sales president Jo Ann Ross and Terry Press, president of CBS Films. They shared their hard-earned insights on the ever-evolving media landscape and on what it takes to climb the ladder.
"We are very much focused on the younger generation—students are hugely important to CBS. They are the next generation of news makers and journalists," said Ninan.
During their discussion, the three women touched on everything from motherhood to gender politics to the often unglamorous side of ambition. Press reminded the rapt audience that working your way up requires grunt work. "Nobody likes to hear this, but suck it up," she said.
But Ross noted that media is a place where talented women can make an impact. "There's more competition, but more opportunity," she said. She also stressed the importance of not expecting a career to blossom overnight: "It's important to identify a company where you fit in, then be patient."
Press also urged the audience to keep in mind just how high the stakes can be as they pursue careers in media.
"Young women in media are struggling with certain realities, and I'm here to confirm what the realities are in this business today," she said. "Media has never been more pervasive and more important—and in some ways more dangerous. Learning to make good choices is important."
The panelists agreed that one difficulty many women face on their way to the corner office is their extensive commitments at home. "Where many women get bogged down in their careers is more personal. And by that I mean the pressures of all that women take on, not only at work but at home," said Press.
Another hindrance many women encounter comes from their approach, where what may be meant as politeness comes across as uncertainty. "Don't say, I think I want to be in communications," said Ross. "If the foundation of what you want to do is your passion, that will translate."
And there are also the larger social, cultural and ingrained prejudices that women in media must still overcome. "I don't understand why more companies don't have women in positions of power, especially in media—because women consume more media," said Press, to a murmur of agreement from the audience.
Ninan noted that there were many times in her career when she was the only woman at the table. And while things have changed, there are still not enough women at the top, she said.
Ross added that CBS takes diversity very seriously—and that it employs a number of measures, including an internal report card and review process, to continually improve the gender balance at all levels of its organization. Judging by the audience's response, the three VIPs and the institutional commitment to diversity on the part of CBS clearly struck a chord.
"At CBS, we have long fostered an inclusive environment that supports and empowers female leadership across every division of our company," said Anthony Ambrosio, Senior Executive Vice President, Chief Administrative Officer and Chief Human Resources Officer. "Jo Ann, Terry and Reena are only a few examples, among the many, across CBS."
Another reason why CBS and the Center for Communication teamed up on this important initiative at the exchange is Frank Stanton, a broadcast pioneer and president of CBS from the 1940s to the 1970s. He helped found the Center for Communication 35 years ago. "We are here in large part because of CBS," said Max Robins, president and executive director of the nonprofit organization, based in New York, which helps prepare students for careers in the media.
After McKinsey & Company released its 2016 Women in the Workplace study, the Center for Communications realized that a lack of gender diversity has persisted as an industry-wide challenge. The study found that 78 percent of companies surveyed said gender diversity was a top priority, but only 20 percent of C-suite positions are held by women. That was the inspiration to create an annual career summit for women as part of the solution.
"We really looked at the gender gap and wanted to take action," said Robins. With the support of CBS and other sponsors, they were able to pull together an impressive inaugural event, drawing students from over two dozen colleges in the tri-state area.
"I always love talking to students," said Press in a behind-the-scenes chat before her panel discussion. "The future is in their hands. Who we are and where we are going rests on them."
---