As a new administration in Washington talks about prioritizing upgrades to America's infrastructure, MDU Resources (NYSE: MDU) is ready to walk the walk.
More than a political football, an infrastructure overhaul is an endeavor whose time has come, says CEO David Goodin. He points to a recent American Society of Civil Engineers report that issued a D-plus grade for the nation's infrastructure, including roads, airports, schools and bridges.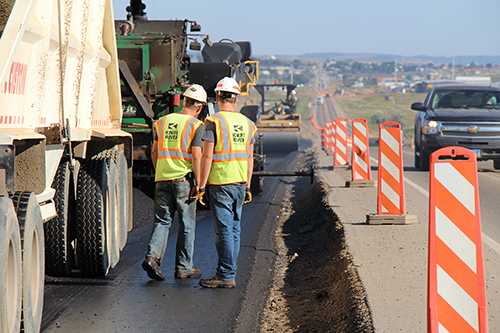 Because of its dual emphasis on regulated energy delivery and construction, the 94-year-old company watched carefully as the presidential candidates repeated campaign promises about fixing the country's eroding physical foundations. And while MDU isn't "counting any chickens before they hatch," as Goodin puts it, "obviously we're appreciative of the conversations in Washington that are happening."
MDU, which is based in Bismarck, N.D., delivers energy to nearly 1.1 million accounts across 8 states in the Northwest and has a construction services division that does business in 47 states and an ever-expanding construction materials business that spans 15 states. And MDU has found a way to make those businesses complement each other.
"This company has a regulated energy business that provides stability and cash flow," explains Goodin, who started at MDU 34 years ago as an electrical engineer. "It underpins credit ratings and underpins access to commercial paper that decreases the cost of capital in our construction business projects."
MDU's construction business has two segments: One provides materials like sand, gravel, crushed stone, recycled concrete and ready-mix concrete, while the other focuses on providing construction services for the electrical industry. Its materials business steadily evolved as MDU bought 75 different companies during the past 25 years. Together, these units make up one of America's biggest construction materials firms, with nearly 1 billion tons of materials on reserve.
Given the nature of the construction business—where shipping and trucking can dramatically increase the cost of goods—each of MDU's construction materials operations serves as a localized business, with its own network of distribution, according to Goodin.
"These are very established materials companies, so they know their own specific markets and what has worked for them over the years and modify accordingly," he says.
Goodin believes that its stockpiled aggregates give MDU a highly competitive advantage and provide the company with the flexibility to adapt to any kind of construction project. "These materials can be used for ready-mix concrete or for asphalt to lay down roads, whether it's road base or foundations for driveways, sidewalks or runways for airports," he explains. "So the materials start that vertical integration, and then, depending on the client's needs, we will take it into the construction phase and deliver the actual finished product."
Those include what Goodin calls "one of the largest community-scale solar projects ever constructed"—51,000 solar panels installed on 80 acres near Pahrump, Nev., engineered and built by the MDU subsidiary Bombard Electric.
Goodin credits two events with boosting the company's fortunes. The first occurred in 2014, when the company decided to exit its oil and gas refinery business. "We said, 'That's a lot of commodity exposure risk,' " he explains. That move freed up fresh capital to invest in other areas.
Then, in December 2015, Congress passed the Fixing America's Surface Transportation (FAST) Act. At the time, it was the first federal law in more than 10 years to provide long-term funding for surface transportation. It dedicated $305 billion to planning, building and repairing surface transportation infrastructure through 2020. Beyond its benefits to MDU, the bill is critical to addressing the nation's infrastructure problems in a long-term, strategic way, Goodin says.
"Prior to the FAST Act, there were 36 extensions of the prior federal infrastructure funding act. But they were 60-day, 90-day or six-month extensions. Now there's a pathway so that state governments can see further into the future and plan more than one year at a time," he says.
Meanwhile, MDU Resources' utility division has increased its reliance on renewable energy, to the point where 22 percent of its electricity-generation capacity is renewable. "Last year, MDU announced plans to have a third party build a wind farm, with an option to buy, that will boost our renewables up to 27 percent of overall generation capacity," Goodin says.
With that focus on the future of energy and the future of infrastructure—and being a company that can facilitate both—its slogan, "Building a Strong America," is more than just a marketing statement. "It's not new for us," Goodin says. "We've had it for 10 years. And we expect to emphasize it a lot more in the future."
---