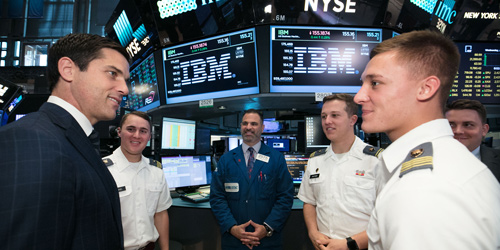 IBM is working to make the IT industry more inclusive. The company is preparing students of all ages, backgrounds, and skills for the growing number of "new collar" career opportunities in America today. In these well-paying roles, in-demand technology skills are valued more than credentials, and a traditional college degree may not always be required. According to the U.S. Department of Labor, there are more than a half million open jobs in technology-related sectors in the U.S., and many of these roles fall into the major skills gap in specialized areas such as cybersecurity, artificial intelligence and data analytics.
New collar workers accounted for 15 percent of IBM's U.S. hiring in the past year. The skills for these new collar careers can be built in a number of ways, from community colleges to vocational training programs, coding bootcamps, industry certifications, self-training and more.
"The disruptive nature of technology is creating new opportunities where technical skills are in high demand for most industries," says Jennifer Ryan Crozier, President, IBM Foundation & Vice President, IBM Corporate Citizenship. "We see the skills gap widening and we are on a mission to find new approaches to training our emerging workforce, helping to boost opportunities for American workers, while also ensuring that we protect and grow our nation's technology leadership."

Here's what IBM is doing to close the skills gap and to make the United States more globally competitive:
IBM and West Point
For the last several years, IBM and West Point have partnered to create a finance internship for West Point cadets, in which they work with IBM executives in corporate finance and treasury. This year marked the 4th annual visit of the interns to the NYSE, where the cadets learn about the history of the NYSE and US capital markets, and tour the NYSE facilities and floor.
Veterans Employment Initiative
In 2015, IBM launched the Veterans Employment Initiative to train military veterans on IBM i2 Analyst's Notebook® software, preparing them for the advanced data analyst certification exam, and assisting them with job placement in highly specialized and fast-growing fields.
Since January 2016, IBM has been hosting one free U.S. training program per month that certifies participating veterans in the use of i2 Analysts' Notebook. More than 500 veterans have been trained to date, and hundreds more are participating in 2017. The training is followed with free career placement services provided by Corporate America Supports You.
IBM has also pledged to hire 2,000 U.S. military veterans as part of a larger pledge to hire 25,000 new collar employees over the next four years.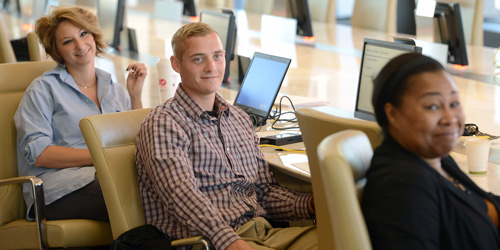 P-TECH Schools
IBM has established P-TECH schools, a public education system in lower-income areas that offers a six-year program combining four years of high school with an associate's degree in technology, providing practical workplace skills that employers value.
The program fosters education in science, technology, engineering and mathematics (STEM) fields, while also inspiring students to continue their education, or easily step into well-paying jobs in applied science, engineering, computers and related fields.
Since the program's inception in 2011, P-TECH has expanded to more than 60 schools across six states to strengthen U.S. competitiveness.