A walk through the James Ford Bell Technical Center at the General Mills, Inc. (NYSE: GIS) headquarters in Minneapolis is like a journey through American food history. Here you can find photos and stories from the company's 150-year legacy, as well as items like the puffing gun that made the first non-flake cereals like Kix and Cheerios.

But it's not just food: General Mills also invented the Nerf ball, and its technicians helped build the Black Box flight recorder. And it's where many of the company's product developers work on what they hope will be the next Cheerios or Bisquick.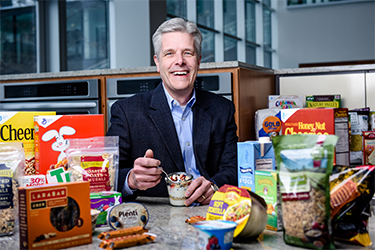 "The exhibits serve a really useful purpose for our organization, in reminding us where we've been, the challenges we've overcome and the inventions we've created," says Peter Erickson, executive vice president of innovation, technology and quality at General Mills. "It shows us that innovation and reinvention at General Mills are not new ideas."

Indeed, today General Mills is in the midst of a companywide evolution to become, as Erickson puts it, "the best big small food company in the industry."

"It's about having the spirit of a small company: the consumer-centricity and empathy, as well as the speed and frugality," says Erickson. "But we want to combine that with the talents, resources and scalability of a big company."

The shift in mindset comes at a time when consumers are changing what they want. More than ever, says Erickson, shoppers demand transparency about where their food comes from, and how it is produced. Natural and organic foods are increasingly in demand, particularly among the millennial generation. General Mills has adapted to the trend with a wide selection of yogurt, cereal and snack products under its Larabar, Cascadian Farm and Annie's brands.

"We need to be willing and ready to evolve our company at the same pace as our consumers are evolving," says Erickson.
Consumer-focused Product Development
To anticipate changing consumer tastes, General Mills product developers and inventors have begun spending more time shopping alongside them in grocery stores and farmers markets — and even cooking together in home kitchens. That kind of close interaction is one way that startups identify business opportunities. And it's a departure from how General Mills used to gauge consumer desires, Erickson says. In the past, the company's market research staff would survey consumers — often in environments like shopping malls — and then pass along what they learned to product developers, who usually didn't interact with customers directly. The result was a process that was slow and secretive.

"We wouldn't let anybody see our products because we were afraid that someone would beat us to the marketplace and we'd lose our advantage," says Erickson.

Today, General Mills product developers are more likely to set up so-called "lemonade stands" for new products in grocery stores to learn what customers like and dislike. They take that feedback to one of the company's technical centers and make refinements.

Involving consumers at the outset of the product development process is about more than handing out free samples in a grocery store. Often, General Mills will produce a small batch (as few as 50 units) of a product to distribute in a handful of Minneapolis stores to see how it sells.

"Our engagement with consumers in real environments where they have real dollars to spend helps us quickly understand if we've got the idea right," says Erickson. "This engagement is helping us put better products in the marketplace much faster."

Through this practice, the time it takes to launch a product has been sliced in half, while vastly speeding up first market exposure.

"None of this is new — it's how small companies do it every day. But it's taking that small-company philosophy and adapting it within a large-company framework," he says. "What we learn quickly is if we are on the right track or not. If we are, we can pour the capabilities of General Mills into it and move to a bigger scale faster than our competition."

Emulating and Helping Entrepreneurs
Another way General Mills is bolstering its startup mentality is by working closely with promising small food businesses. The company recently launched a new business development unit called 301 INC. Basically an in-house venture capital and incubation outfit, 301 INC finances and guides promising food startup companies that address the new priorities and values customers have about food.

"These are emerging food brands that are aligned with consumer food values today," says Erickson. "They're looking to reinvent in the dairy case or the snack aisle or ready-to-eat cereal. Those are all areas where we are excited to find partners who can help us see the reinvention possibilities in categories critical to our growth."

What General Mills brings to these collaborations goes beyond investment capital, offering its expertise about research and development, supply chain and logistics, marketing and food safety.

Having worked for 30 years in the food industry, Erickson says that the business environment today is as challenging as he's ever seen it, which is why simultaneously thinking big and small is so important.

"We are renewing this focus on the consumer, and we are open to reinventing our company and learning from others who have done great work," he says. "It's an exciting time to be at General Mills, and I'm optimistic about what we can do to drive growth in the future."
---