On the Dow Jones Industrial Average's 121-year march to 20,000 points, only one company is still a part of it — General Electric (NYSE: GE).
The index launched in 1896 to track the share price of 12 blue-chip industrial companies. With the exception of two short periods around the turn of the century, GE has been a steady presence. In that time, GE evolved in ways that would have been completely unimaginable in the 19th Century, creating entirely new business segments while maintaining its leadership position in technology.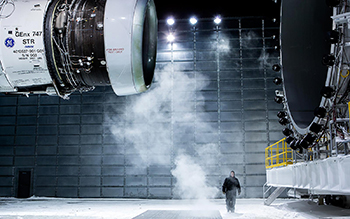 For the Dow and for GE, it has been a long and eventful journey—and here are a few innovations, developments and milestones that have made an impact on the markets and on daily life.
Power Surge
In 1892, GE was formed by a marriage of opportunity, vision and consolidation between two market leaders. The Edison General Electric Company, which grew out of the Edison Electric Light Company and other Thomas Edison properties, united with the surging Thomson-Houston Electric Company, owner of popular lighting system patents and manufacturer of electric train systems.
The new company issued 1,000 shares at $100 per share on the New York Stock Exchange. On the first day, a trade of 50 shares at $108 per was made. Wall Street visionary Charles Dow noticed the company and on May 26, 1896, he included GE in his first-ever industrial average that used the valuation of 12 stocks to serve as a gauge for the market as a whole.
Some of the reasons why GE has endured were visible early on. The company's visionary president Charles Coffin developed a culture that valued research and design, empowered its engineers, and imbued the whole company with a mandate to diversify into new markets. A company handbook from 1904 lays out GE's mission to "not only manufacture all appliances and develop all promising inventions, but should also advise prospective customers as to best methods and apparatus." Over the next 15 years, those inventions included electric trains, turbines for power plants, diagnostic x-rays, toasters, electric ranges, refrigerators and lights.
The company's innovations were often under the radar, but some, such as its 1921 GE Supercharger, which was designed to increase energy output and speed in planes. It was an instant hit in aeronautics, and even powered an Indy 500 winner.
In May 1926, with the Dow continuing to climb, GE announced a four-for-one stock split—the first of nine stock splits in the company's history.
Two years later in October 1928, the Dow Industrial Average expanded to 30 stocks adding companies like Chrysler and Standard Oil of New Jersey, along with the Radio Corporation of America, which GE helped to create and in which it owned a controlling interest. The following September, the Dow hit its pre-crash peak, closing at 381.17.
Industrial Reactions
Unlike many companies in the Dow during the Great Depression, GE survived, and its focus on innovation and adaptation was a big reason why.
That meant cutting production on expensive consumer products and developing new components compatible for use across business segments. Just two months after the market's devastating collapse, the company announced a second stock split. But as the Depression ground on, it took its toll. When the Dow hit its ultimate low of 41.22 points on July 8, 1932, GE closed at 9 ¾, down from its high of 254.
Amid malaise and adversity, GE developed new technologies and products that transformed nearly every aspect of daily life. The first stadium lighting for night baseball glowed in 1935 at Cincinnati's Crosley Field. The first florescent light glowed in 1938—all courtesy of GE.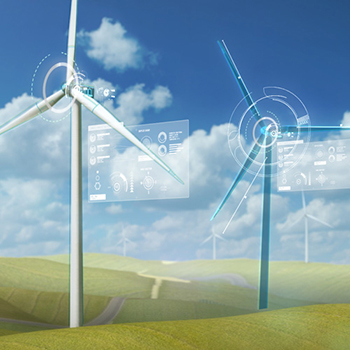 With the beginning of World War II, GE played a major role in the war effort. Among its innovations that helped defeat the Axis Powers was the first jet engine, which powered the first American military jet, the Bell P-59.
Post-War Booms
Following the war, General Electric contributed to and benefited from a general prosperity. During this period of prosperity, GE continued to sell and improve home appliances, inventing staples like the toaster oven, which it introduced in 1956. And its R&D labs continued to deliver groundbreaking inventions, including artificial diamonds for industrial use in 1955, the first Halogen lamp in 1959 and the first solid-state laser in 1962.
When the Dow closed at 777 in August of 1982, no one would have predicted that within 17 years it would surpass 11,000. GE stock would go on to split four times during this run. In this period, GE's growth was largely spearheaded by investments in a wide range emerging markets. GE's value increased from $13 billion to $410 billion, making it the largest, most valuable company on the planet.
In 1986, GE reacquired RCA—which it had been forced to sell because of antitrust considerations in 1932—acquiring NBC in the process. With one foot in people's homes, GE kept its other foot firmly in the future. In 1992, the company built a spacecraft for NASA, the Mars Observer.
A New Epoch
More recently, GE has become a "Digital Industrial Company," to take on high-speed technological transformations, increased global competition and the challenges of the 2008 Great Recession.
Starting in 2007, GE began to aggressively refocus its business, selling NBC for $30 billion and GE Plastics for $11.6 billion. In addition, it spun off the consumer finance portion of GE Capital as Synchrony Financial (NYSE: SYF), whose 2014 IPO netted GE $2.88 billion. And in 2015, it would go on to divest itself of the rest of GE Capital for $157 billion.
It is using that capital to invest in the ever-multiplying opportunities presented by big data, networked technology, robotics and beyond.
The company acquired French turbine maker Alstom Power & Grid in 2015. At the same time, it unveiled the Predix platform, an operating system for the industrial internet that connects equipment, analyzes data, and delivers real-time insights to optimize efficiency.
As it looks to the future, the company is making investments in a wide range of alternative energy technologies. Additionally Current, powered by GE, the company's big data startup initiative that launched in 2015, is helping companies all over the world optimize their use of energy by analyzing consumption data and eliminating areas of inefficiency.
And as more of GE's inventions gather, analyze and employ data, the pace of innovations will only accelerate, and improve daily life. One prime example is its Energy Smart light-emitting diode (LED) bulb, a 21st-century upgrade of the product based that originally set GE in motion—the electric light. These new bulbs come with a 20-year life span that sets new standards in energy efficiency and longevity.
The company's Global Research team, with more than 3,600 of the world's best scientists and engineers, is constantly at work on the challenges of the young century. It is developing new technology to improve manufacturing, support electric cars, provide clean water, and diagnose and treat diseases.
With its focus on the future and its proven track record of innovation and resilience, there's no wonder that GE has been a force in driving the Dow to 20,000 and beyond.