Texas-based Elevate Credit (NYSE: ELVT), which recently held its IPO at the exchange, exists because of what it sees as an opportunity in the financial services market.
On one end of the spectrum are the traditional banks that have become more risk averse since the financial crisis and which primarily serve prime borrowers, meaning people with assets and high credit scores. On the other end is a wide array of institutions that specialize in payday loans, title loans and storefront installment loans for people with lower credit ratings, or "non-prime" borrowers.
In between are working people, roughly 170 million residents of the U.S. and the U.K., whom Elevate refers to as "the New Middle Class." These are people with low or no credit scores, who often have to resort to non-prime lenders in moments of personal or medical emergency. "They need better, more responsible alternatives," explains Elevate CEO Ken Rees. "That's where Elevate sees its future."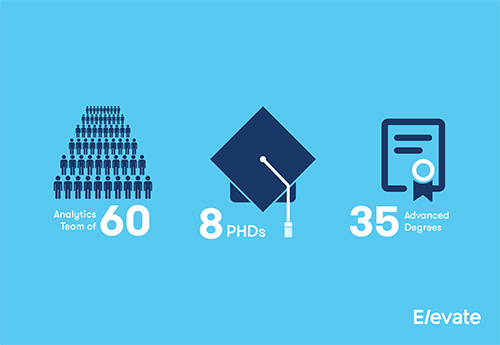 But lending in this space, bringing down interest rates and providing flexibility to these stressed customers, isn't simple. It requires scale, along with cutting-edge data acquisition, analytics and risk-assessment capabilities.
"Lending to non-prime customers is extremely challenging," says Eric VonDohlen, Elevate's chief analytics officer. "Traditional banks don't have the methodology and technology to react as quickly as we must. That's why we have invested so heavily in advanced analytics and decision-making technology to make better underwriting decisions."
Elevate offers three products. The first, called Rise, is an unsecured, online loan vehicle; Sunny is its U.K. counterpart, and Elastic is a line of credit issued by Kentucky-based Republic Bank, Member FDIC. While the company's customers have credit scores typically in the 560 to 600 range, those with lower credit or no credit can also be approved, depending on what Elevate's data analysis reveals about their reliability.
"Data science is at the vanguard of our efforts," says VonDohlen.
Elevate's speed is one of its key advantages. The model allows it to approve most loans within seconds while staying on the right side of compliance.
"If we start to see things in data we don't like, we can react in days, not months, and still conform to all the governance requirements," says VonDohlen.
The main challenge for Elevate and for any company offering non-prime personal loans is charge-offs — debts a company does not believe it can collect — which can apply to a quarter of the loans written. This is where Elevate's data analysis capabilities are expected to sustain its model and provide competitive differentiation.
"We strive to continuously improve analytically, develop new data sources, better manage data sources, book more volume, and use the resulting experience to build better models," says VonDohlen. "It's a giant circle. In becoming a public company, the circle doesn't change. The velocity at which we spin the circle increases."
Elevate's analytics platform, DORA, is home grown. It's based on open-source software tools that enable model development and risk analytics. DORA inputs and outputs are monitored and evaluated to help ensure legal and regulatory compliance. Elevate's IQ platform deploys business logic and algorithms. And driving the analytics and decision-making technology is the very human decision to create specific data sets, generated from sources that monitor non-prime customers.
The platforms draw on more than 10 different sources of consumer information, including the big three credit bureaus as well as other bureaus that specialize in non-prime customers. In addition, Elevate acquires data from LexisNexis, ID Analytics and other unique data sources to validate the applicant's identity and to draw inferences about the applicant's intent to repay. Elevate uses this data in ongoing tests to optimize its underwriting, to ensure that fraud and serious credit risks are more easily distinguished from acceptable risks.
"We use applicant-provided information — where they live, bank account information — but we also use behavioral data," VonDohlen explains. "We look at their behavior when they visit the website, and we constantly assess how existing customers perform on loans as we service them."
The goal for Elevate is a virtuous cycle of constant data refinement, better predictors and model improvement. The end result, it hopes, is steadily shrinking charge-off rates.
In the last year, Elevate's charge-off rates have remained steady, while its customer acquisition costs have dropped, says Rees. It is betting on the long-term stability of a more regulated non-prime lending market, and openly supports new Consumer Financial Protection Bureau regulatory initiatives. It is part of a corporate strategy that sees a bright future in doing right by its customers.
Elevate also uses its nimble, data-driven underwriting model to reward its best customers. Borrowers who establish a history of on-time repayment, and who take advantage of online financial literacy tools and videos, will see their APRs drop over time. Currently, the most responsible Elevate customers pay APRs as low as 36 percent. As Rees notes, for customers who have been paying as high as 400 percent or more, "this is life changing."
As a bonus, the company also reports to credit bureaus, which can help those customers eventually borrow at prime rates. Nonetheless, Elevate is confident that it can continue to grow by dipping further into the pool of millions who are denied prime credit. "We've only touched about one percent of the potential market at this point," says Rees.
---