Computer Sciences Corporation (NYSE: CSC) specializes in helping companies throughout the world with their digital transformation, leveraging next-generation cloud applications, cybersecurity, big data and mobile technologies to help businesses better innovate, compete and serve their customers. As CSC's global CTO, Dan Hushon is the tech guys' tech guy. We spoke with him about the shifting role of the CIO, the benefits of digital disruption, and why the entire C-Suite might want to start taking notes.
Business competition is fiercer than ever these days. What are the fundamental challenges facing modern companies?
Dan Hushon: It differs for every company, but fundamentally, every business is facing some disruptive force whether traditional or startup, technical or regulated. There is one common dimension of this change: Information improves the company's situational awareness, and therefore its ability to out-plan and out-execute rivals. Companies need to find ways to bring forward the right information at the right time with the right tools, specificity and completeness so they can make better-informed and more timely decisions.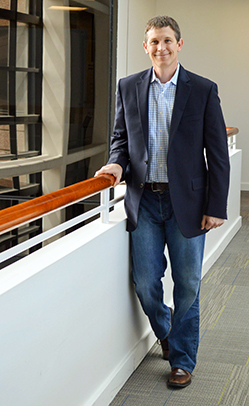 It feels like technology is constantly shifting. Can we count on any stability around digital strategies?
We're moving into a period of relative stability with technology on several dimensions, with growing confidence in next-gen technologies and some key patterns. First, the internet, which is to say TCP and HTTPS, has emerged as a common integration model. That means less reliance on proprietary network protocols and service integration techniques. This is good news, because open and consistent models make it easy to access new services via APIs, as well as simplifying delivery onto mobile devices. In addition, if you can count on everyone using HTTPS, you can put an API into a core system service before you even start building it. This allows a developer economy to emerge for your information products from day one.

The developer experience has also radically changed. Today the process of creating software is often fully automated using techniques like continuous integration and continuous delivery. Developers can now specify an app "recipe," which they hand to a robot to build, test and even deploy. These techniques enable teams of developers to efficiently parallelize their work, quickly share tested code and release it into production; often more than twice as fast and with less deployment risk.

These strategies have taken hold in this new agile developer world and are delivering huge productivity gains for developers. They're also allowing a much broader population to create mass-customized experiences using information services across corporate, partner and public services. I believe the new set of tools coming together around these more stable paradigms will hold for an extended period of time, and this information integration will create substantial value for firms.
Given these new paradigms, do C-Suite members need to acquire new skills?
We're certainly seeing a new set of skills being requested by the enterprise. The days of hierarchical management are giving way to matrix and collaborative management styles. And we're seeing an increased emphasis on digital skills. This is not about your ability to interact with the internet; this is about your ability to mine collections of information for valuable new insights.

Today, data has a higher decay factor than ever before. So instead of working with rearview-mirror spreadsheets that your data warehouse produces for you once a week or each month, firms are using predictive analytics to engage with what's likely to happen next. That's bringing data science skills like ad-hoc information integration, linear regression, and learning models into the enterprise. We call this deep learning. These opportunities make collaboration between business leaders and data scientists, whether inside or outside the enterprise, increasingly important. Many corporations are finding that they no longer have all the skills they need inside the enterprise, much less the double deep (business and technology) skills required to drive their desired outcomes.
Does that mean the role of the CIO has changed in recent years?
We've seen a substantial shift in CIOs in highly contested markets, such as banking and financial services, insurance and healthcare. Industry leaders are reaching across boundaries, say from manufacturing to financial services or from banking to healthcare, to find the critical skills to drive their transformations. The CIO must build teams that partner effectively with the business and industry ecosystems to enable effective service and information integration.

Companies are thinking about information the way they used to think about the physical supply chain. It's all about just-in-time information, just-in-time processing and just-in-time integration. There have been a string of transformational CIOs coming to new roles to help enterprises transition from a world where CIOs were risk managers, who kept the lights on and the systems humming, to CIOs being true digital leaders using analytic proofs to drive improved execution in intimate partnership with their business peers.
What are the liabilities of this always-on business model?
There is an increasing amount of pressure on digital leadership teams within top firms. These leaders are driving highly parallelized, worldwide programs rooted in multi-participant, rather than point-to-point, interactions. The most successful ones balance their communications across internal and external, individual and social, text and voice with aplomb, but tend to be always-on themselves. Moreover, successful leaders are becoming much more digitally savvy — building social networks and understanding collaboration styles and tools to maximize success. Unfortunately, the imperative to collaborate digitally, in addition to in-person, is driving a lot of execs to put in incredibly long workdays. You used to leave at the end of the day, and the only way you could be reached was your home phone. A few years ago they could call your cellphone. Today, though, we're having conversations on social networks for work, and a multinational business might have you Skyping deep into the night. Unfortunately I think it does upset work-life balance.

Does the information economy benefit startups more than legacy businesses?
What differentiates a Global 1000 firm from a startup is that they have a long-term understanding of their customers. They have a large information base and understand buying and procurement cycles, staff turnover ratios and a host of other information. Startups, on the other hand, tend to come in relatively informationless, but with a good idea; the best are accumulating their data at a phenomenal rate.

As long as a legacy business has its focus in the right place, I think its customer relationships, fixed assets, information stores and creation techniques can provide a unique and continued value proposition. But it needs to double down on completing the data landscape required to operate and grow a business today. That means maximizing access to information, as well as acquiring data, sharing data, and creating value with data as part of the "information value"-driven ecosystem.
What are some developments you expect to see in the next few years?
For a couple of years I've been expecting the information supply chain to begin to aggregate and co-locate the information needed by a business and its outside partners. You can think of it like a real estate firm building a shopping mall. Every industry has the potential to develop a set of "anchor tenants" to help them build a "data mall," giving them access to certain kinds of data in a one-trip model. In the healthcare landscape that might mean bringing together clinical practitioners, payers, labs, research institutions and so forth. When everyone is not located across the internet from one another but across an internet/cloud exchange center, their information can be integrated faster, providing more value. This will attract "specialty stores" into the industry data malls, which offer fill-in data or new analytics that benefit all co-located parties.

You'll see companies begin to position their data centers close to the new campuses being built up by cloud providers and hosting providers. Then, instead of having a 200-millisecond transaction across the internet, they can have a 1-millisecond transaction across the cloud exchange. I think that as we integrate more and more information to create differentiated knowledge, latency for data analytics will become an important factor.
Has CSC had to change its own practices in light of all this?
We certainly have. In our past, we built some large systems — from integrated rail scheduling to automated airport baggage systems to IT for the Apollo missions, for instance. But while many might think of CSC as a systems integrator, now I think it's more accurate to think of us as a service integrator. Today, much of what we do for our clients involves high-level integration of services that exist across and outside the firm. Increasingly, our job is to integrate business processes within and between outside services that allow bidirectional information flow and federated, distributed transactions to occur while maintaining appropriate regulatory compliance. It's a very different role than "racking and stacking" boxes or managing storage. Where we tend to offer the most value today is in helping companies manage what information can flow where, when, to whom, under what conditions and under what regulations. We're here to make sure information is treated as a company's most valuable asset, and to help our clients succeed in an increasingly data-intensive world.