Digitization presents financial services firms with a complex landscape of opportunities and challenges that range from employing technology to protect against risks, driving new growth, to taking advantage of potential cost savings.
But realizing these and other benefits requires more innovation and transformational partnering than ever before, and CSC (NYSE: CSC) is setting itself up to deliver exactly that. It is bringing its experience with innovation and technology partnerships to the ever-changing financial services landscape.
Retail banks have a vast number of systems that they have built, acquired and integrated in recent decades. That creates a huge challenge as they adapt and modernize those systems to drive new growth, while reducing costs, says Phil Walton, a CSC vice president and general manager overseeing the firm's banking and capital markets sectors.
"We see a surge of business and technology initiatives in financial services. Payments and commerce, the retailing environment, the online, the brick and mortar – it's all becoming a more integrated ecosystem in order to provide more value and a better customer experience," he says.
To meet those challenges, CSC has enhanced its products and services, with recent acquisitions such as Fixnetix, and joint ventures like CeleritiFinTech.
"Institutions are beginning to see that they don't have all of the skills and resources necessary to do everything themselves," says Bala Venkataraman, CSC's chief technology officer for banking and capital markets. "Even at CSC, we didn't have them. So we've partnered with some of the most innovative companies in the industry. Building on our strengths as a systems-integration company, we are evolving into more of a services-integration company. Financial institutions see value there."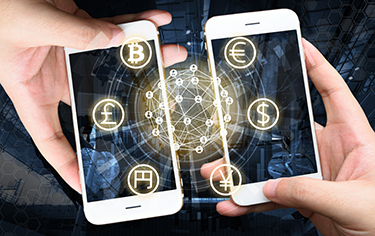 Choosing Innovation While Meeting Obligations
With vast amounts of new data available from a host of sources, one of the greatest opportunities for financial services firms is using that data to gain new insights about their customers.
"Getting to really know customers is about effectively analyzing the data you have, together with data from the industry across social media, consumer data outlets and other data repositories," Walton says.
But to arrive at the "digital soul" of a banking customer from all that data, firms must integrate new, smarter systems, he says. CSC uses systems based on machine learning and advanced API and cloud services capability to help companies really get to know their customers.
Because innovation can be expensive, many financial institutions have been doing less of it in recent years, especially given the 'must do' nature of increased regulations and compliance hurdles. Venkataraman notes that has put many banks in the unfortunate position of looking at cost reduction and innovation as an either-or proposition.
"Running the bank is all about efficiency and effectiveness, whereas changing the bank is about innovation. The false choice comes in always seeing innovation as cost additive," he says. But internal banking services that previously were only reactive have the opportunity to become predictive – which can cut costs in the long run.
A predictive, agile and automated approach is a fundamental tenet of CeleritiFinTech, which incorporates many of CSC's existing offerings in banking.
"We took all our banking systems on the retail side of the house and put them into CeleritiFinTech," says Walton. "Customers might be inclined to say 'hey, that old system is fine,' but with today's standards and API technologies, you can really open up those systems to use the information within them more efficiently and effectively – and with much better time to market."
Creating Value Outside the Enterprise
CeleritiFinTech, a joint venture company between CSC and HCL Technologies, is just one example of the expanding "partner ecosystem" that CSC continues to develop. In Venkataraman's view, traditional structures and approaches to system and services integration are not agile enough when it comes to developing new products and services.
"We're in the third wave of IT. The focus was on craftsmanship in the '80s and '90s. The second wave's focus was 'the industrialization of IT.' Now, in the digitization phase, the challenge is to improve existing systems while lowering costs – and do so in the midst of unprecedented change and competition," he says.
Financial institutions are under constant pressure to continuously lower costs while they struggle to source, retain and replace top IT talent in order to keep pace with the overflow of tasks connected to cybersecurity, government regulation, risk and compliance. That's where a partner network comes in.
"By partnering with another company, even a competitor, we can build upgrades into existing systems in days or weeks, not months or years," Walton says.
This is especially important in capital-markets enterprises, where competition is increasing internally as well as externally. A bank might have 30 different trading desks that need their own data and their own links to the exchanges, Walton says. He points to CSC's 2015 acquisition of Fixnetix, which has created a global managed services network that can optimize both pre-trade and post-trade data feeds and transactions. That creates a huge cost savings and other benefits, he says. One way it does that is by building compliance concerns at the core of its service.
"We can do between 43 and 48 compliance-related checks at the chip level," Venkataraman says. "That makes the order much more deterministic than probabilistic, and really works to address the trading latency problem."
Internal and External Modes of Innovation
Innovation isn't free. And as it becomes more essential to more companies, the cost of innovation is no longer entirely on IT's ledger.
Much of the money to fund innovation increasingly comes from the business functional users or from shadow IT that the business runs itself," Walton says. "Enterprise IT involvement and leadership is seen by the C-suite as the key to transforming such innovation into firm-wide efficiency."
Most financial services companies are looking for those efficiencies while sustaining its current infrastructure. The solutions they seek are more subtle, incremental and complex.
"There's not one major bank I know of that is going for a "rip 'n' replace" on their major systems," Walton says. "The back-end systems might be old, but they never go down. Yet now you have the customer-facing systems and mobile devices where you can capture the important data. It all needs to be linked, so you can retrieve data, analyze it and present it to the customer."
As the markets become more global, the need for more of these cross-system solutions will only increase.
"Some small banks went for outsourcing their solutions early, and they worked with AWS and Microsoft Azure and put apps on the cloud," Walton says. "But fundamentally, every bank has to figure out how to reduce the cost of business as usual so they can spend more on innovation and learn more about their customers to deliver more value and a better all-in experience."
---