Share this article:




Cadence Bancorporation (NYSE: CADE), the holding company of Cadence Bank, recently celebrated its public debut on the New York Stock Exchange. We sat down with Chairman and Chief Executive Officer Paul Murphy to discuss the company's culture, its focus on customer experience and what their IPO means to the future of the business.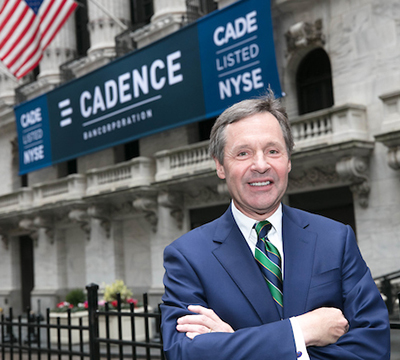 Cadence's stated core values are Do Right, Own It, Embrace We and Fresh Thinking. Can you explain each of those and how they come to life at the company?
There are actually two parts to "Do Right." The first is to make sure we put our customer's needs ahead of our own, and that means approaching relationships in such a way that we don't try to sell them the highest margin product, but that we try to find the one that most appropriately serves their needs. The second part is simply the fundamentals of doing the right thing…be honest, transparent, responsive and forthright in everything we do.

The concept of "Own It" centers on accountability; we want our people to be accountable to our customers, obviously, but also to their colleagues and ultimately themselves. I have a favorite saying that goes "there are those that make excuses, and there are those that find a way." We're a company that finds a way.

"Embrace We" is the concept of inclusion. It's about fostering collaboration between people with diverse experiences and backgrounds. We feel that when people with different ideas and varied life experiences work together they will share their perspectives and generate creative solutions to problems.

Finally, "Fresh Thinking" is a reminder that we should always be open to new ideas, new solutions, and finding new and better ways to serve our clients.

These values are very client-centric, but they serve our own interests, too. If we adhere to these values we'll see a better customer retention rate, and ideally a source of new clients that comes in the form of referrals of colleagues, friends and family of our existing customers.
Cadence prides itself on the level of customer service it provides. How is that manifested day-to-day? What are some of the driving principles behind this approach?
At Cadence Bank, our motto is "for same day service, call by 8 p.m." We really try to outhustle our competitors, and a high level of responsiveness is one of the tools we use to do so. If a customer needs an answer, we pride ourselves on always being ready and available to support them.
Our ability to do that comes from our status as very much a right-sized company. We are large enough to have a comprehensive portfolio of products and services and we're able to make investments in things like technology to better serve our customers. At the same time, we're at a scale where our customers still receive personalized and high-touch service.
A significant amount of Cadence's growth has been through strategic acquisitions. What are the key factors you consider when evaluating an acquisition or partnership?
We look first at compatibility between people. We want to see how our existing team and the potential new team will work together. Do we have a set of shared values? Do we approach our work with the same philosophy?

The next factor is their clients. Are we positioned as the acquiring company to meet the customers' needs and serve them in the best possible way?

Finally, we consider valuation. We obviously want to pay a fair price for a business we acquire, but we're not just thinking in the immediate term. We want to know where that value will be 2, 5 or 10 years down the line. The long-term prospect is really the key factor for us; how will the combined organization grow and evolve over time? For any M&A transaction, your goal is to be a better organization coming out of it.
What does becoming a public company mean to Cadence Bank, both on your IPO day and to the future of the company?
It's a major milestone and morale is sky high at the company. It's been a shot in the arm for us and there is a renewed enthusiasm for building this business. We've always had a strong, motivated team, but it's bigger and better than ever.
Was there any particular moment of your IPO day that stands out in your mind?
I'd have to say ringing the Opening Bell. Being on the podium and looking out at our team on the trading floor, remembering all the work that had gone into reaching that moment, it's something I'll never forget.
Why was the NYSE the right listing venue for Cadence Bank?
The NYSE delivers a very impressive suite of products…everything from investor communications tools to ongoing marketing and visibility programs for the company to the IPO celebration itself. We made the right choice, and we're proud to be listed on the New York Stock Exchange.
---