Bryant Stibel is the brainchild of retired NBA superstar Kobe Bryant and serial entrepreneur and investor Jeff Stibel. The fund has been quietly operating since 2013 and its founders - along with some of their portfolio companies - recently visited the New York Stock Exchange to ring the opening bell in celebration of its official launch. The NYSE spoke with Mr. Bryant and Mr. Stibel about the origins of the fund, the thinking behind its creation and their investment philosophy.
Post-NBA, there must have been countless career options for you. What drew you towards a business career?
Kobe: I was drawn to this particular venture because I believe in the importance of supporting entrepreneurs. These are the people that are shaping the future of our country and of our world, and they're leading by example. They will inspire the next group of business owners, and we want to position them for success and help instill that drive and spirit of creativity in future generations.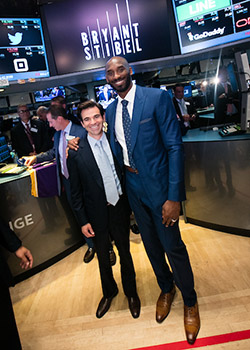 How did the partnership between you two come about?
Jeff: Kobe was looking to make the transition into business as he just described, and I was looking for ways to expand and do different things on the investing side.

We both fundamentally believe in identifying and maximizing the potential in people, and when you're starting or growing a business it really comes down to personalities. We both had the same eye, the same vision and we think in very similar ways, too, in the sense of what we wanted to do to help others succeed.

Kobe: I wanted to start by learning. I reached out to Jeff to initiate the conversation and he asked me what I was interesting in doing. I told him I wasn't exactly sure but that I knew I had a desire to learn more about this side of the business world. I've always believed that there's no better teacher than real-world experience, and the best way to learn is to jump in and start doing. We got together, reviewed our options, made some initial investments and the relationship grew from there.

By what criteria do you evaluate the investment opportunities that come across your desks?
Kobe: It starts with the people first. We look at the entrepreneur in question and gauge how passionate that individual is for the business they are trying to create. Personally, I look at the business itself - is this a space I understand? Can the team at Bryant Stibel add value there? What are the barriers to entry?

We go through a list of questions and, if we find we're checking off all the boxes, we'll take a closer look. Jeff and his guys go in and take a deep dive and then we discuss as a group and decide whether to move forward.

Jeff: The people part of that answer is really the most important. Often we don't spend that much time talking about the business idea itself – we are looking for great people who want to do great things. Most of our conversation is around the entrepreneur's innate ability to build a great business. Once we're convinced of that, we run with it.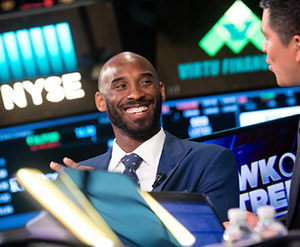 Is there an industry or vertical that you're particularly interested in or excited by?
Jeff: Our focus is what we call the TMD model, and that means Technology, Media and Data, and specifically the convergence of those three things. That's because this is what's transforming the world right now. We've always seen cycles of evolution in business and those are interesting but not necessarily exciting. When you see a revolution, that's when we get really excited.

When we're looking at business categories, whether its sports, wellness, gaming or anything else, we're evaluating those opportunities through the lens of TMD and how they may be revolutionized by it.

Are there any industries/verticals that you see as most ripe for disruption?
Kobe: I'm sure there are but we're focused on the model that Jeff just described. It's tempting to dive into lots of different things, but that can be a dangerous position to be in because you can spread yourself too thin. Over the three-plus years we've been working together the key to our success was our discipline and focus on our core area of expertise. Opportunities come at us from all directions, but we are very set on our goals and we won't pivot from that.

Jeff: There are so many opportunities in today's investment landscape that it's tempting to chase trends. We've resisted that temptation and - while we're not perfectly disciplined - we have tried to always remain true to our roots, to check our thinking with our team and evaluate prospects according to our established criteria. When the next trend comes around we're not going to miss it, but we're not going to blindly follow it, either.

Kobe: I'd also add that our team has the kind of rapport and open style of communication that we can be completely honest with each other, and that's absolutely crucial. Someone can propose an idea and we're able to properly and freely debate its merits. When you have that level of honesty and those kinds of open conversations you tend to arrive at the best outcome.
---