by Seth Kaufman
After 10 years at the helm of one of the leading boating and marine engine manufacturers in the world, Brunswick Corporation (NYSE: BC) chairman and CEO Dustan "Dusty" McCoy is about to let someone else steer the 170-year-old firm. "It is a matter of personal and professional pride for me to leave the company in a strong position with the right team in place," says McCoy.
McCoy, a former army helicopter pilot, doesn't believe in abrupt transitions. Still, his entry into the leadership role in 2005 happened suddenly, after the departure of George Buckley to 3M Co. (NYSE:
MMM
). When his time to move on arrived, McCoy wanted to be thorough and methodical. Rather than give two weeks' notice when he announced his plan to step down in 2014, he outlined a three-year succession plan.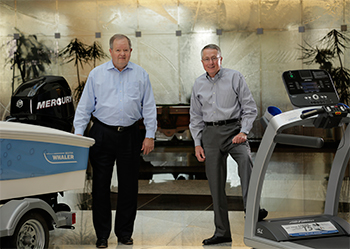 The man Brunswick chose to assume leadership was Mark Schwabero, president of Mercury Marine, the boat engine company that generates over half of Brunswick's revenue and earnings. In 2014, Schwabero was named president and chief operating officer of Brunswick, with the understanding that he would assume the CEO position in the first quarter of 2016.
"It gave me the opportunity to really understand the fitness business, in terms of the competitors and the marketplace," says Schwabero, regarding the orderly pace of the transition. The additional time also allowed him to develop strategic plans for the company, establish a rapport with the board, and "become familiar with what a chairman and CEO needs to do from the standpoint of sell-side, buy-side, and the interaction that goes on there."
It also gave Schwabero time to help identify his replacement at Mercury Marine—John Pfiefer, now that division's president. "It's a very significant piece of the corporation, so having continuity there is very important," Schwabero adds.
McCoy and Schwabero's Brunswick Corporation is a vastly different company than it was when Cincinnati woodworker John Brunswick started making billiard tables in 1845 (the company expanded into bowling equipment in 1890.) Now based in Lake Forest, Ill., the company still makes beautiful pool tables, but its core businesses have changed radically. In 1960 the company entered the marine business, ultimately buying Mercury Marine and a number of boat brands. In 1997, Brunswick acquired Life Fitness, and entered the world of exercise equipment. As bowling and billiards waned in the face of increasing entertainment options, the company's newer business segments have expanded.
But both men will tell you there have been bumps in the road. "In the five years I was president of Mercury Marine, I had the distinction of both losing the most money and making the most money in the history of Mercury," says Schwabero.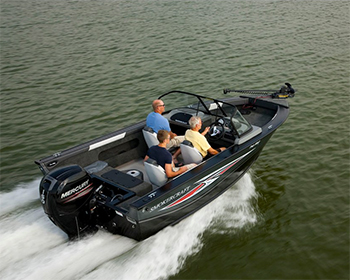 The financial crisis of 2008 could have been far harder on the company had McCoy and his team not paid attention to ominous signs in 2005, beginning with an unfriendly increase in crude oil prices. By the time 2008 hit, Brunswick had already been evaluating some sweeping changes to the company. When the crash happened, McCoy had a five-year plan ready to go, and put it into action.
The company targeted fixed costs, closing unprofitable facilities and shutting down nonstrategic, noncore segments of the business. "We sold a lot of underperforming assets." says McCoy.
Although cost control was important, Brunswick's marine business relies on dealers to drive sales. Managing that aspect of the business required a very different strategy. "We made a significant investment to help our dealers to stimulate demand and manage inventory," McCoy recalls.
Then came what McCoy calls "one of the most difficult things I've ever done in my life." Brunswick reduced its workforce from 27,000 to 15,000. "I told my staff, 'If you don't lie awake at night thinking about it, we don't want you here.'"
In concert with the cutbacks, the company focused on new product development throughout its operations to drive long-term growth. "At Mercury, the first home run we came out with was our new 150 FourStroke Outboard," says Schwabero. "That was a real game-changer for the business. Margins went up and we grew market share."
In addition to its U.S. manufacturing, the company now has boat-making operations in Europe, New Zealand and Brazil, and McCoy says he thinks that Schwabero's biggest challenge will be managing "an uncertain global economy," but that otherwise, Brunswick is positioned well for the future.
Schwabero agrees: "Analysts ask, 'What's going to change when you take over?' I love being able to answer that we have a well-defined strategy in place that we can continue to build on. Dusty and I may have different personal styles, but in terms of the direction of the company, our employees and the investors, we've always been in complete alignment."
---