The transformation of the way companies do business was the focus of BoxWorks 2016. The annual conference, hosted by content management leader Box (NYSE: BOX), featured a musical performance by Beck and a keynote address by Flash Boys author Michael Lewis. But finding ways to use the recent wave of disruption to drive positive change was at the center of the two-day event, which included insights from Uber Head of Information technology Shobhana Ahluwalia, Amazon CTO Werner Vogels, and Google board member (and VMware co-founder) Diane Greene.

Just before the event kicked off, Box announced its new workflow tool, Box Relay, which it developed in partnership with IBM (NYSE: IBM). The business-project-management software gives users a new level of transparency and control over processes that occur across multiple software platforms, by combining them into a single transaction chain. The new product sits at the nexus of many of the key themes discussed over the course of the event.

While the speakers and panelists discussed a wide array of subjects, Box CEO Aaron Levie kept the focus on what companies need to do to thrive in a landscape of constant digital disruption. Below are four essential lessons that emerged from BoxWorks 2016.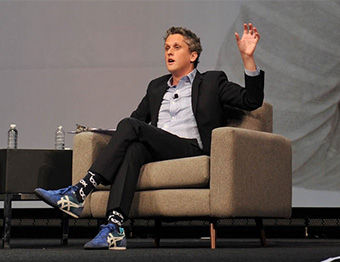 CONVENIENCE IS KING
Consumer apps have set a high standard for convenience and utility, and now their workplace counterparts have to do the same. Everything needs to be fast, efficient, available across devices and intuitively simple. The systems that employers use need to be, in Levie's words, "insanely easy," otherwise workers may turn to tools that are beyond corporate control.

Whether sharing files with co-workers, complying with legal restrictions or just communicating between internal departments, today's workers demand convenience. "If you don't give them a way, they will find a way," Western Union's (NYSE: WU) Mike Bartholomy said.

"The tools people use in their daily lives set their expectations for work. If you have to explain how to use them, then you've already lost," said Uber's Shobhana Ahluwalia.

The importance of convenience is transforming businesses in a number of unexpected ways. As Vogel said at one point in the conference, referencing the incredible growth of Amazon Web Services. "Who would have ever thought you would buy online storage from a book shop?"
PLAY NICE WITH COMPETITORS
During one panel, thousands of attendees at BoxWorks 2016 cheered the sight of an Excel spreadsheet rendering in a Box browser. Their glee underlined a key point about today's workplace: Users want (and expect) software from different providers to work together seamlessly. And that hasn't been lost on Box, or any of the other major players in the enterprise-software space.

"It's good that people use both Box and Google apps. We see lots and lots of partnering around worker productivity," noted Google's Diane Greene.

In years past, Microsoft or Google may have aimed to provide every possible service a worker might need, but today the priority is to make sure their solutions are able to work simply and easily with those offered by competitors. To maximize productivity, companies want vendors to provide seamless integration with the likes of Microsoft Office 365, Amazon Web Services, Slack and Salesforce (NYSE: CRM).

Ahluwalia agreed, saying that for Uber it's about the function of the software, not who provides it. "Am I in your cloud, or are you in my cloud? The answer to that question is not important, because the point is not the cloud, it's the problem you are trying to solve."

As a result, enterprise-software leaders have begun to see even direct competitors as potential key collaborators. As Western Union's Bartholomy pointed out: "Microsoft, Google, Amazon and IBM are all on the same platforms today. I don't think anyone would have imagined that five years ago."
"Am I in your cloud, or are you in my cloud? The answer to that question is not important, because the point is not the cloud, it's the problem you are trying to solve."
IN EVERY INDUSTRY IT'S ALL ABOUT DATA
A great many discussions at BoxWorks underlined a single recurring issue: How to draw actionable intelligence from a mass of available data. The consensus among presenters and panelists was that more data and better tools to analyze it will be essential for success in all industries.

While that may seem obvious in the realm of software, General Electric (NYSE: GE) executive Denzil Samuels offered a compelling illustration of the advantages that data analysis delivered to the company's jet engine business.

In the past, GE sold jet engines with contracts that included uniform maintenance commitments. The company would fully overhaul each engine after a set period of time, or number of miles flown. But jet engines experience varying levels of wear and tear depending on where the planes fly. A 767 that regularly flies a route with more contaminants in the air (such as the dust storms that occur over the Sahara) will need to have its engines serviced much earlier than one that travels through a clearer environment, said Samuels.

Today, GE's engines are fitted with sensors that generate as much as a terabyte of data in a single flight, he observed. That allows GE to monitor in real time the environmental stresses borne by every one of its engines. That data is used to develop maintenance contracts tied directly to the actual usage of individual units, which results in lower costs and higher profits for the company.
THE MACHINES ARE LEARNING
Beyond data collection and analysis, future success in the enterprise-software market will belong to those who successfully leverage artificial intelligence, or machine learning, according to Gary Reiner, operating partner at venture capital firm General Atlantic.

Machine learning differs from traditional data analysis in that "rather than humans setting the rules, the software discovers the rules," Reiner said. In other words, the enterprise software of the future will observe human actions and then use what it discovers to adapt to, and ultimately improve, real-world behavior.

Reiner gave the example of a self-driving car that learns to drive by watching how humans operate motor vehicles, or an insurance company using an algorithm to figure out which claims to pay by analyzing the performance of a larger data set of all similar claims.

That kind of machine learning, coupled with the instant availability of vast data sets on the cloud, indicate that the potential of existing enterprise software, far from being exhausted, is still largely untapped. Or as Google's Greene put it: "I still believe we haven't hit the upturn on the hockey stick."
---