Over the course of more than 230 years, the firm has embraced and built upon the legacy and pioneering spirit of its founder, Alexander Hamilton.
In 1792, The Bank of New York, founded by Alexander Hamilton eight years earlier, became the first stock offered on the New York Stock Exchange. Today BNY Mellon (NYSE: BK) is a global leader in technological and cultural changes that are reshaping the financial services industry.
BNY Mellon continues to represent its founders' pioneering spirit, says Monique R. Herena, the company's chief human resources officer and senior executive vice president for marketing and corporate affairs. And when a group of female executives from BNY Mellon rang the NYSE's closing bell on Friday, June 9, the symbolic reverberations were hard to ignore.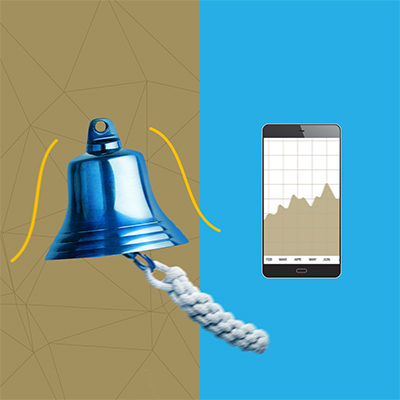 "It's very exciting! The Bank of New York — now BNY Mellon — has been a cornerstone of America's financial system from its very first days," says Herena, the person who actually rang the bell.
"We're proud to mark our anniversary by honoring some of the people who have helped shape the company into its current innovative form. We're pioneering progress by harnessing the power of diverse perspectives and the unique contributions people can make when they are valued as individuals."
In 2014, the company unveiled the next step in its continuing story of innovation. Included in those advances is NEXEN, which it hails as "the biggest technological transformation in BNY Mellon's history." The open-source, cloud-based technology platform is designed to work with clients at every stage of an investment's life cycle. With speed, flexibility and efficiency, NEXEN provides BNY Mellon clients around the world with real-time access to its solutions, services and data, across all channels and devices.
As part of BNY Mellon's ongoing focus on the future, the firm is taking a leading position in the development and use of cutting-edge technology such as blockchain, which is at the core of the digital currencies of the future. It has also created an army of what it calls "bots" — automated computer programs designed to improve efficiency and lower costs by using artificial intelligence to reply to information requests from auditors, to trouble-shoot failed trades, and to take on an ever-growing number of time-consuming tasks.
"Since we shared our three-year strategic plan in October of 2014, we have delivered nine straight quarters of solid performance against the earnings-per-share goal we laid out," says BNY Mellon Chairman and CEO Gerald Hassell.
For that success, Hassell credits the company's close attention to the client experience. The firm's technological advances are just one more aspect of that philosophy, he notes, as it gives BNY Mellon employees more analytic resources to offer clients.
"We are investing for the future in our core areas of strength — technology platforms and applications, innovative solutions to help our clients be successful, improving our business processes and ensuring we have the talent it takes to execute our agenda," says Hassell. "Our clients are who we work for every day, providing solutions for their very complex needs."
To meet those needs, BNY Mellon now has more than 50,000 employees working in 35 countries. And having the right people in the right positions is critical to success, says Herena.
"You can have all of the cutting-edge technology in the world, but that will only get you so far without the right people bringing their expertise to bear in our complex and ever-changing financial markets," she says.
The company's dedication to building and supporting people and expertise is part of a sophisticated long-term strategy that it has outlined in the BNY Mellon People Report. The report lays out the firm's approach to building leadership by fostering cross-generational teams, jump-starting new ideas by collaborating with fintechs, and finding other ways in which the newest generation of BNY Mellon will maintain a leadership position in an age of disruption, to continue a tradition of innovation that goes back to its founding father, Alexander Hamilton.
---