After a harrowing struggle with a rare cancer, Athene Holding CEO Jim Belardi came back to build a new kind of retirement savings company.
In the spring of 2007, things were looking good for Jim Belardi. Happily married with a loving family, the one-time Olympic swimming trials competitor and age-group world record holder had just set a national record in the 200-yard butterfly in the over-50 age group. And after working closely for two decades with Eli Broad, longtime head of insurer SunAmerica, Belardi was about to launch his own business.
But on the very day that he was to sign funding papers for the new company, Belardi was diagnosed with acute lymphoblastic leukemia, which included a variety of unique complications. The prognosis was dire, and only a confluence of fortunate factors that came together allowed Belardi to overcome the life-threatening disease.
Belardi had to undergo grueling chemotherapy treatments and total body radiation, which he endured thanks to his family, his friends and his faith in God; It also helped that as a longtime swimmer, he was in great shape physically. After the treatments, Belardi underwent a bone marrow transplant from his sister, a genetic match.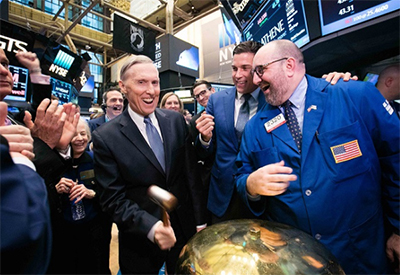 By 2009 Belardi was well enough to team up with longtime friend and business colleague Chip Gillis to finally secure the funding to launch Athene Holding Ltd. (NYSE: ATH), a new company focusing on the annuity reinsurance business and eventually growing to the number two writer of fixed index annuity sales for the twelve months ended June 30, 2017 per LIMRA. Today Athene has a differentiated, multichannel distribution platform that includes the pension risk transfer (PRT) market and funding agreements, which continue to gain significant traction.
The time-out forced by Belardi's cancer treatments had a silver lining. "Waiting until I recovered, which was after the financial crisis, allowed us to grow more quickly than we thought," says Belardi.
Retirement savings is a perennially growing market, and Athene works to meet the financial needs of retirees, with a focus on fixed annuities.
A fixed annuity is a contract purchased from an insurance company that credits a guaranteed rate of interest during accumulation, and which can provide a lifetime income during retirement. The principal and interest accrued in a fixed annuity grow tax-deferred.
Despite the large number of baby boomers entering or already in retirement, many insurance companies opted to get out of the fixed annuity business after the financial crisis. According to Belardi, the key to succeeding in the business is an ability to make money through what's known as a net investment spread approach — which basically means making more money on the assets you invest than you pay out on your liabilities. That was exactly what Belardi had been focused on during his decades at SunAmerica.
"The net investment spread business is pretty simple, but you need asset expertise and you need to have attractively priced, persistent long-term liabilities," says Belardi. "That was the business that worked for us at SunAmerica, and we have copied that business model and it works well now. You need the right people who know how to invest behind these liabilities, and you need the right people on the liability side who underwrite the liabilities carefully and effectively price options on both sides of the balance sheet. I don't think many insurance companies do that as well as we do."
After the financial crisis, Athene had another tailwind — many insurance companies were eager to jettison their liabilities. That allowed Athene, with backing by private equity and investment firm Apollo Global Management, to be an active and selective buyer.
"Others who have been through an illness will say they want to take more time and smell the flowers and run around in the forest," says Belardi. "Not me. I go the other way. I'm now in more of a hurry to make a difference, and you realize how fast time slips away. I want to have our company be more and more successful because it provides me a platform to help others."
"Fortunately for us, structured securities on the asset side were very cheap after the financial crisis, and there were opportunities to acquire liabilities efficiently," says Belardi. That same buyer's market helped Athene acquire five companies in its first eight years. "When you can buy companies at a discount to their statutory book value, that can be compelling."
With the assets, expertise and infrastructure of those acquisitions under its belt, Athene went public in December of 2016. As of September 30, 2017, it had $78 billion in invested assets, and has grown from just seven employees in 2009 to approximately 1,360 today.
"We didn't raise any new equity from our IPO, but we knew being public would bring good things," says Belardi. "The transparency and sophistication that comes with being a public company is a good thing for Athene, its investors, policyholders, employees and other constituents."
While Athene's focus on organically growing its business has boosted its credit rating and its asset holdings position, Belardi is optimistic for other reasons. Much of that comes from the determination and focus he adopted during his recovery from cancer.
"Having gone through that definitely changed me. I have even more emphasis on my family and true friends and more emphasis on God," he says. "Others who have been through an illness will say they want to take more time and smell the flowers and run around in the forest. Not me. I go the other way. I'm now in more of a hurry to make a difference, and you realize how fast time slips away. I want to have our company be more and more successful because it provides me a platform to help others."
---