Facing increased competition from a host of new fast-casual restaurant chains, Applebee's Neighborhood Grill & Bar® (NYSE: DIN) is moving forward by looking back to one of the first technologies in human history: the wood fire. The company spoke with the New York Stock Exchange, and explained that's just the beginning of the most significant transformation in its 36-year history.
Describe the transformation that is happening at Applebee's.
Applebee's Neighborhood Grill & Bar® is moving to take back America's neighborhoods – its roots as the country's largest casual dining restaurant chain – with the nationwide introduction of new wood fired grills and USDA Choice steaks hand-cut in-house as the signature item of the new revamped and streamlined menu that elevates quality, flavor and freshness.

The new wood fired grills are custom-made in the United States to Applebee's exact specifications and burn split American Oak logs to sear in juices, and deliver a signature smoky wood aroma and flavor that can be found in a number of new menu items. The first menu items to hit the new wood-fired grills are the in-restaurant hand-cut, certified USDA Choice Top Sirloin Steaks and Bone-In Pork Chops. Guests will also enjoy cedar-grilled salmon, grilled chicken breast and fired-grilled veggies.

In preparation of the new menu transformation upwards of 60,000 hours of training were invested by Applebee's and its franchisees to provide a comprehensive training course that teaches the meat cutters the finest way to cut each whole sirloin into the perfect one-inch steak. The knife that the Applebee's meat cutters used was designed specifically for Applebee's and doubles as the perfect one-inch measurement.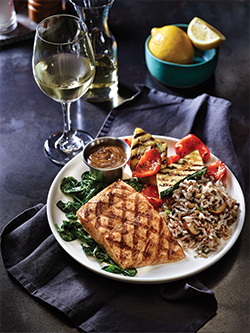 Cammie Spillyards-Schaefer was recently brought on as the new executive chef and vice president of culinary and menu strategy. Her decades of culinary innovation experience helped shape the new menu offerings that focus on real, honest cooking that is simple, vibrant and most importantly – delicious. The initiative is also being supported by a recommitment to every aspect of the guest experience and in-depth training of more than 100,000 Applebee's team members in both the front and back of the house.

Applebee's will deliver this news to American consumers through the largest and most comprehensive marketing and advertising campaign in the brand's history – on traditional broadcast and cable channels and on the most popular digital platforms.
The first step is the addition of new menu items. What can we expect in future phases of the transformation?
The brand is in the process of revamping many elements in restaurant, including the bar experience. Applebee's bar initiative will be focused on enhanced service, breakout innovation, environmental enhancements and compelling marketing communications.
What changes have you seen in customer requirements over the years? Are these changes driving Applebee's' transformation?
Our guests are more adventurous than ever, and that allows our culinary team to explore new flavor profiles and combinations that integrate different cuisines in enticing but familiar ways. For example, our cheeseburger egg rolls have ground beef, cheese, mustard and all the great flavors of a burger wrapped in an egg roll format, giving guests safe adventure with a unique Applebee's twist.

In addition, guests are becoming more interested in learning more about their food, and the process and quality behind it. This certainly plays a role in our streamlined menu strategy that starts with the new Hand-Cut Wood Fired platform, with the USDA Choice Sirloin steaks cut in-house. It's an extra step that takes time and care, but it's something we know our guests will notice and appreciate when they taste this new steak.
Overall, the restaurant industry is an ever-changing landscape. How does a given brand stay relevant in these conditions?
We know it's important to always be innovating – not just for the sake of innovation, but to improve our guest experience every way possible. Today, it's with this new grill platform, but it doesn't end at the menu. The physical restaurant has to stay relevant, as does the brand personality. We do this by listening to our guests, and reflecting on what makes Applebee's special for them. Understanding our customer base is core to staying relevant to them now and in the future.

Is today's diner more aware of the nutritional content of their food? How is this knowledge driving their restaurant preferences?
Nutrition is certainly a factor for some guests, and we have an entire menu section devoted to Lighter Fare. However, guests also want something they can't make at home and can't get anywhere else. We aim to offer a variety of menu options that fall into all three categories.

Applebee's new executive chef, Cammie Spillyards-Schaefer is dedicated to providing customers with the highest-quality ingredients in every dish – from made-in-house salad dressings, which will be available in July – to sourcing meat from top U.S. beef suppliers who meet the brand's strict quality and safety guidelines, consumers can feel good about what they're eating at Applebee's.


In an increasingly mobile world do innovations like Applebee's mobile ordering for car-side service need to be a central part of customer retention strategy, rather than just a "nice to have"?
We recently announced a new and improved Applebee's Mobile App that is faster, more guest friendly and built with enhanced online ordering capabilities. The app is more order-centric, which is exactly what guests told us they wanted, making it easier to use and faster to place an order for quick carside to-go pickup. The app saves the user's favorite orders and payment details making for fast and easy ordering.

Technological innovations are important to our guests and how they enjoy Applebee's, so it is a key component of our offering. However, all of the innovation in the world doesn't matter if you don't deliver on the key product – the food.
---