CEO2CEO Leadership Summit: Key Themes for 2015





by Dan Sampson
Chief Executive Magazine's annual CEO2CEO Leadership Summit recently took place at the New York Stock Exchange. Attended by more than 100 CEOs from companies such as L Brands (NYSE: LB), Cardinal Health (NYSE: CAH) and Dow Chemical (NYSE: DOW), the event included panel discussions and Q&A sessions focused on how organizations innovate in a rapidly and constantly changing business landscape.

Below are three key themes from this year's event.
1) Trickle-Down Politics Matter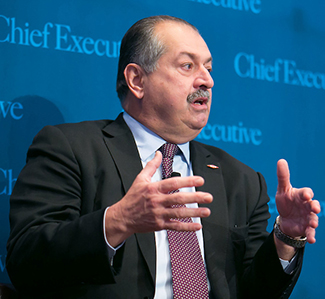 A functioning (and functional) Washington D.C. is essential for the health of U.S. business, and what happens on Capitol Hill directly affects how companies across America operate. Whether it's tax policy, regulatory reform or just a general sense of cohesion between the legislative and executive branches, business leaders' confidence grows when they sense stability in government.

Andrew Liveris, CEO of Dow Chemical, expressed optimism in this area based on his recent meeting with top business and government figures in Washington D.C., stating that President Obama and Republican leaders seemed sincere in their intent to work together ahead of the 2016 elections.
2) The Jobs of Tomorrow Require Training Today

The competitiveness of U.S. business is tied to the availability of labor, and it's no secret that the fortunes of manufacturing in particular in America have been mixed in recent decades. Businesses cite a growing skills gap as one of the reasons they have difficulty performing to their full potential. In order to close that gap, government, businesses and educational institutions need to cooperate on the creation of programs that train (or retrain) employees so they are appropriately skilled for the demands of the 21st Century job market. Some suggested approaches were for companies to work with local colleges on their curricula to create training courses aligned with hiring needs, or to set up a national network of training centers to achieve the same result.

Additionally, the restoration of the trade industry as a legitimate career path for high school graduates (as opposed to university education as the dominant/only option) is an urgent issue that needs to be addressed.
3) Innovation is a Long-Tail Undertaking

Generally speaking, innovation comes in small doses. Unless a company makes a wholesale change to its business model, improvements to systems, products and processes tend to be on a smaller scale. Those changes are most acutely felt when a company is growing, but as it gets larger the effects become less noticeable. This results in companies favoring productivity over creativity, as individual innovations don't move the needle as they once did.

The consensus amongst the panelists and speakers was that in order for businesses to reap the rewards of innovation, they must foster an environment in which it can truly flourish. 'Embracing failure' is something that lots of company leaders talk about but few actually practice; businesses need to promote innovation and understand that a) it is a process, and b) it has a cumulative effect that can only be fairly measured over an extended timeframe.