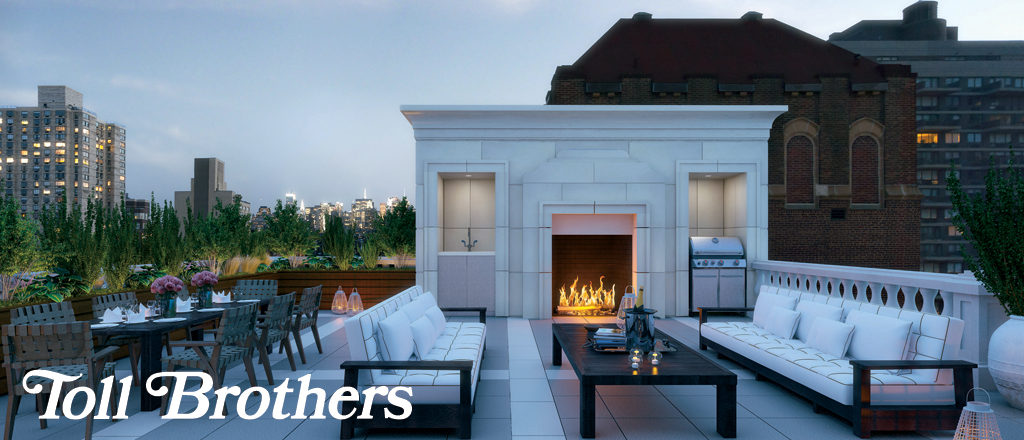 by Scott Alexander
A crisis often reveals what a company is made of. Today, thanks to a mix of bold thinking and calm persistence during the 2008 financial meltdown, Toll Brothers Inc. (NYSE: TOL) is opening its most luxurious apartment offering ever on Manhattan's Upper East Side. Lavish (even by NYC standards) is the word for 1110 Park Avenue, which includes such perks as a private rooftop pool in one of the apartments. But this is hard-won success, and things didn't always look so rosy for the company's first major foray into the high-end urban market.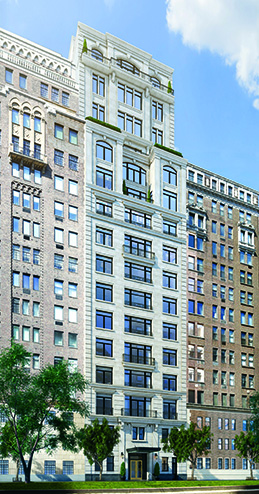 In 2004, Toll Brothers decided that, after 40 years in single-family housing development across the country, it would step into the competitive world of New York City real estate. Bob Toll thought the company could do well in the multi-family market, and after initial moves into Hoboken and Jersey City, he hired David Von Spreckelsen to head up Toll Brothers City Living and took the big leap across the Hudson River.
Spreckelsen had spent the previous 13 years living in the newly christened Brooklyn neighborhood of Dumbo (short for Down Under the Manhattan Bridge Overpass). Back when New York was a major shipping port, the area had been a warehouse district teeming with longshoremen, but by the 1990s it had become a collection of massive, crumbling buildings that played host to illegal artist housing and underground dance parties. "People would drive down Main Street and just toss trash out of their windows," Spreckelsen recalls. Over the last decade, however, the neighborhood transformed around him from bohemian squalor to gleaming multimillion-dollar condos, as ambitious developers saw gold in its proximity to Manhattan and sweeping city views.
Armed with an investment from Toll Brothers, and having seen what was happening in his neighborhood, Spreckelsen started looking for other areas in the borough that might be primed to pop. He zeroed in on Williamsburg, which itself was transforming from a rundown working-class neighborhood to a hipster magnet, a path that often leads to a neighborhood going upscale.
Spreckelsen started two developments in Williamsburg, confident that they would do well for the company. One, the Northside Pier project, consisted of two towers that went up one after the other. In September 2008, Toll Brothers was ready to open a sales office for the second tower. The same week, the company opened another building in the Murray Hill section of Manhattan. The third major event that week was less joyful: Lehman Brothers filed for Chapter 11 bankruptcy protection. Toll Brothers had just opened three buildings for sale in one of the worst housing markets in history.
"We had a year where there were virtually no walk-ins," Spreckelsen recalls. "We just couldn't sell anything." Though it was a brutal period, the company resisted panic. "Everybody was just shell-shocked," he says. "We had people coming in making crazy lowball offers."
Where many companies would have been tempted to fold their hand, Toll Brothers remained composed. Indeed, Spreckelsen, with the blessing of his company, saw it as an opportunity. "We had a year where we weren't really in acquisition mode," he says. "But when things turned a corner we started to buy right away.
"The people who were relying on banks to give them loans had a hard time," Spreckelsen remembers. Every so often throughout 2008 and 2009, overleveraged companies would cut their losses and want to get out. Toll Brothers would oblige them, increasing its New York City position even further. "We bought a couple [of places] in Manhattan, one at auction, and a couple of stalled developments that were going to go into receivership," he notes.
By 2010 and 2011, as banks began lending and buyers emerged again, Toll Brothers had housing stock aplenty. Meanwhile, their competitors were only just getting their leveraged developments off the ground again. Large building projects typically take around two years to complete which meant, Spreckelson recalls, Toll Brothers were for a period one of the city's few sources of new construction.

Today, Toll Brothers finds that it didn't just weather the storm but was strengthened by it. In 2014 the company put the most upscale property in its history on sale; 1110 Park Avenue, on Manhattan's Upper East Side. The 16-floor development will have just nine units, including a three-story 7,000-square-foot penthouse with a roof deck and outdoor pool.
"It's the most expensive apartment we've done to date," says Spreckelsen, "but it's a tremendous location. The city has become an amazing place. People from all over the world have come to live and buy real estate here. We figured, go for it. It was sort of a grand gesture."
Units in the building are already available for sale and Toll Brothers now has its eye on other cities, with Boston and Miami topping the list of targets. Spreckelsen says the company is careful not to get into markets they don't understand, and they wouldn't proceed anywhere without a plugged-in native on their side. "You really need someone who knows a city," he says. "I had been living in New York for 20 years before I started working for Toll Brothers. I would never go to, say, San Francisco and pretend to know anything about how the city's real estate works."
Today Spreckelsen has a staff of 50 in New York City, quite a difference from the solo start he got there 10 years ago. He puts it down to more than just Toll Brothers' willingness to put their money on the line during a crisis. "They let us be pretty autonomous up here," he says, "which you really need to adapt to the local market. But we also have a very good backbench at HQ in terms of legal and marketing and insurance muscle. It's a good combination."
Spreckelsen also says support from the founders has been key. "Bob Toll is the reason we're in New York in the first place, and he's been great to talk to," Spreckelsen says. "Bob has so much experience in so many different markets, and he's really been able to adapt to the urban market. His instincts from the single-family world helped us get through the tough times and do well in the good times. Sometimes he gives me advice and I'm not sure I agree with him. But he turns out to be right every single time."
---