by John R. Quain
In this increasingly tech-focused age, how does a company offering one of the oldest forms of advertising stay current and engage customers? If it's Outfront Media Inc. (NYSE: OUT), it does it by co-opting as many of their upstart rivals' strengths as the company can, while leveraging those things only traditional advertising can do.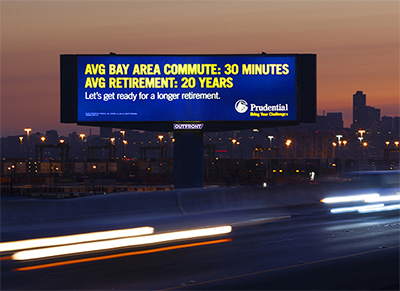 2014 has seen much change for Outfront Media, starting with its splitoff from CBS (NYSE: CBS) and a March IPO on the NYSE as CBS Outdoor Americas Inc. In October, the company completed its acquisition of the outdoor advertising arm of Van Wagner Communications, LLC, growing its inventory to more than 100,000 displays, billboards and transit signs across the U.S., Canada, and Latin America, including signage in the 25 largest metropolitan markets in America, from the Bay Bridge in San Francisco to New York's Times Square. Then in November it unveiled a complete rebranding as Outfront Media.
The rebrand reflects the company's forward-thinking goals, as well as its independence from CBS. "We took the opportunity to create a stronger business-to-business media brand," says CEO Jeremy J. Male. He believes the name, which took effect on November 20, also reflects the firm's ability to get out ahead of competing media, even digital forms.
While much has been made of location-based digital marketing to mobile devices, Male points out that billboards are the original hyper-local ads. Being able to precisely place messaging along a specific stretch of road or transit line makes it one of the most contextually relevant forms of advertising. "It's amazing in terms of being directional and increasing store traffic," Male notes.
And rather than decreasing the relevance of billboard advertising, the spread of connected mobile devices makes it more integral than ever. Male points out that today more than 50 percent of search traffic comes from mobile, which explains why Apple and Google are some of the largest out-of-home advertisers. Roadway advertising has a particular advantage — it's the one place where people, drivers in particular, are not looking at their smartphones.
The advent of digital Internet-connected displays opens a world of possibilities as well. Last year, a British Airways ad went viral thanks to technology that allowed it to display an animated child on a billboard, who pointed to real aircraft as they flew overhead. Using technology that tracked the position of landing planes, the billboard displayed not only the child pointing skyward but also flight numbers and pricing information.

"Right now, I can change every board online in the country based on who just won a football game," explains Male. Nike Inc. (NYSE: NKE) took advantage of just such a feature during the World Cup earlier this year. And advertisers are taking note: Male says that while only about 2 percent of Outfront's boards are currently digital, they generate about 10 percent of the company's revenues.
He sees even more potential in using customer feedback loops to deliver content in the future, and to pass more information back to advertisers. Opted-in consumers could be identified as they pass a billboard, and advertisers could even get insight into where they went and what they did next. This kind of behavior-based data is a holy grail in the advertising world; it can also be used to tailor messaging to nearby cellphones via Bluetooth, or to deliver incentives and coupons.
While the future offers many possibilities, Male is quick to point out the importance of not overloading customers with messaging or, worse, broadcasting indiscriminately. Billboards are consumed involuntarily, he notes, giving outdoor advertising a unique responsibility that the company takes seriously. "You can't flip the page or choose not to consume." He also notes that thanks to the dynamism of digital displays, Outfront, in collaboration with the FBI, can mobilize targeted amber alerts on their billboards at a moment's notice.
Competition from the digital realm shows no sign of slowing down. But no matter how much it grows, there will always be a significant difference between Outfront and its online rivals: Outfront is asset-based. In fact, it's a REIT with physical locations that are finite, unlike the Internet. Gaining access to the same high-traffic spots would be difficult for a newcomer. "It would be hard for someone to replicate what we have today," says Male, "whereas in the online space there's a new competitor every five minutes."