by Chris Warren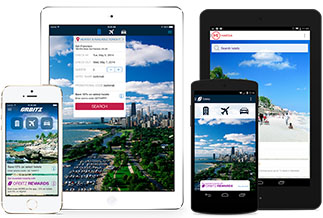 When Chris Brown helped launch the first phone app for Orbitz Worldwide Inc. (NYSE: OWW) in 2010, the mobile revolution was in its infancy. The initial software development kit for iPhone was released just two years prior, and the newer Android system had yet to come into its own as a platform. It was the first wave of the app revolution and arranging travel through a phone was still an uncommon activity. "With our first product launch, maybe a handful of hotels were booked through phones," says Brown, now chief product officer for the company. "But we sensed that was the way things were going."
Flash-forward just four years and mobile technology has impacted almost every aspect of the travel business. In its third quarter earnings report for 2014, Orbitz notes that more than 33 percent of its hotel reservations during the quarter were made using smartphones or tablets.
Take, for example, last-minute hotel reservations. "Traditionally, many folks were already in the market and had left their computer at home," Brown says. "Their choices were confined to walking up to a hotel or calling local information for nearby places to stay." Now that 90 percent of travelers carry smartphones, most with GPS, summoning a list of nearby hotels has become much easier. Instead of being faced with limited options, consumers are rewarded with good deals for helping hotels fill rooms that would otherwise remain unoccupied.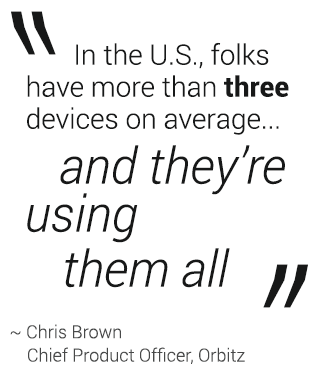 Mobile devices are also used to consolidate payment and personal information to reduce hassle and streamline the booking process. Brown notes that "folks on an Android device who are signed in with Google Plus can find a hotel near them and tap all the way through to check out without ever typing anything in." Not surprisingly, hotels are responding to the sea change. Brown says that many of their hotel partners now work directly with Orbitz to offer attractive deals to last-minute travelers.
And makers of travel apps continue to innovate. Brown says that looking ahead, his team's main priority is to pinpoint and eliminate "friction points" in the user experience. That might mean leveraging a device's thumbprint or retinal scanner to boost security or improving apps to speed people through the reservation process.
Brown says another point of focus for the company is preparing for what he calls the multi-device future. "In the U.S., folks have more than three devices on average, and they're using them all," he says. The challenge is to give travelers using tablets, phones, laptops and personal computers a seamless experience, particularly when they switch from one device to another. "What we are trying to do is contextualize things, so if someone goes online at work to search for Tokyo hotels, then goes home and picks up their phone, they won't have to repeat that search," Brown explains. "We are connecting the experience across all the devices and helping make the planning process easier. That's a big part of where this is going."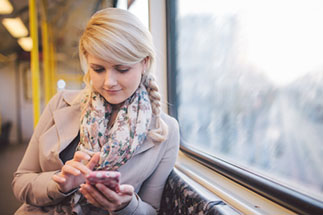 Beyond planning and booking, Orbitz also wants to be a tool to improve travelers' experiences, even after they've embarked on a trip. Already the app has the capacity to send text messages and emails warning of changes to flight times, as well as the ability to make changes and additions to an itinerary mid-journey. Brown says the app could also act as a mechanism to improve someone's stay in real time. "Along the way we can collect feedback and help them reach out to customer service if they need something," he says.
With rapid technological innovation the new norm in the travel industry, there is no lack of potential tools and features for Orbitz to consider. "It's hard to see limits," says Brown, but the challenge is not the limitations of technology, but to look at all the possibilities and be judicious in your choice of which ones to pursue. "The limit on companies like Orbitz is choosing the right ideas, going after the ones that have long-term viability and being nimble enough to adopt the latest technology to serve consumers well," he says. The best part? You won't have to lift a finger to experience the next travel marvel. It's coming to a pocket near you.