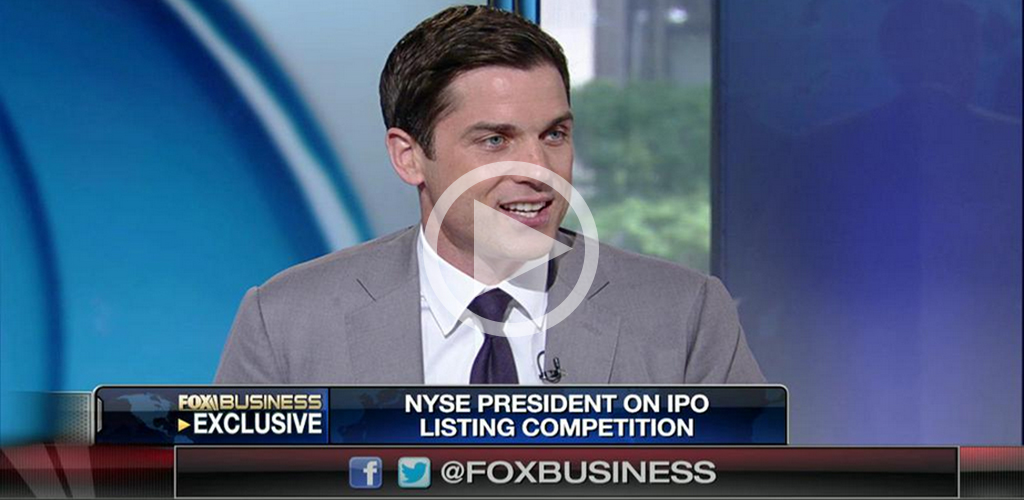 When NYSE Group President Tom Farley looks to trends shaping the future generation of leading companies, one industry in particular stands out, "High growth technology," as he stated in a recent interview with Fox Business Network, is the hottest area for IPOs and one in which he and his team invest a significant amount of time and focus. Not only are these companies innovators helping transform the way we live and work, but today's technology IPO tends to be a larger, more mature company often employing thousands and contributing to economic growth around the world.
Each year since 2012 the New York Stock Exchange has hosted the majority of tech IPOs and, while this may surprise some observers, the evolution of our leadership was driven by many contributing factors. First, many pre-IPO technology companies now qualify for an NYSE listing, in contrast to 15 years ago when early-stage, pre-revenue companies were conducting IPOs. And second, with rising equity market complexity, issuers require certainty around the trading of their stock, not just on the IPO day but the security offered by the NYSE's market model, visibility and flawless execution as their stock trades in the secondary market.
Importantly, we have invested in the Bay Area, opening an office and taking a more active role in the capital formation conversation. An advocate for growth companies, we championed the JOBS Act as part of the IPO Task Force, testifying on the successful bipartisan bill aligned with the objectives of the tech and entrepreneurial community, while reducing red tape and providing emerging growth companies the tools to access capital to hire, invest and grow.

The New York Stock Exchange's family of tech listings now includes hundreds of companies; among them are Twitter, Tableau, Yelp, LinkedIn, Box, Lending Club, GoDaddy and Palo Alto Networks. And, notable companies like Oracle, SFSF and Juniper have transferred to the NYSE to become part of our world-class network of listed companies and high-profile technology innovators. The momentum continues into 2015 with listings from the likes of wearables pioneer Fitbit and leading eCommerce platform provider Shopify.
Tom Farley joined the Exchange at a pivotal time for the U.S. markets. In an interview with CNBC on his first day, he said he was excited about "bringing the ICE spirit of innovation and customer centricity to the New York Stock Exchange," and his new approach showed almost immediately. The NYSE is now in technology overdrive, not only in terms of its listings but also our work on our next-generation trading platform. Amid the increasing complexity of today's U.S. equity market, Farley's goal is to create a more streamlined exchange platform that supports market participants' need for seamless data and execution capabilities, while reducing development time and connectivity costs.
An infusion of tech-savvy from our parent company, the digitally native Intercontinental Exchange (NYSE: ICE), is bringing positive changes to technology and how NYSE services listed companies using that technology. This 360-degree focus across external and internal constituencies is ongoing. This, together with the broadest global network of digital-age companies, and supported by proven stability and reliability as the center of global capital formation, the New York Stock Exchange continues to earn its place as the home to technology companies.