by Dan Sampson
Patrick T. Ryan, CEO of Press Ganey (NYSE: PGND), talks to the New York Stock Exchange about Press Ganey's work, the evolution of the U.S health care system and helping doctors get back to what they're best at - treating their patients.
Can you give us a brief overview of the history of Press Ganey, and talk about its mission?

Patrick T. Ryan: The company was founded 30 years ago by two professors from Notre Dame University, Drs. Irwin Press and Rod Ganey, and their original goal was to better understand the patient experience and how that affected the overall delivery of care. Three decades later we try to remain true to that mission and their legacy as we introduce new, innovative solutions to support our clients in their efforts to improve quality, safety, clinical outcomes and, ultimately, the end-to-end experience for patients. We now have more than 1,000 associates serving around 20,000 health care organizations across the country.
How has Press Ganey's work impacted the health care industry and why will its work be important for health care providers in the years to come?

PR: Press Ganey's work is driven by a concept we call "patient centricity." Our belief is that when health care providers build their culture around the patient, the outcomes are better, so first and foremost we are a mission-driven organization. All of our associates bring passion to their work every day, and we wake up each morning trying to partner with and engage our client team members in the overall effort to improve the care experience.

Right now we really are in a transformative era for health care, where every provider in the country is looking for new ways to design care and to transform the way it's being delivered. When you think of patient centricity and its impact on the health care industry, our work has the opportunity to not only accomplish important financial objectives and reduce costs, but it will drive culture, safety, and ultimately clinical performance.

Why is it important to address issues like the patient experience?

PR: If you go back 30 years to when the company was founded, there really weren't any formal channels for patient input other than the feedback they would give directly to their caregiver or doctor. Since that time, there have been many studies that have demonstrated that patient-reported performance is the single best measurement for overall care quality.

So, the idea of engaging the patient in their care and bringing them into a position of shared decision-making has gained great traction from the standpoint that outcomes are better when a patient understands their care, when it's coordinated and communicated effectively, and together doctors and patients can manage their care through the full continuum.
Who's responsible for owning these initiatives in the hospitals and provider organizations?

PR: It really reaches across the organizations. The data are absolutely clear that an engaged provider community—whether it's the physicians, the nurses, the hospital facility staff or the administrative team—will deliver a much more effective care experience and the patient will have a much better outcome. If everyone is committed to listening to the patient, to understanding their needs, to hearing their voice, to working with them to identify the right treatment pathway, the patient will be more involved and the outcome will be better.
Patient experience has historically been about patients going to the hospital and evaluating their care experience. Can you speak to the role of providers and how their engagement affects the patient experience?

PR: At Press Ganey, we often talk about the concept of helping providers "reduce suffering," and we define suffering as starting at the moment when a person first needs a provider. We measure performance across the continuum of care, report where the defects exist and aim to eliminate anything in the process of delivering care that might create unneeded anxiety or uncertainty.

There are avoidable and unavoidable components of suffering and the avoidable ones are those that create additional, unnecessary stress. Let's say someone comes in for a physical exam—it might be hard to schedule an appointment, their test results might be delayed—if you can remove those bumps, then you're reducing suffering. You can't completely alleviate the physical toll of surgery, but you can mitigate it by explaining to the patient what they are going to go through so there are no surprises along the way. Every health care provider went into the industry to help people, and the beauty of the concept of reducing suffering is that when you call upon your organization to focus on that idea you return everyone to their original, noble mission.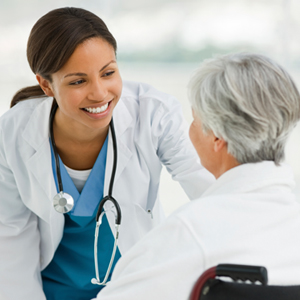 How does culture affect patient experience?

PR: If you think about care today, the complexity is immense. It's not unusual to see more than 100 providers through the course of your particular episode of care, so it needs to be culturally embedded that the patient is the true north and that the organization is rallied around ensuring that they are coordinating care in a compassionate, connected fashion so the patient can work with their clinicians and providers to achieve the best outcome.
A number of industry publications have all recently written on consumerism in health care. Can you comment on that?

PR: I think that at this point, the train has left the station. Consumerism is and will be an important issue in health care in the coming years and the stakes are high. An episode of care is one of the most important moments in a person's life, and many people still select their provider based on word-of-mouth or referrals from family members and trusted friends. However, increased consumerism means that progressive systems must make their performance data public and do it in such a way that the consumer can understand it, process it and make decisions around it. People sometimes equate the idea of comparing health care providers with that of choosing a restaurant, but there's so much more than a meal at stake—a person's health is on the line. For Press Ganey's part, we have been calling on our clients to drive a transparency movement.
There has been a lot of discussion around transparency in health care. Can you talk about what that means, and the effect it has/will have on the industry?

PR: Press Ganey at its core is a data and analytics company and for our clients this is an important moment for them to build a covenant of trust with their communities in terms of the data they choose to take to the marketplace.

This is not about search engine optimization and it's not about marketing; you don't want to put your data out there in a way where you're trying to sell yourself. Your customers must be able to trust the data you are publishing, understand it and make a decision based upon it. We recently did some work with University of Utah Health Care where we published—unedited—all of their patient comments to the web. If you're looking for a physician in the Utah system, you can read those comments and decide which provider meets your expectations.

There are parties out there promoting what we call 'translucency', where they're actually trying to sell certain providers so they're not scientific in their presentation of the data they collect—this is not transparency. This is salesmanship. The most important asset any provider organization possesses is their integrity and the trust they have with their community. So it's critical to deliver scientific, rigorously collected data that present a true picture of a system and its providers.
What role does Press Ganey play in partnering with health care providers to address these issues?

PR: This may be the most interesting time in my career. The speed of change is accelerating and the changes themselves are dramatic. People want to know whether performance data have been collected scientifically and providers appreciate that the consumer is taking more responsibility and interest in their care. It also rallies an organization around driving improvement and maximizing the value of areas in which performance is good. In the case of University of Utah Health Care, they embraced transparency four or five years ago and now outperform 98% of our database. I think you'll see innovative leaders drive this process, and Press Ganey will be alongside them, ensuring that the data are collected with rigor and accurately presented.
Press Ganey was very successful as a private company. What drove the decision to take the company public and to your choice of the NYSE as your listing venue?

PR: Going public afforded us the ability to continue to innovate and improve our services so it was an easy decision to do so. Listing on the NYSE was an honor. My career spans 35 years and the NYSE has always been the gold standard. As we looked to the future, we wanted a partner that would provide us with the resources and the expertise to continue to evolve our business.
---