GoDaddy (NYSE: GDDY), a leading provider of domain name registration, web hosting and business support solutions, recently celebrated their IPO on the New York Stock Exchange. We spoke with their CFO/COO, Scott Wagner, about the past, present and future of the company, their passion for supporting small businesses, and their partnership with the NYSE.
Most people know GoDaddy for its domain registration and hosting services, but the company also offers back-office products and tools. Can you talk about the growth of those other areas of your business?
Scott Wagner: The core of our business has been getting people a great domain name, which at a conceptual level is best described as purchasing digital real estate. In combination with web site creating and hosting, that's the foundation of a company's online presence. The business applications we offer enable the actual running of business operations that help companies maximize the value of that presence.

At this time, hosting is 37% of our revenue and it grew by a third over the last year, and business applications grew around 40%, which we believe is a result of the focus and innovations we have put in place in both segments.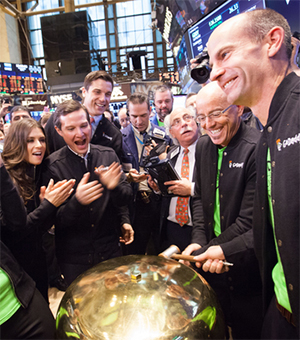 What drove this growth?
SW: GoDaddy was built on three things: laser-like focus on domain names, a top-flight customer care organization, and dynamic and innovative marketing. That formula was put in place by our founder Bob Parsons who grew the business until 2012, at which point three firms - KKR, TCV and Silver Lake - invested in the business with the idea that we could continue to build products, develop an integrated technology platform, and do it everywhere in the world.

And so during the last two years we've been assembling a huge engineering team to pave the way for that growth. Blake (CEO Blake Irving) is a phenomenal technology and product guy and the expansion of these segments has been central to the strategic direction of the company.

We've seen this strategic shift start to pay dividends; with hosting and presence growth at 30%+, and business applications growth at 40%+ and acceleration in international markets.
It is becoming easier and easier for people to start their own small businesses, particularly those that operate online. GoDaddy was among the first group of companies to smooth that pathway. Can you talk about that role and what it means to the organization?
SW: When you're thinking about an idea - and it doesn't have to be a business, it could be running for political office, setting up a non-profit fundraiser, or organizing a local sports team - having an online presence is essential because the internet is the first place people look for information. Coming back to my earlier point, capturing and maximizing the value of your digital real estate is the most important thing because it's most people's first interaction with your brand. That has been the initiation point for the 13 million people who have worked with GoDaddy to get that name, that identity, and then bring it to life online.
Are there any particular verticals in which you see notable growth?
SW: Our customer base reaches across all verticals, but really the size of the businesses we serve is the main commonality. The vast majority of GoDaddy's customers are small businesses, those that have 5 employees or fewer. Which incidentally is the size of the vast preponderance of businesses of all kinds.

This company has always had a customer-first mentality. On our IPO day, our customers were on the podium with us. One of them, Candis Jones, actually rang the bell. She lives in Columbus, OH and make's baby-proof jewelry. A friend referred Candis to us when she was first thinking of starting her business. She built an online store, TheJonesMarket.com, and has used our marketing services to syndicate her content. Since then, her business has grown tremendously and it was an honor to have her with us on the day.

The exciting thing for GoDaddy is that there's a Candis Jones in the UK, and in South Africa, South America, in India, so as we globalize our services through a single platform. We can serve not just the Candis in Ohio, but all the Candis' around the world.

Our value proposition of great product applications, combined on a single technology platform, backed up by exceptional customer care is a winning one around the world.
To that point, can you talk about GoDaddy's international presence?
SW: The three pillars of our company growth strategy have been innovation in our product suite, building a single platform that integrates those products, and to deploy around the world.

In terms of growing globally, we had a decent sized international business two years ago even though didn't have any particular focus in geographic markets. Our international business stemmed from the halo effect of our brand equity in the U.S., and the general importance of being online.

In the last two years we've expanded into 37 countries and 17 languages, and that was driven by a team of software engineers taking the code of our different services, whether that's domains or web site-building, and allowing international customers to come to GoDaddy.com, and find that their entire experience is in their local language, supplemented by local imagery and priced in local currency. It's been a big effort for us, and is something we are committed to continuing.

One of GoDaddy's differentiation claims is its customer care organization. Can you talk about why this is important to the businesses you serve?
SW: It's a real credit to founder Bob Parsons. Customer care was always at the foundation of GoDaddy and we strive to get the customer to the outcome they want, no matter what. Our customer care team will stay on the phone with callers for as long as it takes to find a resolution, so they are not getting passed back and forth from one person to another. The incentive for our people is to solve the issues, and sometimes we find that the problem is not even on our end – people call us when they have problems with other vendors and we help them connect all the dots.

We've found that when you provide fantastic care, your customers stay with you. That helps us as a business as we gain a deeper understanding of the things that are important to our customers and can develop the appropriate service, product or solution to meet their needs.

This principle was part of our DNA as a company from the very beginning and we now have more than 3,400 people in our care team that think, operate and act in this way. It's endemic to who we are as a company.
Can you remember the moment in GoDaddy's history when the company went from being one of a number of competitors in its field, to assuming a leadership position?
SW: I think about 10 years ago the inflection happened. When people saw that we provide a level of care that our competitors didn't and that, combined with a pretty high level of brand visibility, really created the lift. We're in what I feel is the second phase of the company's evolution where we're building great new products on our technology platform.
Finally, what were some of the contributing factors for GoDaddy choosing the New York Stock Exchange as their listing venue?
SW:
It's interesting for me, as a veteran of the private equity industry, in that I've been around the financial markets for a long time and exchanges have fragmented to a certain extent. That has created complexity that we see play out in a number of different ways. For me, that complexity makes a rock solid institution with a phenomenal technology platform and the scale and delivery of the NYSE even more valuable. It's been a perfect marriage and NYSE has done a terrific job.