by Scott Alexander
"We believe that by leveraging technology and data to create clinical programs that care for the whole patient, we can radically improve healthcare in the United States," says Frank Williams, CEO of Evolent Health Inc. (NYSE: EVH). No one is going to fault him for not setting his sights high.
Evolent, which debuted on the New York Stock Exchange in early June 2015, uses its technology platform coupled with a set of innovative clinical programs and value-based care strategies to help healthcare providers across the country optimize their operations.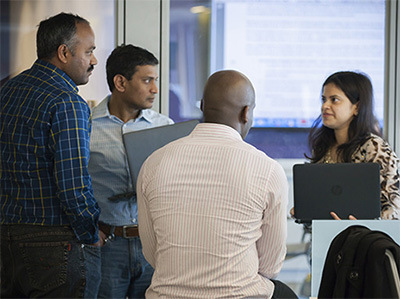 Most health systems continue to operate within a volume-driven, fee-for-service model. But the status quo is coming under increasing scrutiny from critics across the political and healthcare landscapes. While most participants in the healthcare system agree that we must move to a system of value-based care, few know how to execute this shift while continuing to care for our nation's patients. Evolent is helping providers move to a system that compensates them based on overall patient health instead of individual services performed. It's a major break from entrenched industry practices — and in some cases requires healthcare providers to rethink their entire operation.
"We combine technology, knowledge and expertise into one platform that can help an organization move to value-based care," said Williams, who defines value-based care as "better outcomes for patients at lower cost." Evolent's underlying technology platform was developed through a partnership with the University of Pittsburgh Medical Center Health Plan. It is designed to aggregate patient, pharmacy, lab, and clinical data, then to mine that data to develop business intelligence that can reduce costs and improve health outcomes.
"We've developed a sophisticated set of analytics that let you know a lot more about patients and predict which ones are likely to get very sick in the coming period," explained Williams. "That way you can concentrate resources and have an increased impact. It can mean reductions in hospital admissions as well as readmissions. The idea is to use data to identify the gaps in care, then use novel strategies to address them." Evolent has been pursuing its value-based vision since its founding in 2011, and it's only gained supporters since then. This year, the U.S. government added a provision in the Affordable Care Act that ties provider payments to the quality of care they provide. How did Evolent see the writing on the wall?
Williams says the idea for Evolent came out of a conclusion by people on his team that the exponentially increasing healthcare costs of the last 15 years were unsustainable. "We saw a lot of providers that really wanted to move in this direction," he says. "We felt if we had the supporting systems to help them, we could accelerate the positive change going on in the industry." Organizing resources to care for patients is the second component of Evolent's model. The idea, Williams explains, is to develop an integrated care team around physicians so that doctors "can spend more time with patients that are sicker, while using the care team around them to manage other patients in less intrusive ways."
Noting that "5 percent of the patients cost around 50 percent of the dollars we spend," Williams stressed that Evolent's model will increase efficiency by identifying people with chronic conditions, such as diabetes and asthma, then work to prevent acute episodes that result in emergency room visits and hospital readmissions. Under the conventional system, hospital visits and the testing and treatment that come with those visits are the basis for compensating healthcare providers. That model incentivizes doctors to order more tests and de-emphasizes preventive care. In the new model, Williams says, "you want to do everything you can to prevent that person from having that episode. Maybe that means sending someone to visit them in the home, maybe it means monitoring their weight on a daily basis. The idea is that you can start to get paid for keeping someone out of the hospital, instead of only running the meter when they are admitted."

The final piece of the Evolent package involves providing the new financial management infrastructure that makes sure that that keeping people healthy will be good for providers' fiscal health. But this is no quickie consult. Williams says that Evolent employees see themselves as partners in executing the strategies they recommend. "We do some consulting," he notes, "but most of the time we are truly embedded in the company and aligned as operating partners driving their long-term success. Essentially we're launching a new business with them, so the first thing we need to do is set the strategy and operational business plan."
And the partners have been coming in droves. The Arlington, Va.-based company has signed up a number of major healthcare providers, including MedStar, the largest healthcare provider in Maryland and Washington, D.C.; Indiana University Health in Indianapolis; Premier Health in southwest Ohio; and Piedmont WellStar HealthPlans in Georgia. All told, Evolent now employs more than 800 people to build, service and manage its relationships. Providers pay a flat fee for the implementation of the Evolent model, then the company earns a per-patient, per-month fee.
Ultimately, though, Williams seems most excited about what Evolent's care model is doing for the basic relationship between doctors and their patients. "There is a win-win here," he says. "We believe it's possible to reduce costs while improving quality, and in the process create a much better experience for both the patient and the physician. We couldn't be more excited about delivering on our vision."