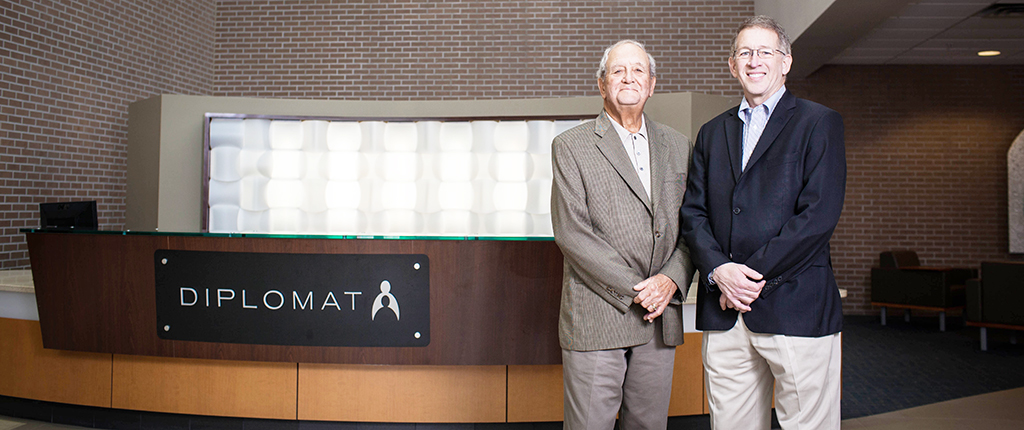 by Scott Alexander
In 1975, Dale Hagerman founded Diplomat Pharmacy Inc. (NYSE: DPLO) with a slightly selfish idea in mind. He really wanted to work with his son. "Phil was getting out of school," says Dale, "and I said to my partner at the time, 'How do we work him into this corporation?' He said, 'We'll have to wait until there's an opening.' I said, 'When you get people with this kind of ability, you find an opening.' He said, 'Well, we don't have one.' I said 'Okay, how do I get out of this company?'" After finding an amicable way to swap out his shares of that company, Dale set about forming a new one with Phil.

Some might chalk Dale's confidence in Phil up to parental myopia. Others would fast-forward to the fall of 2014 when Phil, now CEO and Chairman of the largest independent specialty pharmacy in the country, presided over Diplomat's successful IPO on the New York Stock Exchange. The father-son team built this success story over four decades by combining business aggression with corporate values that harken back to the era of the neighborhood pharmacy that doubled as a malt shop. Now 88, Dale has long since retired, but remains heavily invested in Diplomat. We sat down with the two of them to get their perspective on business, family and how to combine the two successfully.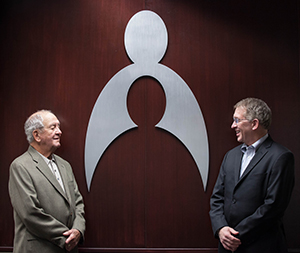 Can you sum up Diplomat's corporate philosophy?
Phil Hagerman: We built Diplomat for the long haul, and the philosophy of that stable family base has been key to our longevity.

Dale Hagerman: We are a family-run business, and that informs the mentality we take toward the entire company. Families come in all shapes and sizes, and you get what you get. When you extend that to the company level, that means trying to recognize people's talents and seeing that what makes someone unique or different is often what makes them valuable. When you make a commitment to people and are patient, you can develop talent inside the organization. Working through any challenges or issues that arise creates a real sense of stability.
In addition to the family-style approach to your employees, you also had actual family members in the business. Did that make a difference?

PH: My dad always used to say, "Treat workers like family." But he also lived by its corollary: "Treat family like workers." Everyone in the family worked in the store in the early days. By the time we were 10 years old, my sister and I were behind the soda fountain making cherry cokes and egg creams. Mom managed the greeting card section.

You treat your family lovingly, but when it's time to work, they're also supposed to be your best workers. As we got older we found out that even though my dad was the boss, there wasn't a job too hard or too dirty for his kids to do. And you do the work that needs to be done when it needs to be done, regardless of whether it's in your job description. You don't walk by a piece of paper on the floor and leave it for the guy who cleans up. I had that work ethic drilled into me early on.

DH: I was blessed with complete family support in the business. Being able to work with a son and daughter to start a new corporation is a blessing. And we made the most of it. After Phil got his pharmacy degree, he needed to work in a pharmacy for six months before he could get his license, so he came and worked with me. Unfortunately for him, 60- to 80-hour workweeks are not too unusual when you're trying to run a family drugstore [laughs].

PH: Dad worked 9 a.m. to 10 p.m. every day during those six months while I was waiting to get licensed.

DH: We did whatever it took to make it work.
What were the key factors that allowed you to grow like you did?

DH: Maintaining focus and maintaining aggressive strategies for growth. Phil is the real entrepreneur of the family. As you start getting older, you get more conservative. But as that happened to me, he was coming into his own, which let us maintain our aggressive approach. We got into special compounding, for instance, which requires all sorts of relationships with doctors and suppliers. It's hard, but it allowed us to develop a piece of our business that is quite unusual for your average local drugstore and ended up being an important differentiator for us.

PH: Dad always supported my desire to do the next exciting thing. And he was equally willing to support physicians when they wanted us to carry new things. Sometimes doctors would ask me to carry something but we'd need two more doctors prescribing it for it to make financial sense. So we started networking pretty seriously. Eventually, because of that approach, we had every unusual product in the industry on our shelves, stuff no one else carried. Other people couldn't afford to have them on the shelves, but I had dozens of patients using them. We ended up as the pharmacy that always had the esoteric stuff.

The pharmaceutical world is changing all the time. Does Diplomat use any particular strategy to stay competitive?

PH: Not many companies grow from the grassroots corner drugstore. And one thing that's unique about us is how many pharmacists we have at the executive level. I'm a second-generation pharmacist; my daughter is a third-generation pharmacist. My president is a third-generation pharmacist, and his daughter is a fourth-generation pharmacy student. Our Senior VP of Sales and Business Development, our VP of Operations, and our head of Clinical Services are all pharmacists too. So our roots in this industry run deep. And that means no matter what happens, we've got a lot of people at the top who understand what's necessary to serve patients well. I think it gives the market confidence in us.

Dad's philosophy was always "take good care of patients and the rest falls into place." When you have that as your guiding philosophy, things actually get pretty simple. We talk a lot about "the patient's journey." It's a way of seeing the business holistically. Success for us is not just about the single step of delivering a drug or the single step of a clinical phone call. It's about a long string of events that have to happen for the patient, then looking for ways we can improve their outcome.

And it's not just about taking care of patients, it's about taking care of the people who are taking care of patients. It goes back to the family philosophy we have. We include doctors and their staff as part of our family as well, and do our best to take care of them. The people who are delivering this care have to trust Diplomat for the whole thing to work. If we don't give them the same respect and support as we do family members or patients, then they can't do their job as well.

When a new drug launches we do more than dispense it. We capture data and do assessments at six and eight weeks, depending on the therapy, to help determine if a therapy is successful for the patient. The doctor still makes the clinical decision, but we are in a unique position to gather the information they need. We've done that from the very start, and it earned us a very good reputation in Michigan. When a new drug would come to market we'd get calls from every doctor in the county. And we were willing to take calls from those doctors, even when we knew it wouldn't result in a new prescription. Because we did that, we started getting referrals from other pharmacies, because doctors would tell them about us. In fact, other pharmacies in the community became one of our best sources of referrals. They knew if they sent a patient to us that we would take good care of them and not try to steal them.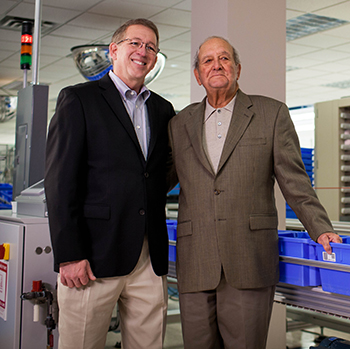 Is it a challenge to run a national business out of Flint, Michigan?

DH: Genesee County was a tremendous place for us to build our business. Flint's been beat up, but people forget what it was like in the 1960s and 1970s. Flint had one of the highest standards of living in the country. We have an arts and cultural center that you wouldn't expect in a city three times our size because GM was so strong here. Things got rocky for a while, but now it's coming back. We were able to buy a former GM facility with 550,000 sq. feet of space, and then fill it with ex-GM employees trained at our internal training division, Diplomat University.

Our education programs actually help us give back to the community too. We've gotten into training for pharma manufacturers as well as our own employees. We'll customize educational programs for them ahead of new drug launches. So the big pharma manufacturers regularly send their people here. When a major company sends 45 people here for two days it's great for us, but it also boosts the service and tourism economies in Flint. People from around the country come here all year round. They have dinner meetings at local restaurants and stay in the hotels.
With your unique family history is there pressure for Hagerman kids to grow up to become pharmacists?

PH: Well we do seem to have ended up with a lot of pharmacists. My sister Debbie is one. She graduated a year ahead of me and worked with us for about 15 years. But when my daughter Jenni graduated college about 10 years ago, she told us she wanted to be a college professor. We were surprised, but if that was what was going to make her happy, we were excited for her. Then five years down the road, when we launched Diplomat University, we offered Jenni the opportunity to come in and lead it. She got to develop the curriculum from the ground up, which was a challenge she relished.

DH: It's a tremendous opportunity for all of us, giving her the opportunity to work with her dad, not to mention to become a corporate officer in a growing business. She loves it and like all of Phil's kids, she's very strong. She's actually President of the Michigan Pharmacists Association now, so she's pretty aggressive in her own right. She doesn't need any prodding from her dad or granddad.

PH: Yeah, so in addition to being a professor, she's also a Doctor of Pharmacy and went to the same school dad and I did.
So in terms of that family pressure to be a pharmacist…

PH: I guess maybe there is a little, yes.
---