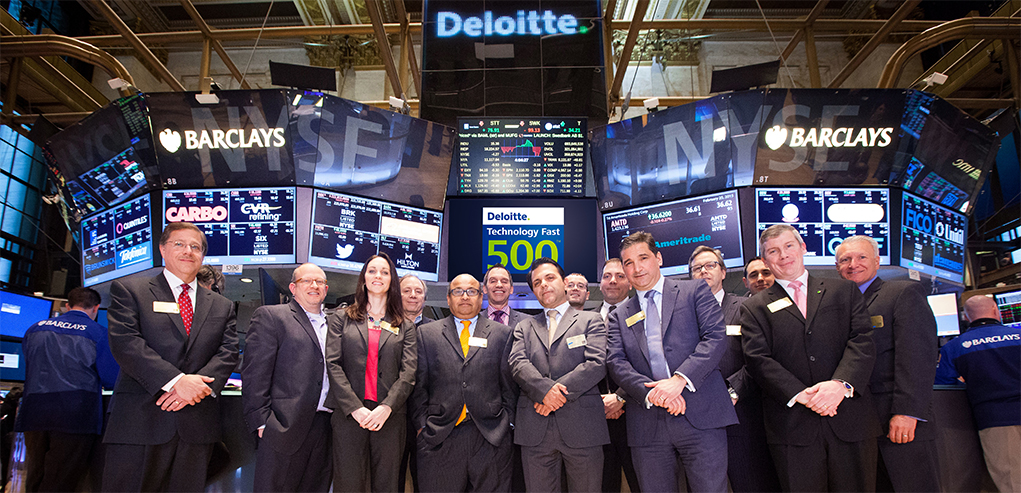 by Dan Sampson
For more than 20 years, Deloitte has recognized the top 500 fastest-growing companies in the technology, media, telecommunications, life sciences, and clean technology sectors.
"Deloitte is truly an advocate of the entrepreneurial spirit, and with this program we recognize organizations pushing for growth," says Mark Davis, partner, Deloitte & Touche LLP. "The Fast 500 list really represents the things we believe in."
While ever-present verticals like Internet and software still comprise the majority of the list, newer sectors like bio- and clean technology have significantly grown their presence in recent years. Davis acknowledges the diversity in the list in terms of industry and company size, but notes that one principle appears to connect them. "In the conversations we've had with the winning companies, one thing that comes out is that they never give up, they believe they'll succeed and they stay focused. That kind of perseverance contributes to setting great companies apart."
He also says that dedication starts at the top. "Out of the people involved in the growth of a company, at the end of the day the CEO is the one that sets the tone. Ultimately, they make the decisions and determine the direction of the company."
To celebrate this year's list and the twentieth anniversary of the Fast 500™ program, Deloitte and representatives from a number of the winning companies visited the New York Stock Exchange to ring the closing bell. We spoke to Joe Proto, CEO of Transactis, Luc Gregoire, CFO of AvePoint and Michelle McComb, CFO of Datto, Inc. about the list, their presence in it and their plans for the coming year and beyond.
What does it mean to your company to be on this list?
JP: This is a big tribute. Making it onto other awards lists is always nice but, for a technology company, being part of the Fast 500 is an absolute must.
LG: It's very important for our management team and for our customers and staff. We've been on the list for the last 4 or 5 years and it brings with it a lot of awareness of our company for prospective employees, it gives us relevance with our customers, and also attracts capital interest, too.
MM: It's very significant for us. It's an acknowledgement of what we've accomplished over the last year and gives us valuable exposure.
What were the main drivers of growth for your company over the last year?
JP: We're in the payment space and the paradigm is shifting. The world is moving ever more mobile and digital and we're part of that whole wave. We created a SaaS (Software as a Service) platform that can be used by small companies that have dozens payments a month, all the way up to those in the Fortune 100. To be able to build it once and serve many, in a technology model, it's a CEO's dream come true.
LG: It's a mix of things. The rise of big data, the need for systems that meet connectivity demands across enterprises for distributed teams. We bring those solutions to organizations with those goals.
MM: A lot of hard work. We've delivered on our goals and that's enabled us to increase our sales volume and profitability.
What are your main areas of focus for the coming year?
JP: Growth! We've spent the last 7 or 8 years building what we believe is a terrific go-to-market strategy, our technology is so solid and powerful, we cut across all verticals, we serve a number of the largest banks in the world, and we make sure we have some of the highest security standards in the payment space. Moving money in data is not a trivial affair, and we believe Transactis does it really well.
LG: It's really about continuing to deliver our message. We have a great product and there is significant demand for it, but the marketplace is changing all the time - and changing quickly - so we need to be able to pivot while continuing to do what we do, and do it well.
MM: Continued growth. If we go full steam ahead and put all our efforts into execution, we'll be able to achieve that goal.
How do you balance the push for growth with the focus on your core organizational goals?
JP: We believe the addressable market for us is so big that our focus is no longer just about growth; it's about rate of growth. We're at a point where we're doubling and tripling our numbers, we've used our venture capital wisely, and now we're entering the next stage of development where our work is all around positioning ourselves as the commanding category leader.
LG: Our core goals will drive our growth. If we're true to them we'll be able to execute. We'll be able to show the greatness of our products and the demand we meet with them. And that's not an easy thing to accomplish in a complex world like ours. All the data, all the disparate systems that need to connect with one another - if we can focus on delivering products that solve those problems for our customers, we don't need to worry about the numbers.
MM: We make sure we give the proper attention to both. You never want to take your eye completely off the future in favor of the here-and-now, and we do have a longer-term view, but we also don't want to miss out on immediate opportunities. At the end of the day, we're an execution-focused company.
Editor's note: Mr. Proto, Mr. Gregoire, and Ms. Mc Comb's participation in this article is solely for educational purposes based on his/her knowledge of the subject, and the views expressed by him/her are solely his/her own. This article should not be deemed or construed to be for the purpose of soliciting business for Transactis, Avepoint or Datto, Inc., nor does Deloitte advocate or endorse the services or products provided by these companies.