THE BUTTONWOOD ROOM OPENS FOR BUSINESS





The year is 1922 and in New York two iconic buildings are celebrating key moments in their histories. At one end of the city, the first bricks were laid in the construction of what would become the original Yankee Stadium. At the other end, the doors opened to "the garage," the New York Stock Exchange's new trading room, adjacent to its historic main floor. Fast-forward almost a century and after a year-long renovation project, another ribbon was cut to celebrate the conversion of "the garage" into what is now called The Buttonwood Room.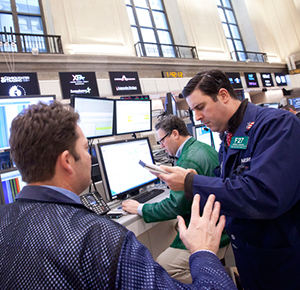 The room gets it name from the circumstances surrounding the founding of the Exchange in 1792. Much of the trading in those days was conducted underneath a Buttonwood tree opposite 68 Wall Street, and after a time a formal agreement that set out trading rules for commodities was drawn up by 24 of the original stockbrokers. The document was signed under the same tree and took on its name in honor.
The Buttonwood Room is home to the NYSE American Options unit and systems support desk, U.S. Cash Equities traders, and ICE Futures U.S. market participants. It also houses FINRA, NYSE U.S. Cash Markets customer service desk and the NYSE/ICE National Operations Center. At around 7000 square feet, the room is vibrant with more than 250 personnel including brokers, clerks, market makers, clearing firm employees and trader support functions.
Including the NYSE Arca Options trading floor in downtown San Francisco, NYSE Options is the only exchange group to support two distinct open outcry trading floors. This unique structure gives clients flexibility in order handling and the opportunity for more efficient price discovery and liquidity. The open outcry model delivered more than 26% of combined NYSE American Options and NYSE Arca Options total volume in 2014, and has already risen above 30% in 2015.
The renovation introduced a full technology refresh for all participant firms and NYSE staff that included more robust security standards and procedures. It also set the stage for future enhancements such as the implementation of the next-generation NYSE American Options Floor Broker system that is currently being tested. The new design allowed for the installation of state of the art DataWall displays that provide real-time Options trading content along with Equity, ETF and Index underlying updates.
The opening of the Buttonwood Room is a continuation of the floor model that has always been the foundation of the NYSE's operations, combining innovative technology with the human touch - a proven approach in delivering a better quality of trade execution.