by John R. Quain
As pioneer and purveyor of such office staples as Post-it® Notes and Scotch® Brand tapes, 3M Co. (NYSE: MMM) knows a thing or two about having a brand that sticks in consumers' minds. But how should they go about connecting with a new generation weaned on smartphones and Twitter (NYSE: TWTR) - one that deals less with paper and more with Pinterest?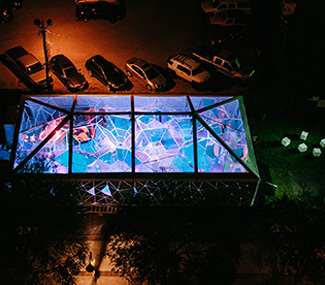 Easy. Go where the millennials go and appeal to their inner geek. That's what 3M did with its LifeLab exhibition at the 2015 South by Southwest (SXSW) festival in Austin. The interactive installation was the company's official launch of its new brand platform, "3M Science. Applied to Life.™," which highlights the ways 3M's products touch nearly every aspect of our daily lives. Still, the organizers for the St. Paul–based company faced a formidable challenge. "We leverage our technologies across a wide range of markets," explains Penny Wise, 3M's chief branding officer. "We had to pick a few products that would give a tech-savvy audience a sense of the breadth and depth of the company."
Visitors to LifeLab could sew 3M™ Scotchlite™ Reflective Material to personal items such as bags or wallets. Another crowd favorite was the company's Littmann® stethoscope, a Bluetooth-enabled diagnostic tool used on the International Space Station. Not only did the wireless stethoscope underscore the company's advancement of remote health care, it tied into the festival's music-centric vibe. The medical instrument was used by TOKiMONSTA, a DJ who performed at the festival, to incorporate her own heartbeat into her music.
The smartphone was another natural focal point for the SXSW audience. "We had an exploded view smartphone to show all the different components that use 3M technology," says Wise. Their phone-centric innovations range from scratch-proof glass covers and protective films to light management components that improve power consumption, as well as advanced adhesives that resist heat. The biggest phone buzz, however, came from 3M's handheld Clean-Trace™ NG Luminometer, which measures contamination on a surface within seconds. Visitors could submit their own phones to see how many bugs they're typically holding up to their faces. "We got a lot of traction from the smartphone germ test," says Wise, "and people were shocked at how much bacteria was on their phones."
With countless simultaneous events in Austin during SXSW, getting and keeping people's attention can be a real issue. To make an impact, 3M wrapped their exhibition space outside the main hall in retroreflective 3M™ Scotchlite™ Reflective Material. Wise's group also had brand ambassadors roving the streets using Twitter and other social platforms to get the word out. The company was promoting its own #lifewith3M campaign, but saw the highest engagement with posts it didn't promote itself, illustrating the power of organic experiences to drive social media engagement. It's estimated that by the end of the show roughly 9,000 people, or about a third of the show's attendees stopped by the 3M LifeLab.

For Wise, the most memorable part of the company's SXSW LifeLab was watching the 3M scientists who staffed the LifeLab connect with the crowd. (The company has more than 8,000 scientists and researchers worldwide.) "We have some amazing young scientists, and they loved participating in the event," says Wise. "It was inspiring to see them engaged with the audience explaining different technologies, creating aha moments for many festivalgoers."
The whole event gave 3M a chance "to geek out a little bit with our fellow geeks," says Wise. "And hopefully, we got people interested in science who might not otherwise have been interested in material science, which is definitely different from the bits and bytes of software."
---