by Seth Kauffman
Zoom in on Eros International PLC (NYSE: EROS), the first Bollywood movie company ever to list on the New York Stock Exchange, and you may discover a wide-angle lens is in order.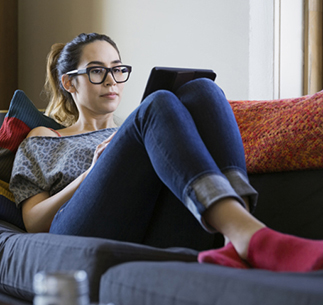 In addition to a growing film release slate and an extensive back catalogue, the company also has burgeoning mobile and new media units that it recently acquired to expand its distribution capabilities. "Our business resembles a little bit of Lion's Gate, a little bit of Netflix," says Eros CEO Jyoti Deshpande.
Eros produces 70 movies annually, often working within tight budget constraints. Its most expensive titles cost $15 million to make, with marketing topping out at around $3 million for its biggest pictures. Because of India's lower ticket prices and shorter film runs, Deshpande says, a smash hit might generate only $40 million in ticket sales, but the company has laid a firm foundation for growth. "That's why our risk profile is so different from Hollywood," says Deshpande. "It's all about building scale with very little risk and benefiting from the structured growth that the market provides."
That market includes a growing number of international outlets. Eros films, which are often dubbed in as many as 25 languages, are released primarily in south Asia and the Middle East, but Deshpande says Eros actively markets its titles in 50 countries. "Our films are no longer just appealing to the south Asian diaspora. We're releasing to the mainstream Japanese, mainstream South Korean, mainstream German markets." After their theatrical run, the films enjoy a second life in Eros's library of over 2,300 titles and are sold on cable and pay-TV outlets throughout the world. In 2013, Eros teamed with HBO to unveil HBO Asia, a two-channel Indian premium pay-TV service. Subscribers pay a monthly fee for an ad-free mix of HBO programs, Paramount productions and Bollywood films.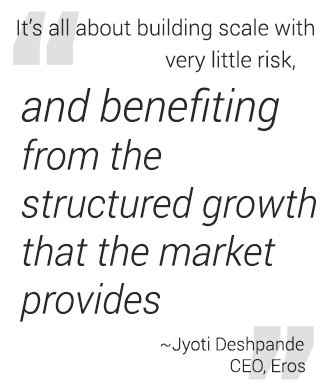 One year ago, the company launched an all-you-can-watch subscription service called ErosNow. The web and app-based premium service offers unlimited global access to more than 1,000 movies, as well as streaming music. But while the model might resemble Netflix, the business structure has a crucial difference. "What differentiates us from Netflix is that we own most of the content. If you look at our balance sheet for the division, content acquisition costs are not very high," says Deshpande, who added that ErosNow does license select films from rival studios to ensure a more complete offering.
To round out its portfolio of distribution channels, in 2014 Eros acquired TechZone, an Indian mobile services company that offers billing integration with most of the country's major telecom operators. It might seem an unusual pairing, but Deshpande notes that while India has nearly a billion mobile phone users, there is very low credit-card penetration. The paucity of credit cards can be a major hindrance to ecommerce on mobile platforms, but TechZone's billing system routes around the problem, allowing transactions on smartphones to be added to a user's phone bill or deducted from a prepaid account.
"The low-hanging fruit in the Indian market is mobile growth," says the CEO, explaining how TechZone will allow ErosNow to access a significant mobile audience. "860 million mobile subscribers can potentially download the ErosNow app and engage with our content. In the meantime, 4G is coming, along with broadband plans."
Bollywood films, with their energetic musical numbers, are escapist delights, but Deshpande makes it clear that Eros is focused on market realities, monetizing its content through four distinct channels: theatrical, TV, mobile and web.
"We were looking for access to the capital markets and to put ourselves in the right peer group, with the large entertainment companies in New York," says Deshpande. "We said, 'We are small, but let's get the pond right first.' Now that we've got the right pond, we can really start to grow."