by Scott Alexander
For decades, one of the most important industrial cities in America was Flint, MI., home of the legendary manufacturing capacity that proved crucial to Allied success in World War II, as well as the postwar U.S. auto-making revolution. A bustling population center, the city's size peaked in the 1960s at 200,000 people. In the 1980s, however, the decline of the U.S. automotive industry put as many as 90 percent of the area's autoworkers out of work. Flint became the poster child for a new and unwelcome trend in America: the city in free fall.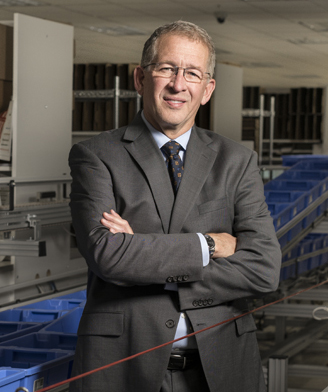 However, in October 2014, Flint's mayor was found not in city hall, not even in Michigan, but at the podium at the New York Stock Exchange, helping ring the opening bell for his city's own Diplomat Pharmacy Inc. (NYSE: DPLO).
Diplomat is a relative rarity among publicly traded companies in that it was launched by a father-son team and has been led by the Hagerman family for four decades. CEO Phil Hagerman remembers a conversation with his father, Dale, a week before graduating from college. Hagerman had been excited about working with his dad, who was a partner in a local Genesee County drugstore chain. "He called me and said he sold the business," Hagerman recalls. "But in his next breath he said he'd bought it back." Confused, Hagerman pressed his father for details. Apparently Dale's partner didn't believe in the concept behind the new pharmacy they had recently opened. "He said, 'I swapped my shares for the new store, so get your butt out of school and come help me.'"
This new pharmacy specialized in difficult, sometimes obscure treatments required by sufferers of serious and chronic illnesses. "My dad always taught me to take good care of patients one at a time and good things would happen," says Hagerman. "We just put our heads down and worked hard." Indeed, Diplomat became known for its can-do attitude. "We were always willing to do the difficult things that doctors needed, complex compounds and unique therapies," Hagerman says. "By the mid-80s we had built a reputation in Michigan as the go-to for complicated therapies."
In the 2000s, when the specialty pharmacy sector began to emerge nationally, Hagerman realized Diplomat was doing everything its national competitors were, on a smaller scale. And they wanted to grow. In 2005 Diplomat opened a national distribution center, and over the next nine years they worked hard to increase revenues.
Most important, however, was not the amount of money that came Diplomat's way, but what they did with it. "In 2009 we were running out of space in our existing facility and started talking seriously about decentralizing the company," Hagerman explains. "We were going to put major call centers in California and Texas. That was the trend in our industry." In the end, though, rather than set up operations in regions with brighter fortunes, Diplomat opted to stay in Genesee County.

"The State of Michigan really stepped up, offering us some long-term tax benefits to keep the jobs in Michigan," says Hagerman. In return, the company committed to hiring 1,000 employees over the next five years, an ambitious goal that Hagerman says they are on track to meet or exceed. To accommodate these new workers, Diplomat also needed new office space. General Motors had built a 1.2-million-square-foot Great Lakes Technology Center in Flint during its heyday that now lay empty, so Diplomat moved in.
The city and its residents also had an interest in Diplomat's success. "In the last five years, Flint has been on a tremendous resurgence," notes Hagerman. "And I think part of that is companies like Diplomat that are helping diversify the economy here. It's a feel-good story for a community that's been a little beaten up on."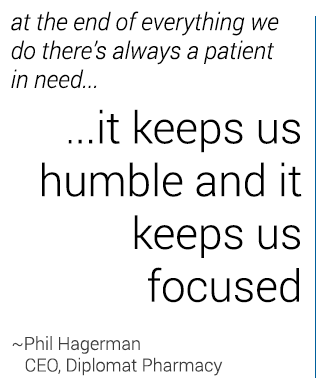 The task of turning former autoworkers into healthcare workers was no small task, but it ultimately led Diplomat to what it now considers one of its signature strengths: education. "We had this great pool of people, but they had never worked in healthcare," Hagerman explains. To streamline the onboarding process, Diplomat created Diplomat University, a unique education and training environment. "It's become one of our leading sales tools," Hagerman notes. "Big companies come in and see that our ability to educate and train goes beyond most in our industry. Diplomat University is a major growth factor for us now."
And Hagerman says he's had no trouble attracting talent to Flint. "Almost half of my executive team moved to Genesee County to come work with us," he says. "I have executives that have moved their families from Silicon Valley, from L.A., from Dallas, from Houston. It's gorgeous here, we have a very reasonable cost of living, and the Midwest is a great place to raise a family."
Hagerman's enthusiasm is infectious, but one wonders what happened when it met the relentless grind of the IPO process. Characteristically, however, Hagerman found it "invigorating." "I was told by people that the roadshow and the preview to the IPO was going to be a fairly grueling process. And the days were long, but we're excited about what we've done and we really didn't get tired of the questions or the process. We never want to forget how we got here, that at the end of everything we do there's always a patient in need. It keeps us humble and it keeps us focused."
That commitment extends to what may be the most influential patient the company treats: Flint itself. "It's become an important part of our mission to not just grow our business here and hire people, but also to support this resurgence in Flint. We're only one part of it, but we've been able to be a fairly visible part. When we were standing on the stage at the NYSE, every sign you saw said 'Diplomat, headquarters Flint, Michigan,'" Hagerman says with pride. "While getting here was a culmination of a lifetime of work, we feel like we've just started a new chapter."