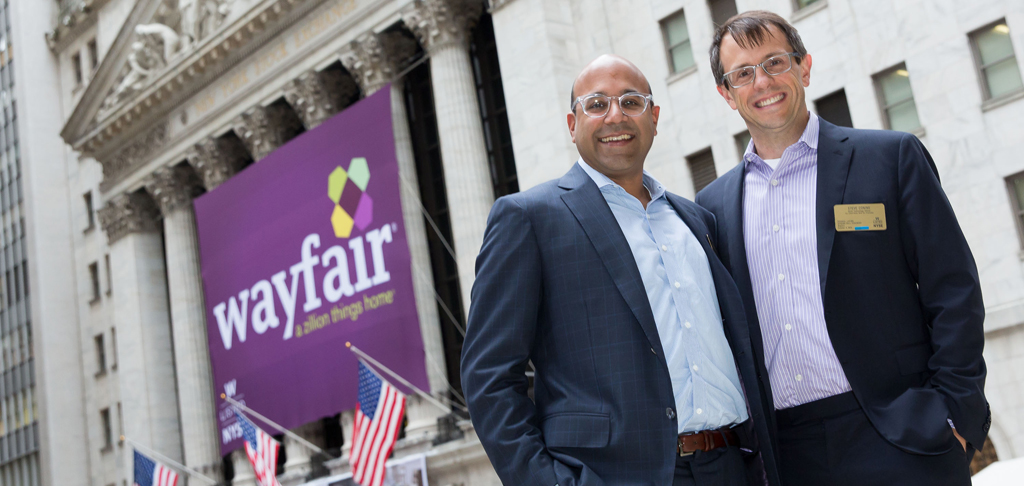 by Susan Caminiti
Wayfair Inc. (NYSE: W) reports that it has 2.9 million active customers who browse their site for everything from couches, tables, picture frames and dishes to baby strollers, pillows, lamps and thousands of other products from more than 7,000 suppliers. But 12 years ago, the company's prospects were far more modest.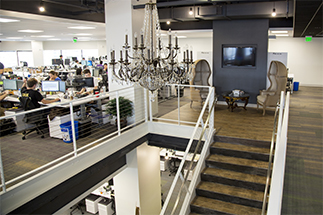 In 2002, Steve Conine, 42, co-chairman and chief technology officer and Niraj Shah, 40, co-chairman and CEO, former roommates and engineering majors at Cornell University, were selling stereo racks and grandfather clocks out of a spare bedroom in Boston. The transition from those beginnings to a company with more than 2,000 employees and annual sales near $1 billion required a balancing act between staying true to their core values and a willingness to break their own rules.
The name Wayfair is a recent invention. Up until 2011, the company was called CSN Stores, an abbreviation of Conine's and Shah's names. It was an agglomeration of small vertical sites, each plainly named for the product it sold. Shah explains that in the early days of online retail, it was the quickest way to top a search engine's listings.
Over a period of nine years Conine and Shah went from running RackandStands.com and Strollers.com to presiding over an unruly briar patch of more than 240 individual sites. Each worked on its own terms, but the path to the next phase of growth was unclear. In particular, they lacked ways to leverage customer loyalty or brand awareness across their sites. "We recognized there was a huge opportunity for growth in the home category but knew that we weren't going to get there with our strategy." Shah explains.
In 2011, Conine and Shah decided to close down all the individual sites and relaunch the company as Wayfair.com. The name itself is a nod to the company's new emphasis on broadness and Conine acknowledges that "Wayfair" doesn't say anything to the customer about what it sells. "It's more about the positive feelings it conjures up," he explains. Despite being engineered to mean as little as possible, the company reports that the name has been a hit with consumers. Over the past two years, it has built brand awareness through TV advertising campaigns and product placement deals with HGTV and Real Simple magazine.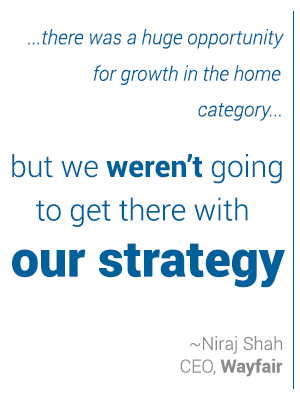 Wayfair has no shortage of rivals and because it defines "home" so broadly, selling faucets, flooring and bathroom vanities, just to name a few other products, the company also competes with brick-and-mortar retailers. Some might look at this as a lack of focus, but Conine and Shah see the company's positioning as an advantage. Says Conine: "Home is a massive, all-encompassing category and there's nothing in bricks and mortar that is quite like us."
But while Wayfair may have flipped their approach to the market on its head, Conine and Shah say they have found success because they were able to hold on to the core DNA of how they make money. When they ran RackandStands.com, CSN didn't warehouse the product. Instead they worked with a wide array of manufacturers who drop-shipped directly to consumers. CSN just connected the two to make the sale. The 2011 rollup into Wayfair implemented that approach on a larger scale. The company says it was able to continue its growth without a massive warehousing and fulfillment back-end weighing them down.
Which isn't to say it was easy. It's one thing to make 7,000 manufacturers look like a single store but another to make them operate as one. Indeed, Conine and Shah believe that the company's true competitive edge comes from the decade's worth of investments into the systems that manage its complex supply chain. Wayfair needs precise, up-to-the-minute intelligence on its suppliers' inventory and shipping from afar.
Early on, Conine and Shah developed software that integrates with suppliers' systems to give them a clear view of how those vendors are stocked with goods. When a customer places an order, the software tells Wayfair where in the delivery pipeline that item is at any given time. "If we see that a carrier hasn't yet picked up the item and we believe it should have been out the door already in order to get to the customer on time, we have folks who will actually call that supplier to find out what's going on with that order," Shah says. The company has an entire team that works with suppliers to find ways to improve speed and accuracy. As a result, it is speculated that the company has a 98 percent success rate for fulfilling orders accurately and on time.
Shah says Wayfair's focus on fundamentals has paid off and that they'll continue to invest in the data-driven systems that have brought them so much success. "Our brand has only existed for three years, so there are a lot of folks who have yet to discover us. We still have a lot of room to grow."