by Dan Sampson
In celebration of their partnership with American Express (NYSE: AXP) and the National Basketball Association, BBVA Compass (NYSE: BBVA) visited the New York Stock Exchange on Friday, February 13th 2015 to ring the opening bell and announce their newest credit card. Also in attendance were NBA superstars Kevin Durant and James Harden.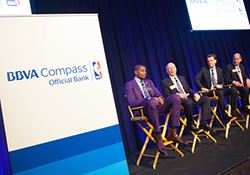 The BBVA Compass NBA American Express Card will be issued by the bank and is the first credit card to bear the league's branding. It can also be personalized with the logo of a customer's favorite team.
The New York Stock Exchange spoke with BBVA Compass Chairman and CEO Manuel "Manolo" Sanchez to talk about the new partnership, the global reach of sports and the bank's plans for the future.
New York Stock Exchange: To get started, of all the sports leagues around the world, why did BBVA choose the NBA for this partnership?
Manolo Sanchez: Basketball is the most international sport. Folks don't realize this but if you do the math, of all other sports – soccer, football, baseball – the only one that cuts across every geography is basketball. While the center of professional basketball is the NBA, half of its audience is international. Two brothers from Spain, the Gasol brothers, will face each other on Sunday [in the NBA All-star game.] They are icons in their country.
And for an international bank, that makes a nice match.
MS: Yes, of course. BBVA is in 30 countries and with investments in places like Turkey, China, and Argentina, if you follow our footprint you can see all the connections.

Over the last year or so, BBVA has had a number of interesting partnerships and acquisitions in the digital technology space with companies like Dwolla and Simple, can you talk about what they mean to the bank, and what the long-term goal is with those in play?
MS: We have a venture operation in San Francisco that's been around for a number of years now, and we've been scouting new companies and start-ups that are bringing new ideas to the market. With the acquisition of Simple which is, in my view, the premier digital banking platform, and working with Dwolla to have the only real-time payment system in the U.S. that we know of, we are creating an infrastructure for what we see as the next generation of financial products and services.
And is this, along with things like the NBA partnership, also helping you tap into a younger consumer base that is now coming into its own financially?
MS: Yes, there is definitely that, for sure, but the mainstream population has already passed the tipping point with mobile technology, too. If you think about it, everyone's bank is now in their pocket. That's how we think.
Finally, what does it mean to BBVA to make this announcement at the New York Stock Exchange?
MS: This unveiling coincided with the NBA's All-Star weekend, which is here in New York, so we got a phenomenal wave of awareness for it. We think that the New York Stock Exchange platform is fantastic for that, plus our parent company and a number of our affiliates are listed here, too, so that made us feel right at home.
---