by Chris Warren
With a history as rich as that of Allison Transmission Holdings Inc. (NYSE: ALSN), a CEO could be forgiven for dwelling on the company's signature triumphs during its centennial year. The Indianapolis-based transmission manufacturer traces its origins back to 1915 and founder James Allison's efforts to engineer and innovate his way into first place at the Indianapolis 500 — a feat he accomplished in 1919. During both World Wars Allison made vital contributions to America's efforts, and it was part of the relentless innovation that allowed the nation to flourish afterward.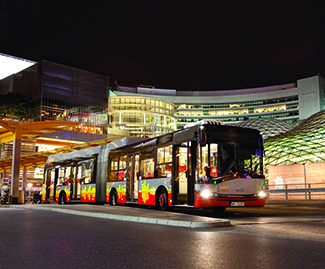 But while CEO Larry Dewey sees it as important for employees to acknowledge the accomplishments of their predecessors, he also stresses the importance of building on that legacy. "We don't want to get locked into the past," he says. "Rather, we want to talk about the principles involved in that success." In particular, Dewey emphasizes continuing the sort of thinking and ingenuity that allowed Allison to take technologies developed for the racetrack and the battlefield and apply them to the 15,000 bus and truck fleets the company now serves. In other words, Dewey still holds to James Allison's commitment to quality, embodied by his motto: "Whatever leaves this shop over my name must be of the finest work possible."
Of course, today's market is far more complex than the one James Allison pioneered. Today, Dewey says, one of the key functions of the company is the anticipation of customer needs, emphasizing how important it is to "recognize emerging needs and desires in the industry and in our potential customers before anybody else, then come up with solutions."
To do that, Allison engineers spend a lot of time not only with the 250 original equipment manufacturers (OEMs) it serves but also where the rubber meets the road: with the people who actually operate their products. That outreach helped drive development of the company's H 40/50 EP™ hybrid propulsion system, which enables ultra-high-efficiency city buses. Using what it learned by reaching out to drivers and public transit organizations, Allison focused on capturing energy through regenerative braking to develop a system that offers superior fuel economy despite the stop-and-go nature of city driving. Now deployed in bus fleets in hundreds of cities worldwide and in nearly all 50 U.S. states, Allison's hybrids have saved approximately 35 million gallons of diesel fuel and prevented 345,000 metric tons of carbon dioxide emissions.

Some truck fleets divide their time between the highway and in-town deliveries. Allison's research showed that the makeup of those fleets is changing. "If you look at the driver base for trucks, there aren't as many drivers who are capable of safely driving large vehicles with manual transmissions," Dewey says. This new generation of drivers prompted Allison to develop its TC10™ transmission, which is safer and easier to drive and retains the fuel efficiency that automatic transmissions enjoy in stop-and-go traffic, while equaling the superior fuel economy of manual transmissions on the highway. Dewey says the TC10™ allows companies to open up the driver pool and cut down on training expenses while saving fuel and keeping productivity intact.
A year's worth of events are planned to celebrate Allison's centennial. As the company commemorates its history, Dewey knows that the story of Allison Transmission isn't about century-old achievements — it's about staying three steps ahead of the competition. In that spirit, the company makes use of some friendly competition among its employees, who strive to see their names on the "patent wall" in Allison's Indianapolis headquarters. The concept is simple: Secure a patent, get your name on the wall, earn bragging rights, and keep the company competitive. "That's the technology and innovation culture here at Allison Transmission," Dewey says, demonstrating his commitment to leveraging the past hundred years in order to tackle the next hundred.