A Year in Review: 2014 at the New York Stock Exchange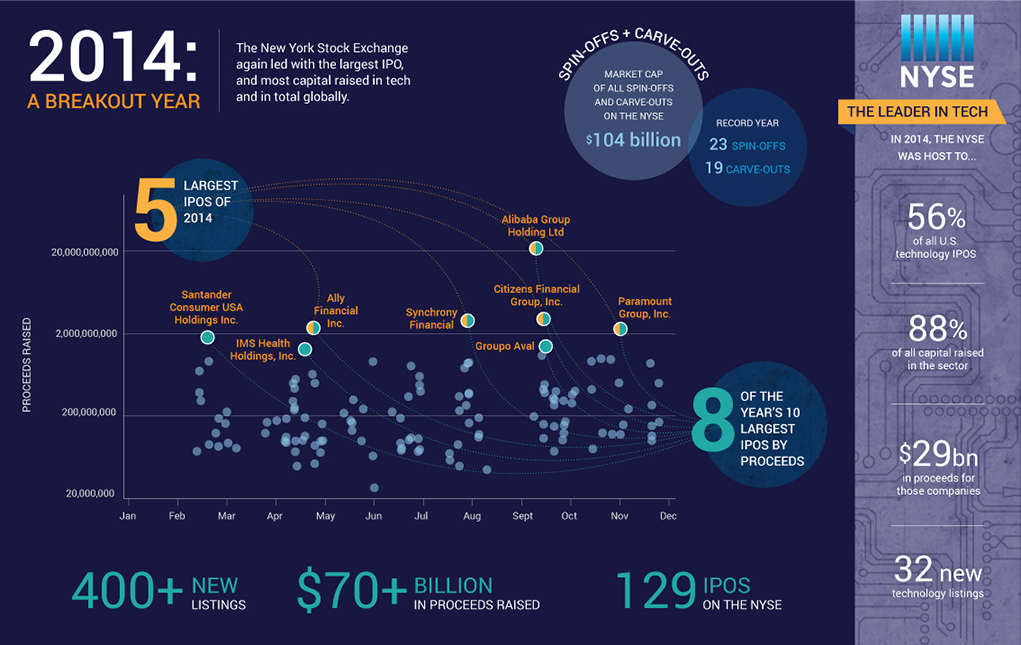 2014 saw the New York Stock Exchange lead the world's markets in global capital raising for the fourth consecutive year. Fueled in part by the largest IPO in history - that of Alibaba which raised $25 billion - it was a landmark year for the NYSE across a range of industry categories including the number and value of tech IPOs, proceeds raised via follow-on transactions, private equity-backed IPOs and the largest REIT and MLP offerings.
In addition to industry-leading results, the New York Stock Exchange set an organizational record with 42 combined spin-offs and carve-outs accounting for more than $104 billion in market capitalization.
As part of its continued leadership position, the New York Stock Exchange recognizes its responsibility as a stabilizing influence to the markets. Our exertions in this area are taking shape in a simplification effort whereby the NYSE is streamlining the types of orders on offer, reducing structural complexity and extending access to cutting-edge tools and technologies to all market participants. While 2014 was a record-setting year from a financial perspective, our responsibility for and commitment to operating an orderly and transparent marketplace extends through 2015 and beyond.