The world's premiere equity listing venue
As the center of global business the NYSE, enables its listed-companies to utilize its marketing, media and event resources throughout its listing. NYSE prides itself in being the home of the world's leading iconic and emerging brands that are shaping today's global landscape and have created a series of strategic resources to support our listed companies' growth initiatives and act as a conduit that enables them to reach new and important audiences.
The Bell
The World's Most Recognized Stage
Seen and heard by millions around the globe, ringing the NYSE Bell is an impactful way to reach investors, analysts, media and customers. Countless listed companies, government officials and celebrities have come to value the magnitude of the visibility that comes with this one-of-a-kind opportunity.
Global Media Platform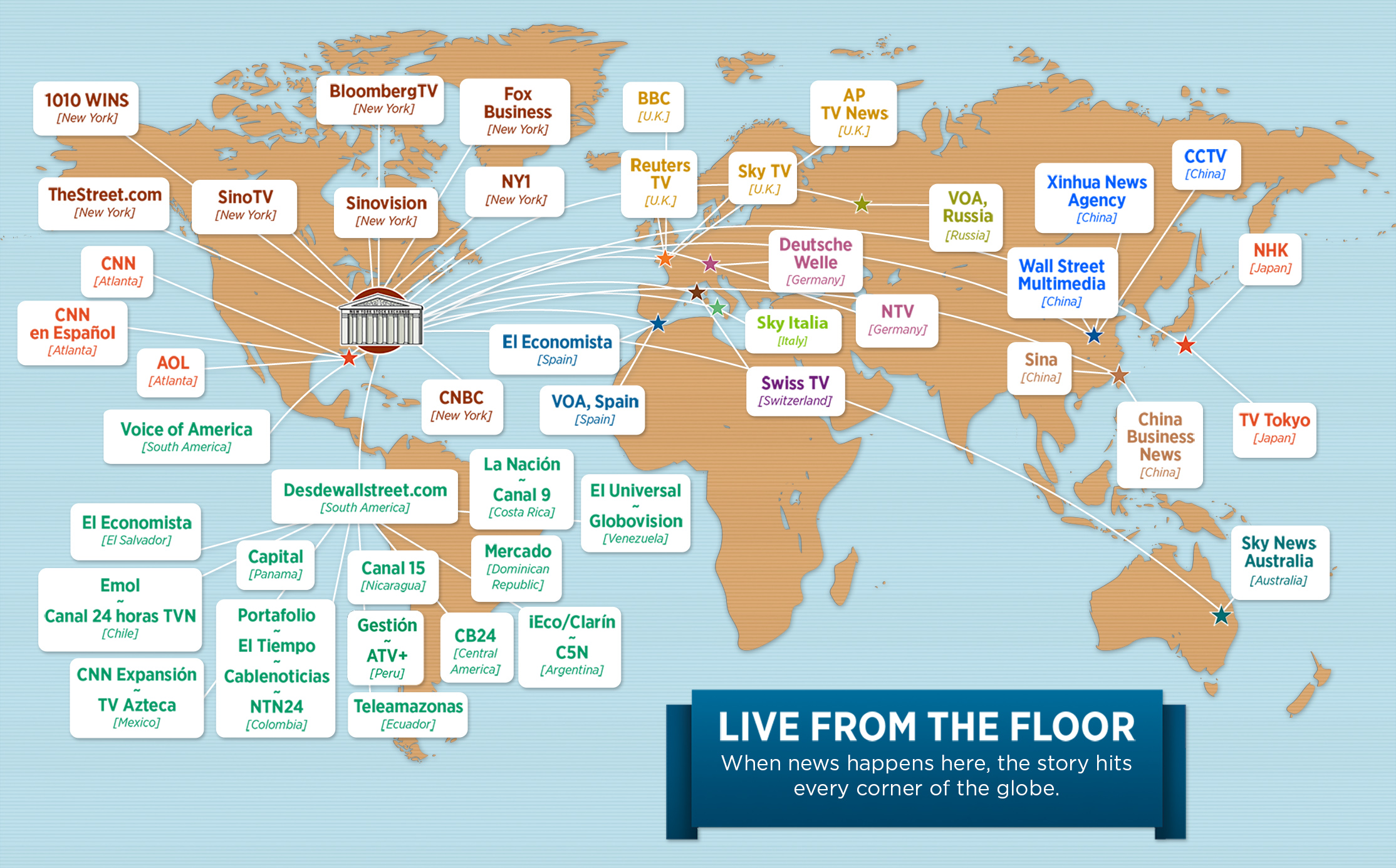 The NYSE provides its listed companies with a turn-key extension to their worldwide promotional and media relations activities. NYSE marketing, media and events staff will work with your company to create a plan utilizing our unmatched platform that will effectively assist you in having your corporate message heard loud and clear. From listing day and beyond we invite our companies to leverage our unique access to a network of global media , investors, business leaders and the financial community.
From press releases to media alerts to proactive press relations, NYSE professionals work closely with listed company media teams to manage all press activities:
30 news entities from around the world
225 broadcasts each day
18 cameras on the Trading Floor
Photographer services photos to the wires, including AP, Reuters and Bloomberg
Social Media
NYSE actively leverages the power of social media:
NYSE includes a link to your company's bell ringing on the NYSE Facebook fan page, and directs visitors to your event page on nyse.com to view and download your bell ringing.
The NYSE posts a link to your media alert and bell ringing on Twitter, which directs followers to your media alert and bell ringing on nyse.com.
All NYSE Bell ringings and corporate videos are downloaded to the NYSE channel on YouTube.
Venue Services
The world's premiere venue offering a unique customer relations experience.
As a listed company, our facility is available for you to use in a number of capacities. NYSE marketing, media and events staff will be made available to help.
Host a board meeting in the NYSE Boardroom
Conduct an analyst event
Host a reception on the NYSE Trading Floor for important constituents
NYSE media team will work with your company to broaden visibility and set up an in-house media tour
Events can be webcast
NYSE Experience Square
Utilize the street outside of the NYSE " Experience Square" to gain further visibility for your company's marketing initiatives. Situated at the world famous corner of Wall and Broad Street in the heart of the financial community, this location is a unique and dynamic resource to reach some of your most important constituents. The Exchange's facade can be used as an intriguing billboard to showcase your company's branding.
Networking Opportunities
World leaders converge at the NYSE to meet with listed-company CEOs and executives in an intimate setting to explore and offer solutions to issues that directly impact the business community. These forums offer an excellent opportunity to network and build relationships with peers.