30 Years of Helping People Breathe – and Sleep – Easy
ResMed has helped millions sleep, breathe, and live better lives through constant innovation in sleep apnea and respiratory care therapy as well as investments in out of hospital software solutions. And it says it's just getting started.
ResMed (NYSE: RMD) may not be a household name. But for sufferers of sleep apnea and chronic obstructive pulmonary disease (COPD) it aims to be something more than that – a ticket to better health.
Its main product is a CPAP (continuous positive airway pressure) machine that helps people suffering from sleep apnea, a breathing disorder in which breathing stops frequently during sleep. Not only does sleep apnea lead to daytime exhaustion, it is strongly linked to life-threatening diseases like heart failure, stroke, hypertension, and type 2 diabetes.
The company's CEO Mick Farrell says he learned the profound risks of sleep apnea from his father, company founder Peter Farrell. As a researcher, the elder Farrell first worked with the cumbersome early versions of the modern CPAP machine.
"He had one subject who was literally gluing this mask on his face each night. And Peter asked him why he would wear this horrible mask and listen to this loud blower system," recalls Mick Farrell, who was working as an intern for his father at the time. "And the subject said, 'this device saved my job, it saved my marriage, and it saved my life.'"
ResMed makes home medical devices for people suffering from sleep apnea and chronic obstructive pulmonary disease (COPD)
Based in San Diego, California it has roughly 7,500 employees and operates in over 120 countries
The company is focused on building a smaller, quieter, more comfortable, and more tech-enabled CPAP (continuous positive airway pressure) machine
It is also devoted to using the cloud and big data to help people adhere to their doctors' recommendations
ResMed is celebrating its 30th anniversary this year
Peter Farrell quickly realized there was a way to make the machine smaller, quieter, and more comfortable, Mick recalls. With that understanding and a small investment, ResMed was born in 1989.
We have a sense of urgency because there are 936 million people worldwide who suffocate from sleep apnea. We need to get out there and help them.ResMed CEO Mick Farrell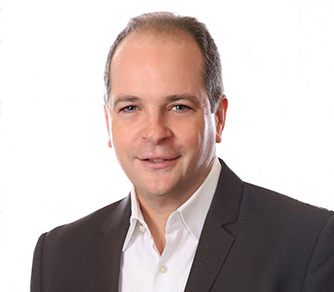 In the three decades since, much has changed. Mick took over as CEO in 2013. And today the company, based in San Diego, California, employs more than 7,500 people and operates in more than 120 countries. While still very focused on treating those suffering from sleep apnea, ResMed has expanded to helping those with COPD and now also offers software solutions to support out of hospital care providers enabling better care and improved quality of life.
But, Mick notes, one fundamental thing has remained the same: ResMed's mission is focused on helping people breathe, sleep, and live better.
"When I interview someone for a job here, they have the law, engineering, or finance degrees they need," he says. "What I want to know is if they love this mission. I can tell if somebody really feels this is the best thing they could be doing with their lives."
For ResMed, the question has become how to reach and effectively treat the nearly one billion people around the world with sleep apnea and the 380 million-plus who have lung disease, the CEO says. Part of the answer has been improving CPAP technology.
"We have gone from a glue-on mask and a motor strong enough to power a swimming pool to our AirMini, which is the world's smallest CPAP and about the size of a water bottle," says Farrell. "People always ask for smaller, quieter, and more comfortable. They want a silent CPAP, with invisible masks. We can't quite get there, but we can get close."
To keep those improvements ongoing, he says that ResMed devotes a seven to eight percent of its annual revenues to a research and development team of researchers – including mechanical and electrical engineers, as well as PhDs in anthropometrics, who are experts in the dimensions of the face and its bone structure to provide guidance around how to make CPAPs more comfortable and effective.
Farrell says part of that innovation involves integrating digital into its devices. Beginning in 2014, 100 percent of ResMed devices were sold equipped with communications chips that allowed them to be cloud-connected. Today, he says, the company has over 10 million 100% cloud-connectable sleep apnea and respiratory devices, which together have generated over 4.5 billion nights of data.
The goal of all of that data is to help improve patients' treatment adherence – whether or not people are following doctor's orders to use their CPAP. Especially with sleep apnea, this is a stubborn challenge. Farrell points to a report from The New England Journal of Medicine that showed even among heart-attack survivors who didn't have to pay for medicine, the average adherence rate for post-heart attack medication (a pill) was just 50 percent.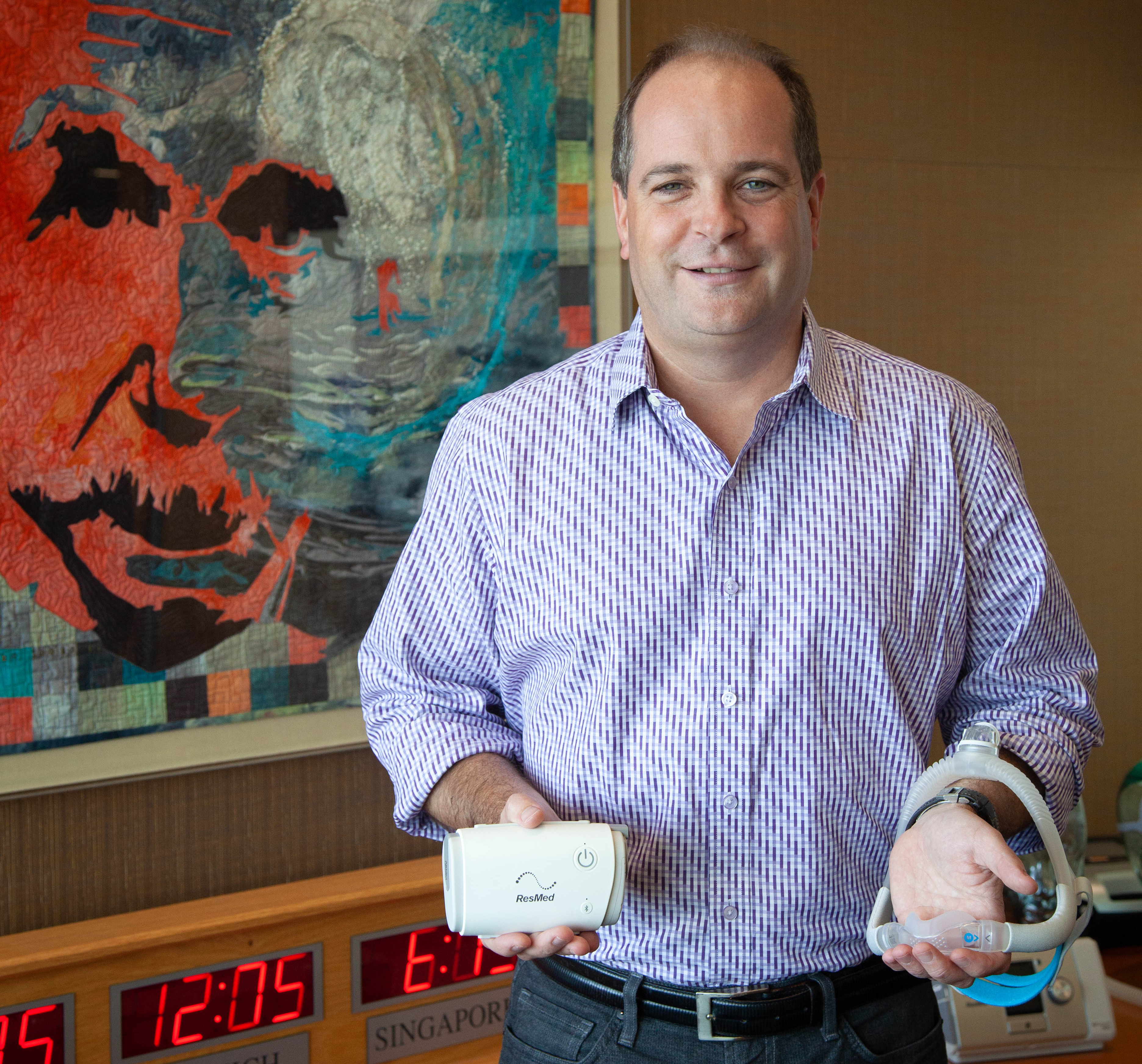 "We are able to drive it up to 87 percent. And we're not just asking you to take a pill," says Farrell. "We are asking you to put a mask on and keep it on overnight."
A digital healthcare approach helps in numerous ways. One is by taking a gamification approach similar to exercise apps that encourage people to reach a target number of steps or miles. ResMed's patients can download the myAir app to their phones, which monitors and scores how someone sleeps each night. "We coach you with email, text, or interactive voice command and send videos that offer ways of sleeping, eating, and living better," says Farrell.
That approach is augmented by sharing data with patients' doctors. Simply knowing that doctors can access their sleep data encourages patients to use their CPAP machines more regularly. Digital health also means using machine learning algorithms to comb through data to pinpoint patients who are at risk of bad health outcomes from not following their treatments. "A doctor who has 5,000 patients will know the five who need to be communicated with and who may need to come back to the office," says Farrell.
Farrell is keenly aware that collecting so much data is a big responsibility. When it comes to privacy, not only does ResMed strictly follow regulations in place in the U.S., Japan, Europe, and elsewhere it does business, it also makes clear who the ultimate owner of all the data is. "We are the steward of the data, you are the owner of your own data," he says. "Every customer has the option of putting their device in airplane mode. You will forfeit many of the benefits that come from digital health, but we take the right to privacy very seriously."
Now that ResMed has passed the three-decade mark, Farrell is looking forward to new ways the company can continue to achieve and expand on its original mission. Ultimately, it all comes down to having an urgency around improving more people's lives through digital health technology-enabled medical devices and out of hospital software solutions.
By 2025, ResMed aims to improve 250 million lives, more than doubling its current impact. "We do that through advanced analytics and digital health and med-tech innovation and partnerships," says Farrell. "We have a sense of urgency because there are 936 million people worldwide who suffocate from sleep apnea. We need to get out there and help them."