Real Estate for the Biotech Revolution
Alexandria Real Estate Equities, Inc., has grown up on the unique needs of biotechnology innovators, and now it's opening a new chapter.
The capacity of modern medicine to tackle diseases that would have once been fatal or debilitating is easy to take for granted. However, despite rapid advances, much more remains to be done. "Illness is so pervasive. There are 10,000 diseases known to mankind, and only about 500 have been addressed in one way or another," says Joel Marcus, executive chairman and founder of Alexandria Real Estate Equities, Inc. (NYSE: ARE), a REIT that develops collaborative life science and technology campuses in key urban clusters, enabling companies to develop and translate new medicines and treatments.
Two years ago, Marcus spoke to the New York Stock Exchange about his company's unique approach to cluster development, which emphasizes connecting elite scientific minds from medical institutions and schools like MIT, Stanford and New York University to capital and facilities that will support their success. He's excited to discuss what has changed — and what hasn't — in biotech, and how that's impacted Alexandria's business.
What is driving the success of biotech companies over the past few years?
I would say there are five factors that really drive the industry right now: The levels of funding from the National Institutes of Health, the overall attitude of regulators, medical research philanthropy, venture capital, and basic funding from pharmaceutical companies. All of these have been trending straight up, and as a consequence, the industry has continued to thrive.
Most of the participants in the ecosystem need space to grow their businesses and institutions. Having the right facilities is essential for discovering new treatments for companies at every stage of development, from R&D to clinical trials and the testing of drugs, all the way through to the sales process.
Alexandria is an urban office REIT focused on collaborative campuses for life science and technology companies in AAA innovation cluster locations.
Its properties are focused on companies of all sizes and at all stages of the development of new treatments and technologies.
It recently launched Alexandria LaunchLabs to help fledgling researchers and entrepreneurs test and develop their concepts.
The Alexandria Seed Capital Platform offers seed-stage companies access to risk capital and the opportunity to engage with Alexandria's world-class network.
Alexandria built two 15-story towers in New York and recently announced plans for a third, and it is expanding in Southern California as well.
Alexandria's tenants are developing groundbreaking treatments for cancer and schizophrenia, among other diseases.
Real estate markets in Boston, San Francisco, New York and other cities where you are active have only gotten more expensive in recent years. How does that impact your business and future plans?
Those are expensive markets, but we were an early first mover and really created a major presence in each of those markets, so we have a great position.
In New York, we built two 15-story towers at the Alexandria Center for Life Science, which is anchored by some great companies, from small to large. We also took half a floor to create Alexandria LaunchLabs. So, in a first-in-class building, we can create something nobody else can because it's not financially feasible for them.
We can do that in a building because we already have it leased, and we can afford to dedicate some space to this kind of effort. And we think that is huge.
We can bring capital to innovative companies at the earliest possible stage. We want to lead a revolution of people who invest at this very early stage and create a flow of capital to these great scientists and entrepreneurs.
At the same time, we are in Seattle and are also starting a new cluster in Pasadena and Los Angeles, which are both growing life science markets. I suspect that over the coming years the one market we're not in that will start to emerge is somewhere in Texas. I can't say which city yet, but Dallas, Houston and Austin are all pretty exciting locations.
Recently, you've focused more on early-stage entrepreneurs. How does Alexandria LaunchLabs aim to help fledgling biotech companies?
We saw an opportunity among what we call "proof of concept" companies — really early-stage companies out of the academic environment. They may have one person, or five or 10 people, and they're trying to prove a principle of science that may have application to a commercial product.
We see that in all of the markets where we operate, and we saw an especially big cluster of them in New York City. So we created Alexandria LaunchLabs as a platform to accelerate the growth of early-stage life science companies by delivering full-service office and lab space with first-class resources, shared equipment and services, and creative amenities in an open and collaborative environment. We provided these researchers with critical mentorship opportunities and installed a seed capital platform to allow the best of the best to have access to startup capital and grow their companies. We started Alexandria LaunchLabs a year and a half ago in New York, and it has had tremendous success. We're about to open a second LaunchLabs location at the Alexandria Center at One Kendall Square in Cambridge, Mass., in November.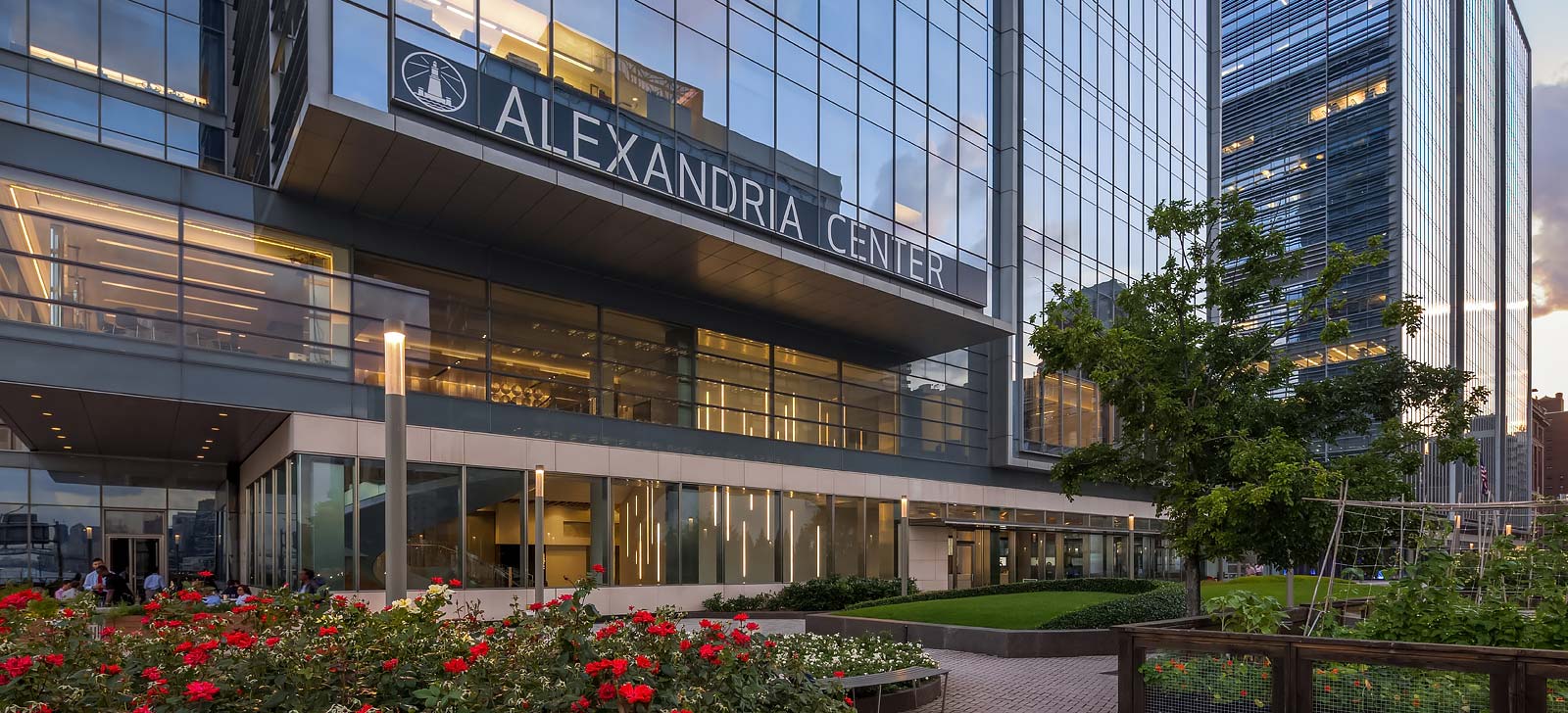 How does the Alexandria Seed Capital Platform work with LaunchLabs?
Throughout this country, there are many incubators where cities, states, government agencies or nonprofits try to create these collaborations, but what they often lack is space. They also don't offer in-depth mentoring on things like how to start and run a company successfully, how to hire, or how to partner and access capital.
Those things aren't generally available, but we try to bring them to the companies in our LaunchLabs spaces. We can bring capital to innovative companies at the earliest possible stage. We want to lead a revolution of people who invest at this very early stage and create a flow of capital to these great scientists and entrepreneurs.
We have a sophisticated process for choosing companies to fund, and they are not all LaunchLabs companies. For example, we look very closely at company founders. Do they have a differentiated business plan and protected intellectual property? Do they have a financial model? Is there an unmet need that would justify making this a company versus a research project or nonprofit organization?
Are there any notable drugs that have been developed at Alexandria facilities in the past few years?
There are so many. One of our tenants in Seattle is the leading innovator in developing cancer drugs that may one day render chemotherapy and radiation obsolete. One tenant in New York City is in the process of getting approval on a state-of-the-art therapy for schizophrenia with no documented side effects. Almost every day we have something to be excited about. It's an honor to be involved in such a noble pursuit.
&